Author
Bill Bither
Published
August 01, 2016 - 02:15pm
If you're considering implementing a real-time machine monitoring system and looking for solid reasons to make the investment, you're in for a pleasant surprise. Real-time machine monitoring and overall equipment effectiveness software can help address many issues, whether they're obvious or not.
There are a number of warning signs indicating that it might be time to investigate acquiring OEE software:
Jobs aren't being delivered on time. Real-time machine monitoring software easily identifies the most-chronic downtime and quality reasons that are impacting a shop floor so they can be addressed head-on.
You manually track uptime. Many companies are beginning to realize that manual tracking is simply too prone to human error to be relied upon. Automated machine monitoring removes that risk and gives an accurate window into production. OEE software is all about knowing the utilization rate—not "thinking you know."
The value of being able to automatically collect data from machines and use it to provide real-time visualizations and notifications really gets hammered home when it is understood how easy it is for a machine monitoring system to "X-ray" a production process.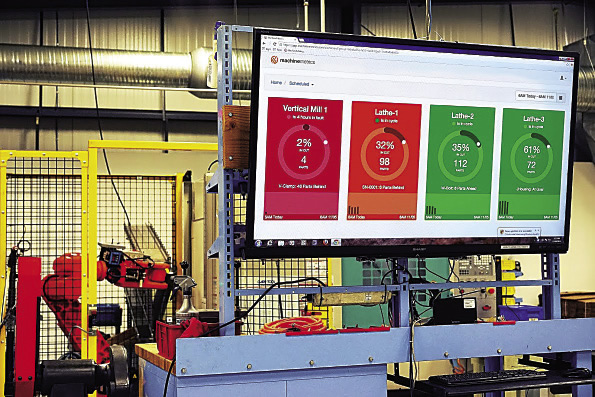 With machine monitoring and OEE software, shop managers and machine operators can view a dashboard that provides simple, color-coded, at-a-glance snapshots as to whether a job is performing at or below expectations. Image courtesy MachineMetrics.

An overall equipment effectiveness tracking system incorporates:
A touch-screen tablet that gives shop managers and machine operators an immediate, real-time display of production data and statistics from the shop floor.
A scorecard report that provides a real-time OEE overview for each job on a shift-by-shift basis.
A dashboard that offers operators and managers simple, color-coded, at-a-glance snapshots as to whether a job is performing at or below expectations.
A reporting and tracking system that provides a laser-focused view of part quality, planned and unplanned downtime, overall shop performance and setup times.
Moreover, access to this critical information is available from virtually any internet-enabled, touch-screen device.
In some cases, parts manufacturers that implement a machine-monitoring platform increase production by more than 20 percent in the first year.
In the past, blanket statements suggesting cloud-based software presented additional security risks had no trouble finding support. But that's a thing of the past. For example, experts at this year's RSA Conference, an "infosecurity event" held in San Francisco, agreed that the cloud offers safe options for corporate data management, often providing better security than a company's private infrastructure. This is because high levels of encryption and redundancy in the cloud ensure maximum protection.
As an added bonus, by partnering with the right cloud service provider, small and medium-sized businesses often gain a wealth of security expertise that's superior to their own tech teams.
Similar to internal networks, cloud-based systems depend on organizations to implement in-house security measures and train employees on best practices to keep data safe. That's the ultimate "sniff-test" when it comes to security.
Although the core value of machine-monitoring software is being able to see inside the production activity on the shop floor, there are some additional benefits. Instead of always having to react to issues in crisis mode, a machine monitoring system allows users to be proactive by finding problems they didn't know they had and addressing the problems immediately instead of letting them continue to gnaw away at efficiency.
In addition, personnel are positively impacted; they want to be part of a successful organization.
The implementation of a machine-monitoring system instills a mindset of continuous improvement throughout an organization and nurtures an unceasing effort to improve work flow and value output. Having everyone onboard creates momentum and support.
Seeing is believing. If you can, visit a plant that has a machine monitoring program in place. It shouldn't take long before you realize how empowering it is to have real-time and accurate information on your smartphone and at your fingertips.