Author
Alan Richter
Published
March 10, 2020 - 10:00am
It's rare that a U.S. mold builder is still in the hands of the same family after 122 years. Actually, it's impressive that any precision parts manufacturer is still in existence after that many years. Founded in 1898 by Jacob "Honest Jake" Salg, Comet Die & Engraving Co. is now run by the founder's great-grandsons Michael Donlin, who is vice president, and T.J. Donlin, the company's president.
Company legend has it that Salg founded Comet in St. Louis with a partner who held a slightly larger share of the company. When they divvied the weekly profit, that majority interest enabled the partner to keep the final dollar if they earned an odd number of dollars. Eventually, Salg purchased the majority share and pocketed those dollars instead.
In the beginning, they sculpted brass with chisels and hammers to make embossing dies, which were frequently used for texturing leather-bound books. "They were hand engravers," T.J. Donlin said, adding that the company eventually moved to Chicago and continued to produce brass embossing dies into the 1970s.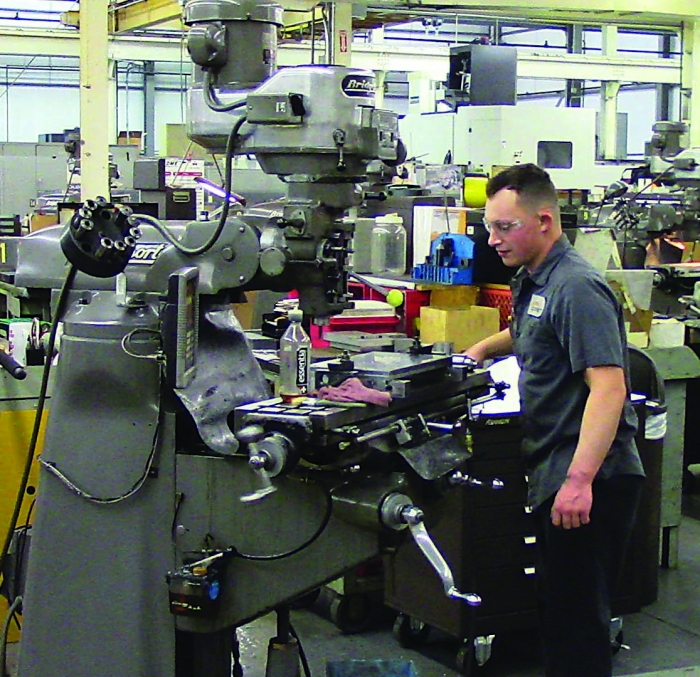 Colin Bodan operates a Bridgeport mill. Image courtesy of Alan Richter
When plastic injection molding made inroads into the manufacturing industry in the 1940s, Comet would duplicate cavities and cores for moldmakers, Donlin said. This process involved making wood models of the molds and then copy milling the required features into a steel workpiece using a duplicating machine, which had a stylus that would follow the wood model. 
He said duplicating the mold features became a major thrust for Comet. "That was during my father's day when we were doing a lot of duplicating," Donlin said about the company from the early 1960s to the early 1990s. Donlin noted that he started working in the shop during the summers when he was in high school and became a full-time employee in 1985 after graduating college. "We were doing so much of it that my father said, 'You know what, why don't I just start making molds myself?' And that's what we are; we are a moldmaker."
In addition, the company does engraving using chemical etching, pantograph machines, CNC machines and sinker EDMs.
Distinguishing the Company
Comet, which employs about 65 workers at its 4,645-sq.-m (50,000-sq.-ft.) facility in Elmhurst, Illinois, performs a process that no other moldmaker does, although other types of manufacturers do, according to Donlin. "There is a lot of decorative engraving, but the thing I'm talking about is texturing."
The company states that its Cometex etching method enables Comet to texture a mold with virtually any pattern or drawing. "I can texture a mold that is probably the size of a door, a little bit bigger actually," Donlin said.
The company is considering acquiring a laser texturing machine, he noted, but was quick to switch from duplicating machines to CNC machines in the 1980s. "That was a huge jump." 
Donlin added that Comet adopted high-speed milling in 1997 and continues to purchase new machines to rapidly remove metal with small DOCs whenever it retires an old, tired machine or needs to increase capacity to better serve customers. The company's latest acquisitions include two large vertical bridge-type machines, one a Kitamura and the other an Eumach.
High-speed milling eliminates a lot of manual polishing and fitting because the small cuts impart a fine surface finish, Donlin said. He added that it's critical that the cavity and core sides properly seal together when a mold closes. "The better you do your machining, the less you have to touch up."
In addition, high-speed milling reduces the amount of sinker EDMing that's required to make molds, but about 90% of the molds still require some burning, Donlin said. Sinker EDMing requires Comet to design an electrode, buy the graphite, program the electrode, machine the electrode, set up the EDM and burn the mold. 
"That's a slow process, and therefore it's an expensive process," he said, noting that it's much faster to cut a feature. "It's a necessary evil on most molds."
The biggest benefit of high-speed milling is its impact on the bottom line. "It has been an astronomical cost savings as well," Donlin said, adding that Comet can build a mold today for the same price as it did in the mid-1980s even though the shop's hourly rate has roughly doubled since then.

Michael Murphy performs deep-hole drilling on a Tarus gundrill. Image courtesy of Alan Richter
That cost savings proved to be a lifeline for Comet when Chinese manufacturers started building injection molds about 20 years ago. Donlin estimated that about 80% of U.S. moldmakers eventually went out of business as a result of the aggressive competition from moldmakers with low labor costs. Prior to China's entry into the market, Comet was able to substantially increase its profit with high-speed milling but then had to lower its prices and make the same profit margin as the company did before acquiring high-speed mills.
Reducing prices to compete with China wasn't an option for most U.S. moldmakers because they never incorporated high-speed milling and therefore never realized the technology's significant cost savings, Donlin said. This understanding was based on the equipment listed on the flyers sent by auction houses when a moldmaker was going out of business and seeking to liquidate its assets.
"When I would get one of those things, very rarely did I see any high-speed equipment coming up in auction," he said. "Those machines are not cheap. What was happening was those companies that didn't invest in high-speed machines, it was too late. They couldn't afford them, because too much of their business went away."
Going Deep
Another way to compete against countries with low-cost labor is to have one person operate two to five machines rather than have one worker per machine, Donlin said. "This way I'm able to spread that fellow over two-plus machines, and that has allowed me to lower my cost and compete. If I was doing it the old way with a $25 to $30 per hour guy at a machine, I couldn't do it."
Comet also uses magnetic workholders to reduce setup times and enhance competitiveness. "They are extremely expensive," he said. "However, if it is going to save me 45 minutes every time I need to put up a block, that adds up."
Nonetheless, low-cost workers have a tendency to cut corners when building molds, and those molds frequently need modifications and repairs, which the original moldmaker won't do, Donlin said. 
"I do a ton of repair work, and I'm happy to do it," he said. "The vast majority is for foreign-made molds."
He added that repairing molds is usually not too challenging, often requiring some minor welding and machining. "There are some places that only want to build new tools, but that's not us. We like a good mix of revisions and repair work and new. I want it all." 
Although Comet doesn't own any lathes and outsources turning to two shops, Donlin said his company does have two Tarus gundrilling machines and receives molds that require deep holes from competitors that don't have equipment for deep-hole drilling. Because every cooling line in the molds Comet builds must be counterbored and tapped after drilling, each gundrilling machine has an auxiliary head that enables all three operations to be performed in one setup. The machines are suitable for producing holes from 4.75 mm to 50.8 mm (0.187" to 2") in diameter.

Stanley Strama polishes a mold plate. Image courtesy of Alan Richter
"I can go 80" (2,032 mm) deep from one side," he said. "So theoretically, I can go 160" (4.064 mm)."
About 80% of Comet's molds are made of P-20 tool steel, which is pre-hardened to 26 to 32 HRC, Donlin said. Most of the rest are aluminum or H-13 tool steel. Tolerances are as tight as ±0.051 mm (±0.002").
He added that Comet can build molds for up to a 2,722-metric-ton (3,000-ton) press, which means the mold probably weighs from 13,608 to 27,216 kg (30,000 to 60,000 pounds). "I don't do that a lot, but I can do it."  
Worker Training
Because company founder Salg emigrated from Germany, he certainly was familiar with apprenticeship programs, and Donlin said Comet has had a four-year apprenticeship program for quite some time. "It was active well before me. This could go back to 1898 for all I know."
And since Donlin started working at Comet full time, he's been on the apprentice board. Currently, the moldmaker has three apprentices in the program, though attracting new ones can be tough, he said. 
"One of the biggest problems in the moldmaking industry is trying to get kids interested," Donlin said. "Nobody seems to want to get their hands dirty anymore. If they do want to get into moldmaking, they just want to sit behind a computer and program."
In addition to being on Comet's apprentice board, Donlin is on the manufacturing board at York High School in Elmhurst, which has an industrial technology program. "They have invested mightily in that program," he said. The investments include new machine tools and new staff.
That said, even young people outside the industrial technology program have a good chance of landing a job at Comet, albeit one that involves doing basic tasks, such as cleaning and painting. "We'll just watch him and see if he wants to work," Donlin said. 
 Part of the observation process takes into account punctuality. "It is mind-boggling how many people are late for their first day of work," he said. "I'm telling you that everyone I've given a second chance to and believed whatever story he had to why he was late, he was late the next day and the next day. You learn a lot immediately."
To help attract workers, Comet keeps help wanted signs for a moldmaker and a CNC machine operator on its sign by the street year-round. However, the company is located off the beaten path. "You don't go by Comet Die accidentally," Donlin said, "but sure enough, I've had two people say, 'I was just driving by and saw this sign.'" 
---
For more information about Comet Die & Engraving Co., call 630-833-5600 or visit www.cometdie.com.