Author
GF Machining Solutions LLC
Published
March 05, 2019 - 12:00pm
Femtosecond laser technology represents a new frontier in moldmaking. The aim of this laser is not to replace traditional machining methods but to complement them in a way that ultimately leads to increased productivity for mold shops and other part manufacturers alike.
Providence Texture LLC, Smithfield, Rhode Island, is a shop leading the way and showing how much femtosecond lasers can do. Applying the latest technology to moldmaking is a family tradition for President and CEO Matt Melonio. In 1982, his father, Hank, and uncle, Don Sr., established New Castle, Pennsylvania-based Custom Etch Inc., where Matt got his start in the industry right out of high school in 1991. Custom Etch went on to help pioneer the use of 5-axis laser texturing this decade when it was among the first shops in North America to incorporate Lincolnshire, Illinois-based GF Machining Solutions LLC's AgieCharmilles Laser 4000 5Ax, which handles workpieces up to 4m × 3m.
In 2016, Matt left his family's business to strike out on his own and focus on the future of laser technology, given that femtosecond lasers and 5-axis capabilities were growing in prominence. He worked closely with GF Machining Solutions' applications engineers and R&D department as he formed Providence Texture with the AgieCharmilles Laser P series as its foundation, including the first dual-source Laser P 400 U in a North American job shop.
---

A femtosecond laser machined this cavity in a mold for a medical implant. Providence Texture cut the cavity, injection runners, venting, guide channels for over-molding and identification information in a single setup. The blurry lines in the foreground indicate 1mm increments. Image courtesy of Providence Texture
---
"The femtosecond laser technology was so new that when I got it, many aspects were undergoing active development," Matt said, adding that he traveled to GF Machining Solutions' global headquarters in Geneva twice in late 2016 to perform proof-of-concept work. "I quickly found myself with jobs that required the new laser technology.
Rapid Rate
Femtosecond lasers are, as their name implies, lasers with pulses in the range of a femtosecond, or one quadrillionth of a second. This pulse length puts these lasers in the category of ultrashort pulses. A prominent advantage of this extremely short pulse length is the reduction of heat absorption, a quality that has made femtosecond lasers useful for medical applications, particularly ophthalmological procedures, such as LASIK.
Naturally, the avoidance of heat transference and a high degree of precision make femtosecond lasers excellent tools for intricate mold and part production. Nanosecond lasers are widely known to produce recast and burrs during ablation and can produce sufficient heat to harden materials and damage coatings. Femtosecond lasers avoid these issues, making femtosecond lasers suitable for heat-sensitive parts. The ultrashort pulse of the laser prevents workpiece materials from entering a fusion state during ablation, thus eliminating recast or burr formation, imparting an exceptionally fine finish and avoiding residual heat-affected zones.
Unlike sinker EDMing or conventional micromachining, laser micromachining has relatively few requirements. One is simple line of sight, a far less restrictive requirement than with other machining operations. As a noncontact tool, the laser allows Providence Texture to create small mold features at working distances unobtainable with sinker EDMing and reach places otherwise impossible even with the smallest-of-diameter spindles.
---

Several AgieCharmilles laser texturing machines at Providence Texture are connected with a System 3R palletized automation system. Image courtesy of Providence Texture
---
Another requirement involves the working distance to the part or mold surface. Because lasers use amplified light as the cutting tool, they rely on lenses and relative focal distances—the distance from the lens to the workpiece—for their material removal capabilities. Many femtosecond laser options on the market are optimized for micromachining or cutting and have a working distance of only 1mm to 3mm, owing to a pulse diameter of just a few microns. This allows for amazing detail on flat or tubular surfaces but makes 5-axis work impossible.
Providence Texture's 5-axis femtosecond laser has a flexible working distance that ranges from 73mm to 300mm depending on the lens option, which is an incredibly generous range for laser texturing and other moldmaking applications. At these distances, laser pulse diameters, or spot sizes, can range from 18µm to 70µm at full power. However, refined parameters may yield spot sizes measured in the single-digit microns. The laser's 5-axis movement also excels in terms of angles of attack, with high-quality cuts remaining possible at up to 70° angles.
Automated Production
The production cell at Providence Texture's 5,000-sq.-ft. facility includes a Laser P 1200 U with a 50w infrared nanosecond laser, a Laser P 1000 U with a 30w infrared nanosecond laser and a Laser P 400 U, which features a dual-source 20w infrared femtosecond laser and a 30w infrared nanosecond laser. The 1000 U and 400 U are connected with a System 3R palletized automation system featuring Dynafix and Macro standard pallets with custom fixturing, as well as 28' of linear track for a Transformer robot.
Providence Texture has found that the key to maintaining the highest levels of part precision during production is automation. With its System 3R automation and custom fixturing designed around the laser's capabilities, the shop keeps repeatability within ±3µm. Automation capacity also makes it possible for the shop to handle a high-mix, low-volume manufacturing environment and easily adapt to high-volume production when necessary. Production lot sizes range from one-offs to tens of thousands of parts.
---

Providence Texture's System 3R palletized automation system features Dynafix pallets and custom fixturing, as well as 28' of linear track for a 6-axis Transformer robot. Image courtesy of Providence Texture
---
"I would definitely recommend a laser paired with automation," Matt said. "With our custom fixtures, we can program a reference offset and know that we're within 2µm to 3µm of accuracy when that fixture goes back in front of the laser. That kind of precision is key when you're working at the micron level. We keep the ambient shop temperature within 4° F to ensure the greatest possible accuracy."
Obtaining that level of accuracy with laser micromachining requires a different approach from traditional material-removal operations, Matt said. Unlike the speeds and feeds in milling and turning, the parameters used in laser operations involve the laser's power output, the laser's frequency and the speed of the galvanometric mirrors that control the laser's movement across the workpiece.
Generally speaking, power is the most straightforward of these factors: Set the laser's power to 20 percent and in most cases the output is 20 percent. The laser's oscillation frequency has a more complex relationship with DOC and detail. As a rule, higher frequencies create higher-quality cuts at slower removal rates. There similarly is a correlation with the speed of the galvanometric mirrors' movement across the material surface, affecting both removal rates and surface quality. By managing these factors, whether through trial and error or the use of known parameters, operators can significantly vary the DOC per slice.
---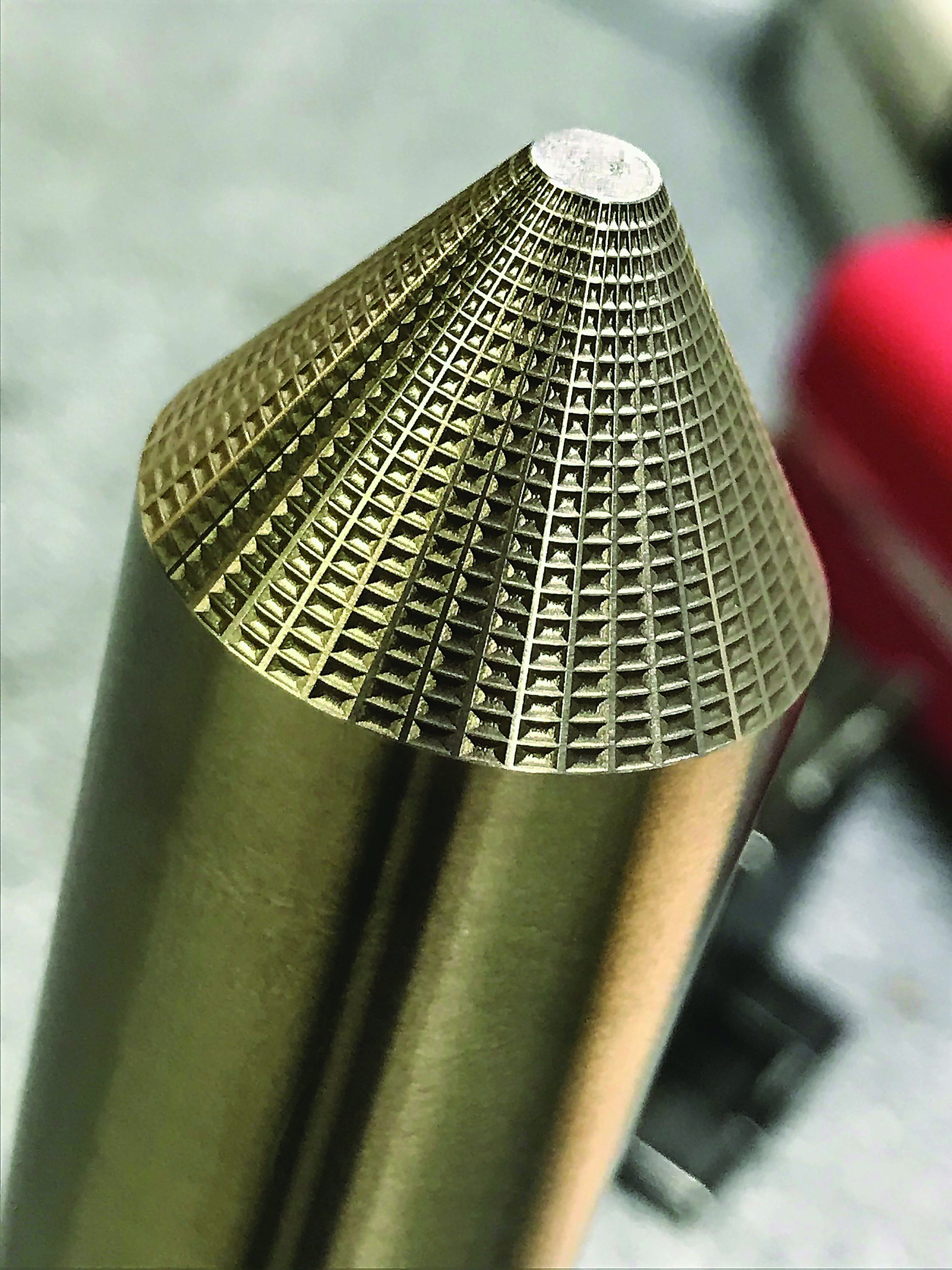 With its AgieCharmilles laser texturing systems, Providence Texture quickly generates precise microstructures on workpieces as shown in this photo and CAD illustration. Image courtesy of Providence Texture
---
Since starting Providence Texture, Matt has had the opportunity to rethink and establish many of the parameters he uses today. His background is in mold texturing dominated by packaging, consumer goods and automotive, but his company also serves a range of other industries, such as medical, aerospace, lighting, defense, jewelry, sports equipment and electronics. The shop produces a vast scope of textures, including those with extremely low Ra value surface finishes. However, more and more the company uses its Laser P 400 U to micromachine part features.
Many of these part features are deceptively simple, such as V-shaped grooves to add pressure to gasket seals that may be as little as 0.005" deep or 1mm to 2mm threaded features on a plastic syringe barrel injection mold. Femtosecond lasers can create many of these features faster and at less expense than a typical sinker EDM, as well as features that demand micron-level tolerances that would be difficult or impossible to achieve with traditional techniques.
Matt plans to soon add a second Laser P 400 U to conduct more research on the potential of femtosecond laser technology.
"I see many, many new applications to come," he said. "And a second machine will let me explore those possibilities without bottlenecking production. We're only scratching the surface of what the femtosecond laser is capable of. It's only a matter of time before it changes the whole industry as we know it."   
For more information about Providence Texture LLC, call 401-642-9490 or visit www.providencetexture.com. For more information about GF Machining Solutions LLC, call 847-913-5300 or visit www.gfms.com. Matt Melonio will speak at the ANTEC 2019 conference in Detroit March 18 about machining with lasers.