Author
Cutting Tool Engineering
Published
September 17, 2019 - 11:00am
Seeb Industrial Inc. is a diversified job shop that has been open for 38 years. Seeb focuses on CNC machining. "Our average run is about 250 pieces. Two hundred and fifty to 500 pieces are some of our larger runs, although we have done more," said Vice President of Manufacturing Eric Nagy.
Seeb Industrial, Bedford Heights, Ohio, frequently does complicated one-part jobs on a CNC, he added, such as when a customer needs a replacement component for a machine for which parts are no longer being produced. "We will take a part, reverse-engineer it and get them back up and running."

The Tung-Tri shoulder mill has a differential pitch on the cutter to prevent chatter, according to Tungaloy. Image courtesy of Tungaloy America
However, when the company got an order that indicated an annual total of 5,000 pieces, Seeb Industrial was concerned about the cycle time for the pieces, according to Nagy.
Seeb Industrial began by making prototypes and then determined which cutting tools of the 10 being applied consumed the most time. With that information, the shop consulted various suppliers. "We picked everybody's brain from different tooling companies," Nagy said.
Tungaloy America Inc., Arlington Heights, Illinois, was one of the cutting tool companies that Seeb Industrial contacted because the shop had worked with Jeff Fousek, a sales engineer for the toolmaker, on previous applications. Fousek proposed applying Tungaloy tools for several processes, and Seeb Industrial welcomed two of the suggested tools: the DoFeedMini indexable-insert high-feed mill and the Tung-Tri indexable shoulder mill.
Seeb Industrial started with a 1.25"-dia. high-feed mill but switched to a 7⁄8" tool along with a shorter toolholder to enhance rigidity and help minimize chatter, Nagy said. "We got that tool running at 230 ipm."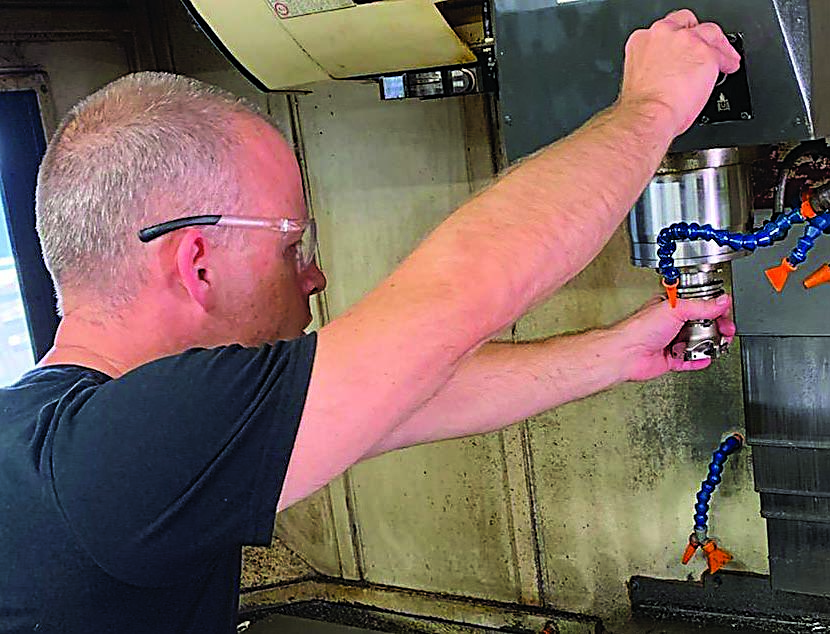 Seeb Industrial's vice president of manufacturing, Eric Nagy, checks a Tungaloy Tung-Tri shoulder mill. Image courtesy of Seeb Industrial
In contrast, Nagy noted that the shop initially used a 1.5" shoulder mill but switched to a 2.5" mill to reduce cycle time when machining the forged steel part, which has a hardness of about 30 HRC. The original cycle time was about 17 minutes, including part loading and unloading, but Seeb Industrial reduced it to 11 minutes. "That high-feed mill took two and a half minutes out of that cycle time."
One Tungaloy tool Seeb Industrial didn't initially welcome was the DrillMeister drill with an exchangeable-head system. Nagy explained that drills with removable tips typically cost more than indexable-insert drills. He added that "being a smaller shop, a lot of times we have to watch the cost of tools. Therefore, we choose the best option
financially."
However, Nagy said he is starting to see that spending more upfront to achieve better cutting performance can produce big dividends. The drill from a competing toolmaker was sometimes creating a taper at the hole and wasn't always able to impart the specified 125-rms surface finish.

A selection of Tung-Tri indexable shoulder mills from Tungaloy America. Image courtesy of Tungaloy America ​
"The finish would be fine," he said, "but then the drill would start going crazy, and we would get chatter inside the hole. Every once in a while, we had to run a reamer through there."
Consistently holding a 0.010" tolerance on the 1"-dia. hole also proved to be a challenge, Nagy added. He found that it was more effective to apply a 25mm drill to make the 25.4mm hole. "I shouldn't have to use a smaller drill just so I can hold size," Nagy said.
Tungaloy's DrillMeister solved those issues. Each part requires three holes, and Seeb Industrial produces 40 parts a day with the drill lasting for 10 days, or 1,200 holes, he said.
The shop produces the parts on a vertical machining center that has three stations on its table, Nagy said. The part has a clevis shape with an "ear" on each side. The drill is applied in the first two stations, the shoulder mill in the second station and the high-feed mill in the third. Parts are held with custom fixtures that were made in-house and machined simultaneously in all three stations.
"Every 11 minutes, you are getting a piece that is done," he said.
"I think we have pushed the tools as hard as they can be for this material." For now, Seeb Industrial is comfortable with that level of productivity, Nagy noted.
End User
Seeb Industrial Inc., 216-896-9016, www.seebindustrial.com
Solution Provider
Tungaloy America Inc., 888-554-8394, www.tungaloy.com/us
Challenge
Reduce the cycle time and consistently meet dimensional tolerance specifications when machining a forged military component.
Solution
A selection of cutting tools that includes a high-feed mill, a shoulder mill and an exchangeable-head drill.