Author
William Leventon
Published
June 02, 2022 - 12:00pm
Not satisfied with a popular five-axis vertical machining center in its lineup, a major machine builder came out with an enhanced version that reportedly offers an improved CNC, shorter cycle times, increased workpiece capacities and more automation options.
Main selling points of the Variaxis i-800 NEO VMC from Mazak Corp. in Florence, Kentucky, include the Mazatrol SmoothAi CNC. Relying on artificial intelligence, Mazatrol SmoothAi features a function called Smooth Machining Configuration for process optimization. SMC allows real-time operator control of numerous cutting parameters, according to Mazak.
With the launch of Mazatrol SmoothAi, the company introduced its optional Smooth Project Manager Gateway software. Working in concert with external CAM software, Smooth Project Manager Gateway gives CAM programmers access to internal machine data, allowing them to query the machine to download information, such as machine models, offset data, stroke limits and tooling configuration. (The last of which can be modified at the CAM workstation and sent back to the machine so operators can accurately complete a setup.)
With the downloaded information, Mazak points out that users can create more precise machine programs that take into account the capabilities and limits of each machine. In addition, the company notes that realistic program simulations with real-time setup information can be produced so even less experienced operators can have confidence when running complex machining programs.
Another enhancement based on artificial intelligence is Ai Thermal Shield. To maintain machining accuracy, this feature uses algorithms that learn from and adapt to environmental changes to compensate for heat-related displacement.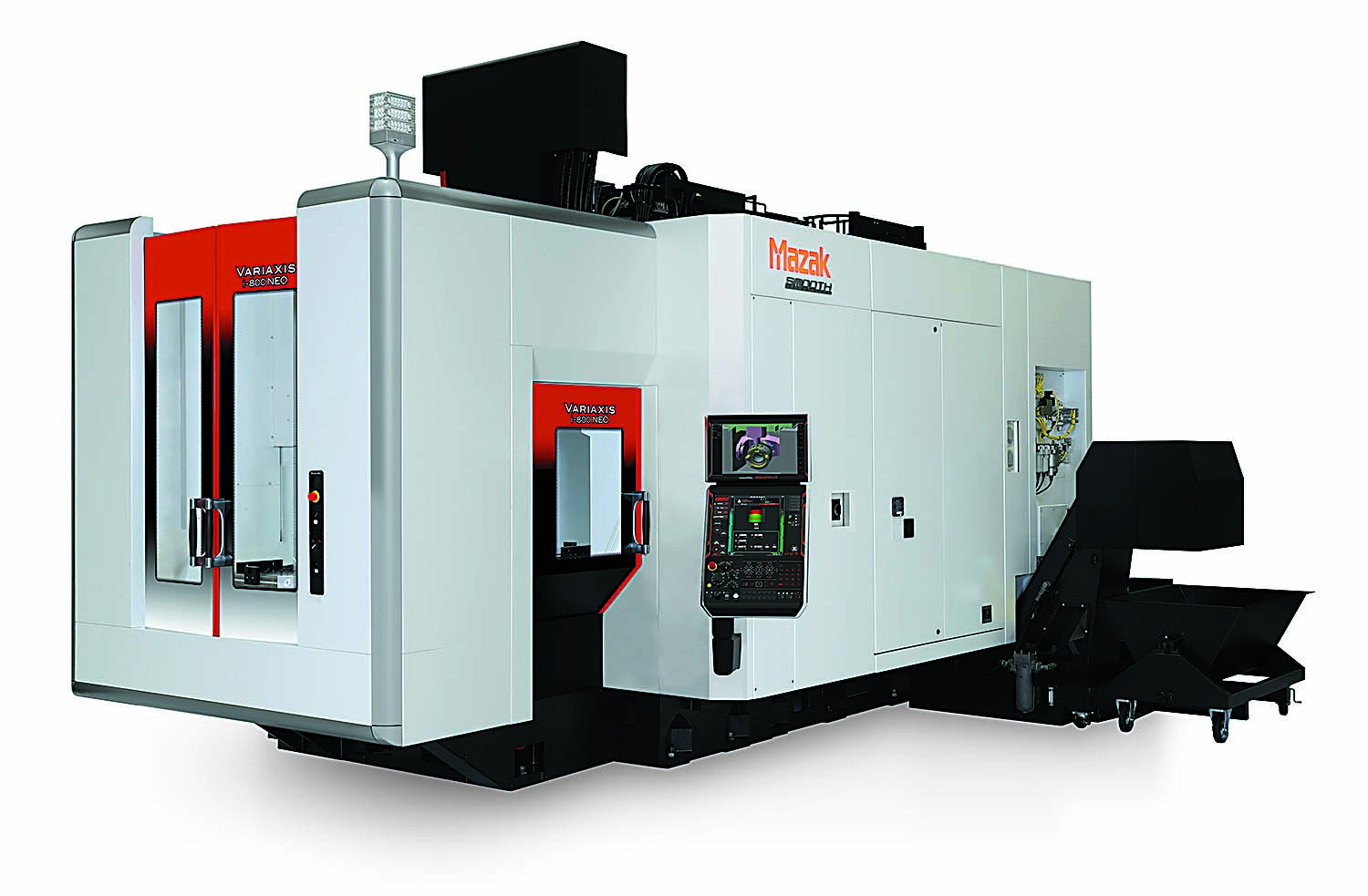 The Variaxis i-800 NEO can handle tool lengths up to 400 mm (15.75") in magazines with capacities of 30, 40, 80 and 120 tools. The 80- and 120-tool magazines are equipped with a servodrive that can significantly reduce tool wait times, according to Mazak.
"We're seeing as much as 10% shaved off tool-to-tool and chip-to-chip time because of the servo," said Chuck Birkle, vice president of sales and marketing.
Other capabilities of the Variaxis i-800 NEO touted by Mazak include traverse rates of 42 m/min. (1,653 ipm) in the x-, y- and z-axes, which reduce cycle times, and increased axis strokes — to 730 mm (28.74"), 849.9 mm (33.46") and 560.1 mm (22.05") in the x, y and z directions, respectively — to accommodate larger workpieces.
In addition, all three linear axes are positioned above the cutting plane.
"In most machine tools, they're below the cutting tool," Birkle said. "So we're reducing the chances of any chip and coolant contamination of the precision linear guide ways."
Maximum workpiece weight capacities are 1,000 kg (2,205 lbs.) for the single-table version of the machine and up to 500 kg (1,102 lbs.) with a two-pallet changer. He said most customers buy the machine with a two-pallet changer. But other automation options are available, including Mazak's Multi-Pallet Pool vertical pallet-stocking system and Palletech system, which is made up of pre-engineered building block modules. To support hydraulic and pneumatic fixturing, the machine comes with nine ports in a single-table configuration and 12 ports (four inside the machine and eight outside) for two-pallet changing.
Birkle said a key difference between this machine and five-axis alternatives is the different spindle configurations it offers. He said these range from low-rpm, high-torque options for machining high-temperature alloys all the way up to 25,000 rpm spindles. As a result, he said the machine is making parts for a wide range of industries, including construction, agriculture, aerospace and automotive.
However, he said the Variaxis i-800 NEO would not be right for machining very small medical parts.
To make these components, the relatively large work envelope would require tools that are so long that "there'd be too much reach and too much chatter," Birkle said.
In addition, he pointed out that shops lacking in the programming area may want to look elsewhere because they wouldn't be able to take full advantage of the capabilities of the five-axis machine tool.
Some shops, Birkle said, "have not invested in the systems or people to program the feature-rich work that would go (into) a machine like this."