Author
CTE Staff
Published
December 19, 2022 - 12:30pm
Panafab Inc. is a custom machine builder that has spent several decades furthering the special automation processes of customers, ranging from large component and tool manufacturers to small machining firms and even worm farmers.
"We've dedicated ourselves to customers looking to augment their production lines with customized equipment and automation systems," said Joe Panetta, president of the Suwanee, Georgia-based company. "After years of investing in the highest-quality engineering and programming software, we are now transitioning to the design and build of proprietary lines of industrial automation equipment designed to increase the productivity, improve the quality and reduce the costs of our clients' manufacturing processes. We are, however, still supporting many of our existing partners with industry-specific solutions designed to reinforce their unique production, assembly and fabrication needs."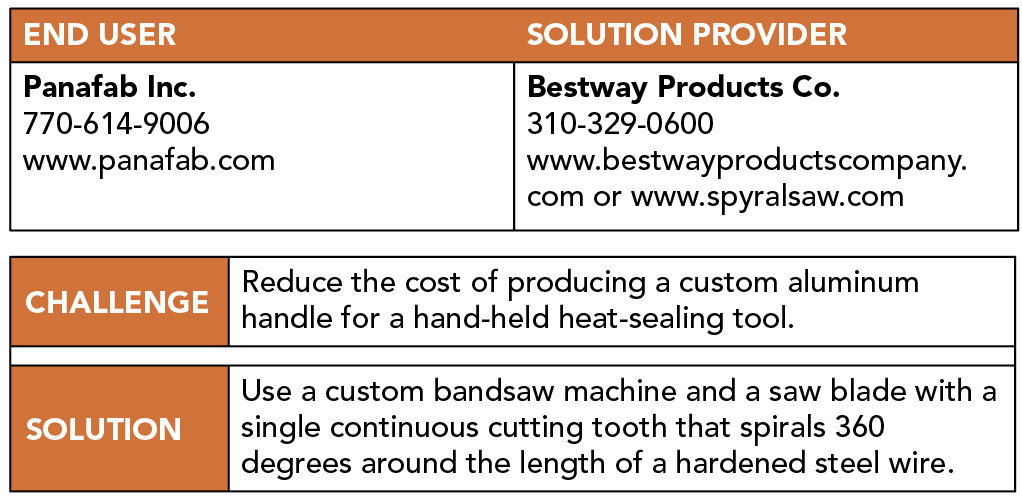 Since 2013, Panafab has produced a custom handle made of 6061 aluminum for a hand-held heat-sealing tool used by the military to hermetically seal jet engines in foil polymers. He said the company annually makes about 1,000 handles. It previously formed the handle from sheet metal and welded the handle together.
"That was very expensive," Panetta said. "We investigated the idea of having it cast, but the tooling costs were a bit prohibitive because our volumes back then were even less than they are now."
He said a friend also builds unique machinery and was using a diamond-impregnated wire to saw parts, which led him to search online for a wire saw suitable for his own application. As a result, he found Gardena, California-based Bestway Products Co. and its Spyral wire saw blades.
Designed with a single continuous cutting tooth that spirals 360 degrees around the length of a hardened steel wire, Spyral saw blades enable tight, intricate cuts that are virtually impossible with conventional flat saw blades. Spyral blades can cut a variety of materials, including metal, foam, ceramics, rubber, graphite, composites, wood and bone.
"Conventional toothed saw blades are typically flat, cut in a forward direction and need to be positioned so the teeth face the material at the right angle," said Stuart Gordon, owner and president of Bestway Products. "Our Spyral saw blades cut in all directions, even sideways and backward. They will cut in the direction of the feed pressure, which can make a significant difference when cutting without rigid fixturing."
Panetta said the wire blade that Panafab uses is 1.27 mm (0.05") in diameter.
"The fact that Bestway can actually fuse that little blade into a loop is pretty impressive," he said. "It's like trying to fuse a strand of hair."
Once Panafab determined that the wire saw blade was needed for the job, Panetta said the manufacturer required a sawing machine to use the blade. After consulting Bestway Products, Panafab designed and built a custom bandsaw to rapidly and sequentially cut handles from an extruded aluminum profile, calling for two axes of motion to produce a part in one cut with the blade. This action is repeated continually until the entire extrusion is consumed.
"It was right in our wheelhouse to build our own machine," he said. "It took a few months."
Panetta said Panafab produces about 25 to 28 handles from each 1.8 m (6') long extrusion and that a blade is repeatable within 0.254 mm to 0.381 mm (0.01" to 0.015"). He said a blade can saw several hundred parts.
"The joint where it is welded is obviously the weak link," he said. "We find some variation on the life expectancy on how long that weld stays together before it snaps."
Panetta said the parts are tumbled, but the saw-cut edge does not require secondary polishing, sanding or grinding. The cost of sawing the parts is about 80% less than the previous method.
"They could have gone in other directions," Gordon said, "but those systems would likely have costed hundreds of thousands of dollars to produce."
"We've been working with this particular client for nearly 20 years," Panetta said, "and they keep coming back because they thoroughly appreciate the quality of our work and ability to deliver on demand. This was a particularly tricky request that we fulfilled in an extremely timely fashion and with incredibly precise and cost-effective results. There's no way this could have happened without Bestway."