Author
Kip Hanson
Published
May 07,2018 - 04:45pm
Swiss-style lathes are among the most flexible and accurate of all CNC machine tools.
They've long been a favorite of medical parts manufacturers because of their ability to produce complex bone screws and cannulas in a single handling. Hydraulics manufacturers use Swiss-style lathes to machine check valves, automakers use them to produce brake and fuel injection components, and defense manufacturers use the machines to turn firing pins and other tiny parts.
With their twin spindles, multiple axes, dozens of tools and the possibility of cutting several part features simultaneously, they're easily the kings of small-part production turning. 
Donning a Shiny New Mantle
Today, the king has a new crown. By integrating laser-based cutting and, in some cases, welding heads onto their already-capable equipment, Swiss-style lathe builders are taking these machines into bold new territory. 
Graham Noake, Tsugami LaserSwiss vice president of Rem Sales LLC, Windsor, Conn., the exclusive U.S. distributor for Tsugami, said the machine builder first added lasers to address the needs of the medical industry. Since then, other opportunities have opened up. 
---

Image courtesy of Marubeni Citizen-Cincom.
---
"We saw a large variety of tubular parts that were first laser-cut and then sent for secondary machining operations to add grooves, chamfers, knurls, etc.," he said. "By combining a laser head with a Swiss-style lathe, these operations, and others, can be completed on a single machine, reducing both part cost and lead time."
Unlike traditional machining processes, Noake said, laser light exerts no tool pressure. There's no part deflection or distortion. Also, a laser beam can be highly focused, allowing it to cut slots and holes down to 0.0006" (0.015mm), features almost impossible to produce with conventional cutting tools.
Even in those cases where a tool is available, lasers cut significantly faster through thin walls, with no worry about damaging a tiny, often expensive, drill or endmill. This capability makes them ideal for stents, pins and other medical components, which often measure less than 2mm (0.0787") in diameter. 
---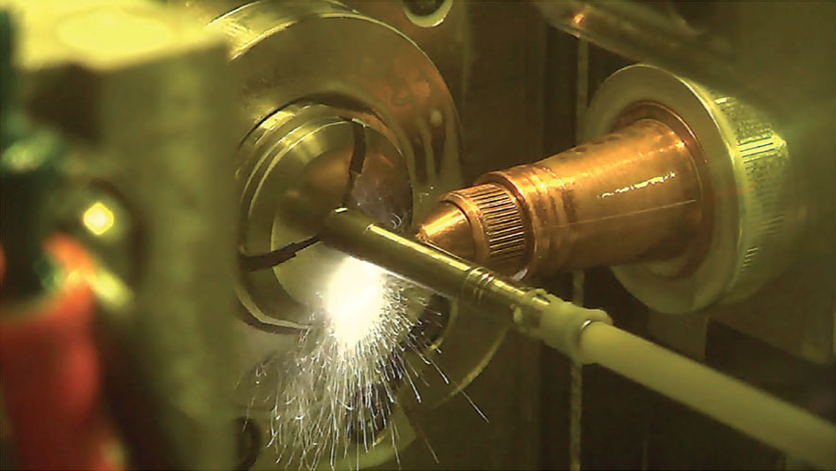 A laser-equipped Swiss-style machine can reduce cycle times and extend tool life on subsequent finishing tools. Image courtesy of Tsugami.
---
That's not to say lasers are limited to Lilliputian parts and part features. Tsugami and other machine builders offer laser-equipped Swiss machines with up to 32mm (1.26") bar capacity and laser power of 400w or higher for cutting walls thicker than the 3mm (0.118") recommended for lower-powered devices.
Laser-equipped Swiss machines are edging into other territories as well. "Customers that were previously pure laser or EDM houses are seeking to add value by expanding their capabilities," Noake said. "Laser cutting is much faster than EDM and, in most cases, yields similar or better results."
On the Move
Allendale, N.J.-based Marubeni Citizen-Cincom Inc. is seeing similar success with its line of laser-equipped Swiss machines. Laser specialist Randy Nickerson said it's a straightforward exercise to retrofit select models of the company's Swiss-style lathes, and even conventional CNC lathes, with a laser head. 
"Most of the activity has been in the medical market, but we're beginning to see the technology used in electronics and aerospace as well," he said. Nickerson explained that the laser head has endless applications because endless geometric shapes can be generated with a beam of light. It doesn't generate burrs or get dull. "Programming is no different," he added. "It's generally used with tubing, but there's nothing stopping you from machining solid bar stock if you stay within the machine's and the laser's capabilities."
---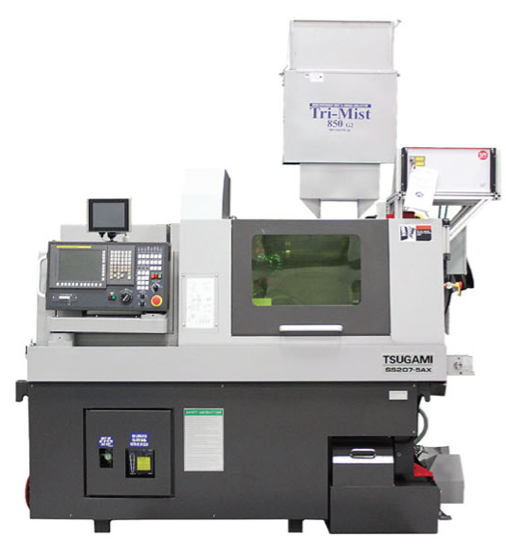 Tsugami's SS207-5AX is a 20mm, 7-axis, Swiss-type CNC machine with two laser heads, one for cutting and one for welding. Image courtesy of Tsugami.
---
Each machine tool builder has its own proprietary technologies that make its machines special, but some similarities exist. For example, the machines must be equipped with safety glass and a sealed enclosure to prevent the laser light from causing eye damage. For tubing jobs, cutting fluid can be pumped through the bar feeder and down the inside of the tube. The fluid helps cool the workpiece while the laser is cutting, reducing the amount of dross (melted material) that would otherwise form around the edges of the cut. It also prevents the beam from reaching the opposite side of the workpiece.
Because laser cutters need "assist gas" to shield the beam, both Rem Sales and Marubeni Citizen-Cincom offer nitrogen, argon and, in some cases, a small amount of oxygen for more aggressive cutting. 
"Sometimes you need to change gases midcycle to accommodate different cutting conditions," Nickerson said. "You may also need to adjust beam parameters such as power level and focus. We can even [initiate a] power boost for a short time, up to 3,000w, for heavy cuts. All of this is controlled directly in the part program."
Bringing the Work Home
Someone who recently became an expert on the advantages of this new technology is Mark Flanagan, CEO of Central Centerless Grinding, Saugus, Mass. He bought two Tsugami LaserSwiss machines early last year. Doing so enabled the company to offer a major medical customer a significant cost reduction on a complex multi-component assembly.
---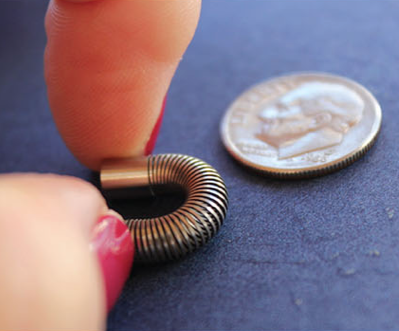 Laser-equipped Swiss CNC lathes can cut complex features that once required an EDM or secondary laser processing. Image courtesy of Tsugami.
---
"We'd been trying for some time to win that business but were never able to reduce the manufacturing costs enough to get the customer's attention," Flanagan explained. "Then the LaserSwiss came out. I did the math, had some test cuts done and found that we were probably 40 percent less expensive than the competition."
Flanagan determined that he could use the laser to rough a series of slot-like features on the 17-4 PH stainless steel workpiece, then apply a 0.020" (0.508mm) endmill at 40,000 rpm to finish the periphery. This approach drastically reduced the time needed to cut the tiny features while extending tool life. Working with Tsugami, he rented a machine for extensive testing and subsequent customer approval of the new laser-based process, which he said required minimal changes to the part design. 
The result? "We were able to get really nice products much more quickly than was previously possible," he said. "It was a huge savings for my customer, so we entered into an agreement. I purchased two machines, and we've been making the parts ever since. It was a big project for us, and a big investment, but my people have found the LaserSwiss much easier to use than expected—it's like having a tiny endmill that never wears out."
Contributors
Central Centerless Grinding
(781) 233-5229
www.ccgonline.net
Marubeni Citizen-Cincom Inc.
(201) 818-0100
www.marucit.com
Rem Sales LLC
(860) 687-3400
www.remsales.com