Author
CTE Staff
Published
October 21, 2021 - 10:30am
Westminster Tool Inc.'s injection mold department has grown consistently faster than before in response to a roughly 10% increase in demand for molds for medical devices. For the Plainfield, Connecticut-based company, that meant investing more than 10% of revenue in updating, replacing and expanding equipment across the shop to improve efficiencies and keep up with demand.
The area that saw the largest enhancement was the hard milling department, which previously included a single Mikron HSM 500 machining center from GF Machining Solutions LLC in Lincolnshire, Illinois. To increase its milling capacity by more than 400% when machining workpieces as hard as 62 HRC, Westminster Tool added a three-axis Mikron Mill S 500, a three-axis Mikron HSM 500 Graphite and a five-axis Mikron HSM 400U LP with automated palletization. The three- and five-axis machines have a maximum spindle speed of 42,000 rpm.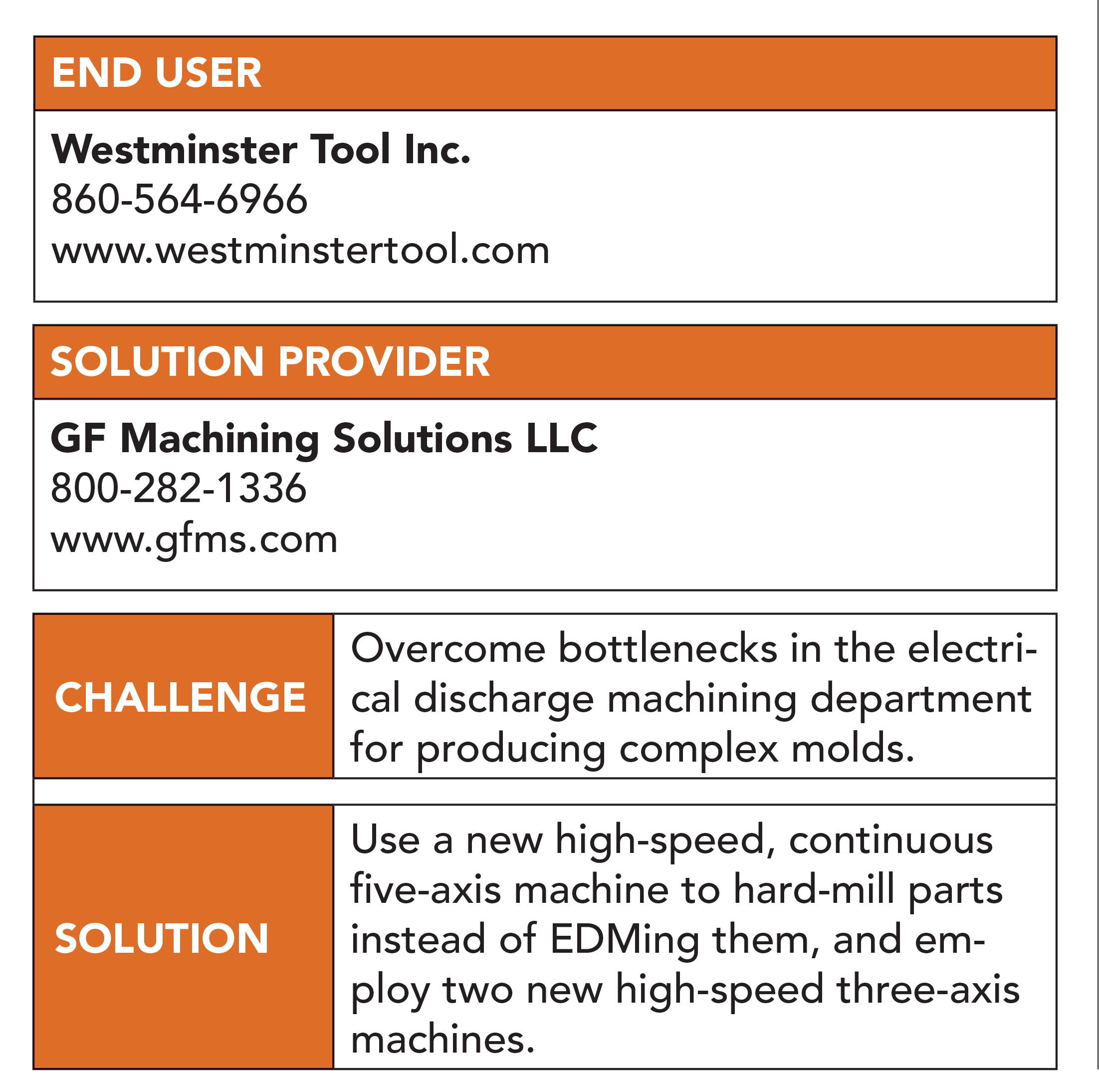 "We had a general capital expenditure plan, and about seven years ago we put that on hold so we could invest solely in our people," said Ray Coombs, president of Westminster Tool. "Once we established that, we wanted to give them the best tools possible, so we made it a priority to budget for that technology. Now that we have a rock-solid training foundation, we're better positioned to actually apply the technology."
He said hard milling, especially five-axis milling, requires a high level of skill to perform effectively.
"The first five-axis we had had a pallet pool but was running nonstop, so we couldn't train on it," Coombs said. "Now that we can train on the use of palletization, it's going to revolutionize our approach to setups and running lights out. You just can't be competitive without lights-out capacity."
He said justification for the investment didn't come from any specific contract or interest in market growth.

The hard milling department at Westminster Tool is shown. Image courtesy of Westminster Tool
"But over the last few years," Coombs said, "we have had to say no a lot, and the demand is there. We don't want machining or personnel capacity to be the reason we shy away from a project."
With new machinery comes a larger equipment footprint, so the company reconfigured the shop floor over the winter holidays.
"We spent weeks planning and re-imaging what operations would look like here with the new equipment," said Vice President Hillary Thomas. "Shutting down the shop for a few days allowed us to move equipment and fully optimize the shop's workflow."
The movement placed all hard milling equipment in one centralized cell and set the electrode milling machines closer to the new five-axis machine to reduce transportation of parts between the electrical discharge machining and hard milling departments and to improve communication channels between the two teams.
In addition, Coombs said having the capability to perform simultaneous five-axis machining helps the company avoid the bottlenecks that occur naturally.
"So when EDM gets slammed with work," he said, "we can work around that with the hard mill without impacting the job schedule. In one example, we avoided an added schedule delay of three weeks just by switching operations from EDM."
Aside from boosting machining capacity, adding equipment freed up more milling machines so experienced machinists could train and cross-train other employees. Westminster Tool previously had enough work to keep the single mill running 24/7, leaving few opportunities for training. But the investment in equipment, for instance, already has allowed Amy Skrzypczak, a hard mill apprentice, to advance her training.