Author
Cutting Tool Engineering
Published
June 09, 2022 - 12:00pm
By Datanomix Inc.
David Packard Co. is a full-service machining facility in Oxford, Massachusetts, with over 30 years of experience in CNC milling and turning metal parts at a 4,645-sq.-m (50,000-sq.-ft.) factory. DPC has deep relationships with a wide variety of customers in the medical, defense, firearms, fiber optics, telecommunications and commercial industries. If you attend a baseball game this season, you may sit in a seat with components made by the company. Also, in 2020, DPC was tapped to support the building of thousands of parts for defibrillators and ventilators. To keep up with demand, the company manages two fully staffed shifts with some unattended run time overnight.
Two years ago, DPC faced new challenges as the pandemic pressured component suppliers to meet unforeseen demands from customers.
"2020 was a record year for the company, with 20% growth on top line, more than tripling previous years," said Operations Manager Tom Vinal.
He attributes the success to a spike in demand from medical customers.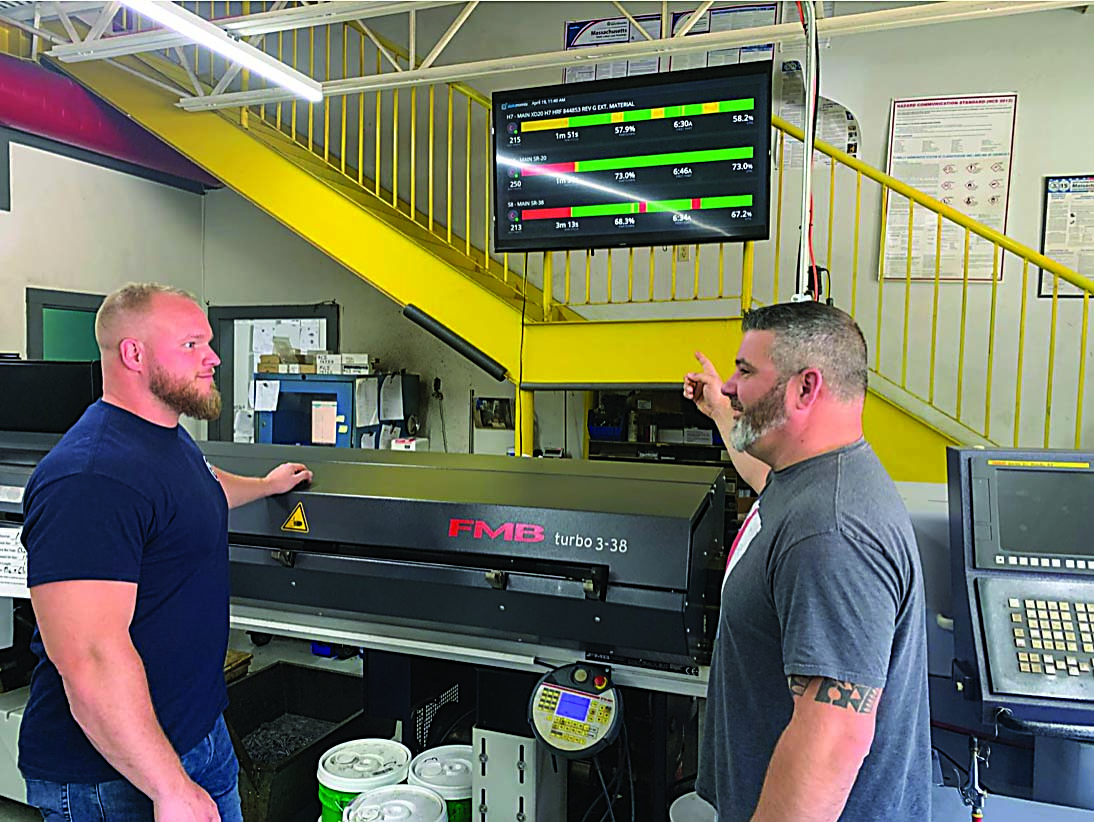 "While some customers were faced with shutdowns, others could not produce enough to meet new demand from the government," Vinal said. "Packard was well positioned, with a diverse set of customers and industries driving growth through the turbulence, coming out even stronger on the other side."
Owner and President Matt Dipietro sees new tail winds in the market and is planning for growth, carefully considering creative dimensions, including physical plant expansion and potential acquisition strategies. The company has approached the town to expand facilities, but it's a long process. Lacking floor space for new machines, DPC seeks ways to get more out of the existing factory. An important part is the integration of technology to drive higher productivity.
"I know we can unlock 20% of additional capacity from our existing base to fill the influx of new business coming in while we put plans in place to expand our facilities," he said. "We need to change the way we think about running the business and how we integrate technology into our management philosophy. It's no longer optional."
During a visit to the factory floor of a business partner, Vinal and Dipietro were introduced to software by Datanomix Inc. After a half-hour demonstration, they asked to meet the Datanomix team. When that meeting ended, Dipietro knew he wanted the software.
The installation at DPC took a few hours. Most of the effort involved network connectivity and setting controller IP addresses for data access. The next morning, the company had full access to live production data through Datanomix's interface. TV monitors were mounted on factory walls and in the cafeteria. Whether people were working or on break, they knew exactly where each job was on the floor and how every job was performing compared with expected benchmarks. After an hour of training, the team was off and running.
Reflecting on where DPC was before the use of Datanomix software, business leaders highlight stark differences in information flow, speed of root-cause analysis, key performance indicator measurement and overall productivity of not only operators but the entire leadership team.
There was "a combined 15% increase in factory output after implementing the Datanomix software," Dipietro said.
Benefits included:
A factory visualization and notification system. The information disconnect between the factory floor and the offices, which are on separate floors, was eliminated because everyone at the company had the factory visualized on monitors and smart devices. Machine experts stationed on the second floor responded to a machine-down situation in seconds when it could have taken a few hours in the past. The productivity gained was significant.
Production intelligence reporting. Software replaced 15 weekly report-running exercises with a single application. Data no longer had to be assembled. The answers were available in a morning report and by glancing at televisions on the floor. Much time was saved.
A shift in the management model. Shifting to predictive intervention helped keep jobs on track at the factory. "We can see emerging patterns in the Datanomix information that indicates to us that a job is in jeopardy," Dipietro said. "And we now proactively address it instead of waiting for things to happen and have the operator notify or ask for help. Senior machinists on the floor are working with others to help them keep their jobs locked on delivery dates and quality goals." 
---
For more information about Datanomix Inc. in Nashua, New Hampshire, call 866-488-4369 or visit www.datanomix.io.