Author
Michael C. Anderson
Published
December 01, 2016 - 12:15pm
First, the good news. There is a pretty stable concurrence among industry experts that while manufacturing activity in the past year has been flat, it should pick up soon.
"The next 18 months should be good for manufacturing," Institute for Trend Research Economics President Alan Beaulieu told participants at the AMT Global Forecasting & Marketing Conference, held Oct. 19-21 in Miami. "We'll see a strong 2017. You'll feel it soon."
Improvements in oil prices, gross domestic product and industrial production will fuel this uptick. Commodity price increases, manufacturing capacity utility rate growth and positive business-cycle pressure will also contribute, according to Beaulieu, who's based in Manchester, N.H.
There was positive news about specific manufacturing industries as well. Richard Aboulafia, vice president at Teal Group Corp., Fairfax, Va., affirmed that "aerospace is still a great industry to be in." The industry has hit a monetary high for new aircraft deliveries at approximately $181 billion, he said—part of a 12-year "super cycle" of high growth.
In the commercial jet market, there is $1 trillion worth of backlogged orders, primarily at Airbus and Boeing, and in 2017 and 2018, Aboulafia said, this market is expected to grow, but warned that, inevitably after 12 years, a correction is coming.
The automotive industry's practices are benefiting contract manufacturers, according to Robert Kimmel, senior manager at Harbour Results Inc., Southfield, Mich. The industry "is in a continuous-launch environment," he said. In an attempt to be increasingly competitive in a level market and meet consumer preferences, auto OEMs are increasing their number of offerings.
"We see an 18 percent increase in the number of models on the road" from 2015 to 2018, Kimmel said. And even if the total number of vehicles sold remains flat, an increase in the number of models is good news for suppliers. Newer models are also more complex. "You don't have to be a design engineer to look at the headlamp of an Audi on the road today and see that it is a much more complex, sophisticated—and, frankly, cooler—headlamp than what you saw a few years ago," Kimmel said, noting that more complexity is also good news for suppliers.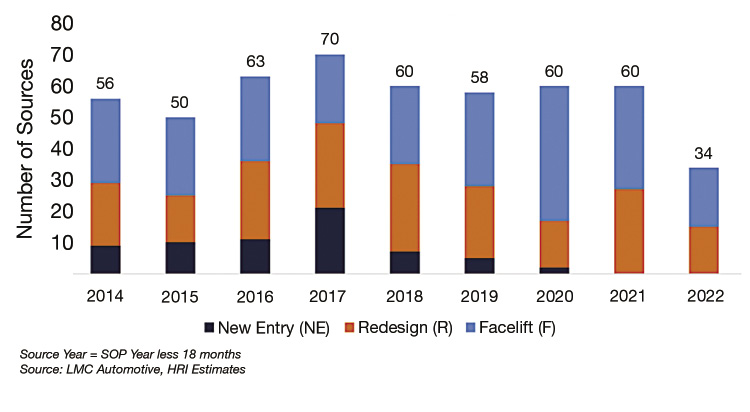 An increase in new vehicle launches benefits contract manufacturers. Graph courtesy Harbour Results.

Eli Lustgarten, senior vice president at Longbow Securities LLC, Independence, Ohio, also identified a few hopeful trends in the economic data. For example, the end of inventory liquidation should increase manufacturing production levels in order to maintain baseline inventories. Capacity utilization rates have hovered around 76 percent, he said, and even modest increases in production will generate order activity for manufacturing-technology products. In addition, Chinese demand for replacement parts and new equipment will drive the market up by a small margin.
In spite of the projections for better times, nobody at the conference was doing handsprings over the prospects for manufacturing in 2017. The information was leavened by each speaker's expectation that any growth that occurs won't really be much, historically speaking, and that the past year wasn't exactly gangbusters to begin with.
Lustgarten, for example, said he sees no significant reason for substantial growth in manufacturing in the next 2 years. Financial markets have fallen short of expectations and business investment turned negative in the fourth quarter of 2015, with a mean of 0 percent change since then. A strong dollar, weaker-than-normal economic growth in key markets and a sharp decline in commodity prices have combined to create two consecutive years of decline in manufacturing-technology orders. He expects a sluggish growth rate in customer markets for manufacturing technology until the second half of 2017.
Why We're Here
To get a better perspective on where the industry is, how it got here and how it can best go forward, CTE spoke with Federal Reserve Bank of Chicago Senior Economist and Economic Adviser William Strauss.
"The good news is that we're looking at growth to continue, going now into an eighth year—and that's pretty long, historically. This is about the fourth-longest expansion that we've seen," Strauss noted. "But, that being said, we're not exactly setting the world on fire.
"Over the past year, manufacturing has been pretty flat, maybe even inching down just slightly," he continued, "which is disappointing. The expectation was that we would see a bit-better performance this year. I don't disagree with the forecast groups that expect growth to come back next year, but it will be growth that is still somewhat below the trend."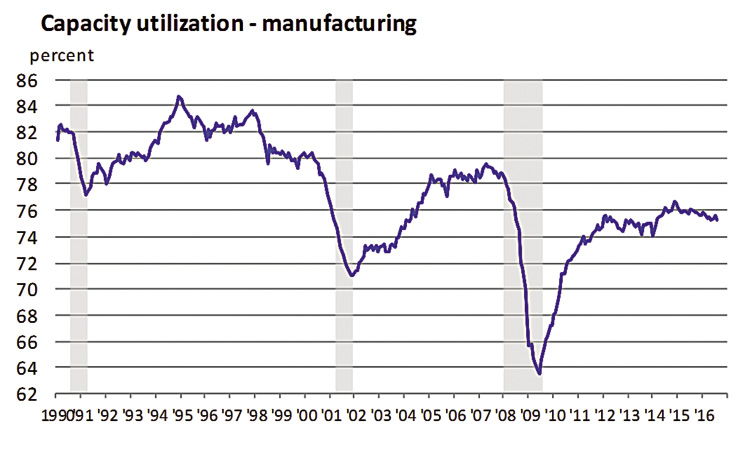 Graph courtesy Federal Reserve Bank of Chicago.

When looking at what transpired from the middle of 2009 to the third quarter of 2016, "we've seen a growth rate that has come in at 2.1 percent," which is barely above the rate that the U.S. should be growing at, Strauss said. Trend growth, based on U.S. labor force growth and productivity growth, is generally regarded as being from 1.7 to 2 percent. "So when you look at the future, unless you're expecting something dramatic one way or the other, you're pretty much going to expect to grow at that rate," he added.
Underlying that trend-rate growth are the drivers of labor and production. Strauss said the U.S. continues to have people available to work and produce more goods, and employment continues to do quite well, with more than 2.4 million workers added over the past year and an unemployment rate of around 5 percent. Other measures of slack (unused resources) are present in the labor market, but the slack continues to be worked off, he said. Sometime in 2017, "we will be looking at a market for labor that is much closer to what we regard as normal."
Several factors could cause these economic indicators to grow faster. One would be a correction in the value of currency, where the value of the U.S. dollar weakens, Strauss noted. A source of the greenback's relative strength has been an aggressive monetary policy in response to economic weakness in Europe, China and other places. "If we begin to see better growth around the world, that would work to correct the value of the dollar" and benefit U.S. manufacturing.
In addition, U.S. manufacturing could benefit from a stronger housing market. "It would be nice to see a bump there," Strauss said. "It's still operating at levels that are well below what we think of as normal—and this has been going on now for 10 years, a huge length of time for it to make its correction. It's still not there yet and probably won't be for several more years."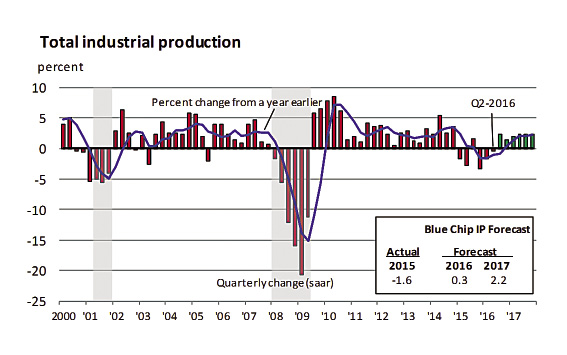 Industrial production is forecast to expand at a pace below its historical rate. Graph courtesy Federal Reserve Bank of Chicago.

Global Risks
And there's still the possibility of seeing below-trend performance in the coming year. "You have to look at what the risks are to the outlook," Strauss said. "And when you look around at our economy, you're just not seeing a lot of excesses. You still see slack in almost every industry."
The automotive industry probably has the least slack. "It's really fully recovered [from the Great Recession] at this point," Strauss added. But even its resources are not being completely utilized. If the auto industry finds slightly higher demand, it probably would be able to meet that demand, Strauss said.
The risks, however, largely seem to be outside of the U.S. "Whether it's the issues surrounding the European situation—not necessarily the Brexit vote's ramifications but also what happens with regard to Greece, Italy and Spain—issues in the eurozone that are still unsettled and unfinished," Strauss said.
"The biggest risk I see is still China, where the world's largest economy—or second largest, depending on how you want to value it—is slowing its growth," he added. Economists are watching how capital has been allocated there, not necessarily by market forces," and whether those allocations have been efficient or not.
So even though the U.S. has its house pretty much in order, other actors in the global economy can impact growth. "We have to keep our eyes open outside the United States to monitor those risks. They're of more concern than domestic factors," Strauss said. "And our house is in order in part because our relatively modest rate of growth. If we were growing at 3 to 4 percent, then we'd have a risk where a sector might get ahead of itself. But we just haven't seen that."
The bottom line for U.S. manufacturers is simply to continue to be ready to compete globally.
"Our manufacturing suppliers probably don't need any recommendations from me—these are some of the most innovative, smartest people around," Strauss said. "Our manufacturing sector remains the biggest producer, on an evaluated basis, of output in the world. And we've done that over the last 70 or so years while really having no increase in the number of workers—it's been productivity-driven."
Suppliers just need to keep their businesses up to the latest and greatest in terms of technology and efficiency, "so we can continue to be extremely globally competitive," Strauss said.

Contributors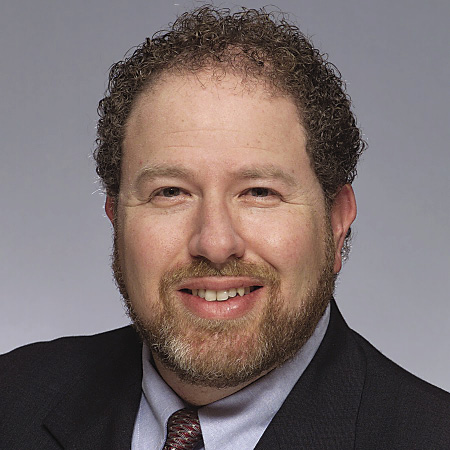 William Strauss, senior economist and economic adviser
Federal Reserve Bank of Chicago
(312) 322-5322
www.chicagofed.org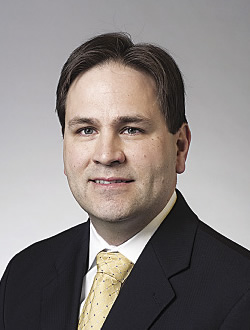 Robert Kimmel, senior manager
Harbour Results Inc.
(248) 552-8400
www.harbourresults.com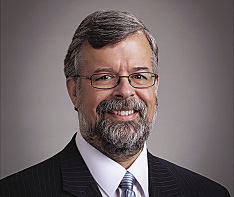 President Alan Beaulieu
Institute for Trend Research Economics
(603) 796-2500
www.itreconomics.com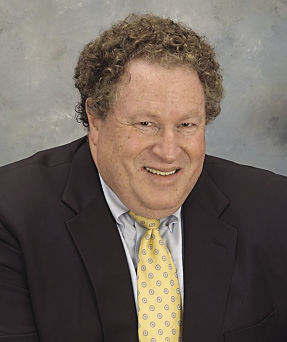 Eli Lustgarten, senior vice president
Longbow Securities LLC
(216) 986-0700
www.longbowresearch.com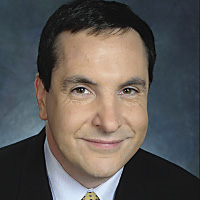 Richard Aboulafia, vice president
Teal Group Corp.
(888) 994-8325
www.tealgroup.com
Related Glossary Terms
flat ( screw flat)


flat ( screw flat)

Flat surface machined into the shank of a cutting tool for enhanced holding of the tool.

sawing machine ( saw)


sawing machine ( saw)

Machine designed to use a serrated-tooth blade to cut metal or other material. Comes in a wide variety of styles but takes one of four basic forms: hacksaw (a simple, rugged machine that uses a reciprocating motion to part metal or other material); cold or circular saw (powers a circular blade that cuts structural materials); bandsaw (runs an endless band; the two basic types are cutoff and contour band machines, which cut intricate contours and shapes); and abrasive cutoff saw (similar in appearance to the cold saw, but uses an abrasive disc that rotates at high speeds rather than a blade with serrated teeth).