Author
Michael C. Anderson
Published
December 01, 2016 - 04:00pm
There was a lot of excitement about Industry 4.0 and the Industrial Internet of Things (IIoT) at IMTS 2016. Numerous booth workers enthused about their particular product's connectivity—its readiness to be spliced into that recursive digital thread.
Toolmaker Sandvik Coromant Co.'s CoroPlus platform is slightly different from many in that its offers not only digital thread-ready devices, but also a version of the thread itself.
CoroPlus is the umbrella name of a new platform of connected tools and software made to improve productivity and control costs through a combination of connected machining and access to manufacturing data and expert knowledge. CoroPlus connects with existing software environments through open application programming interfaces (APIs), offering two-way connectivity and accurate data quality.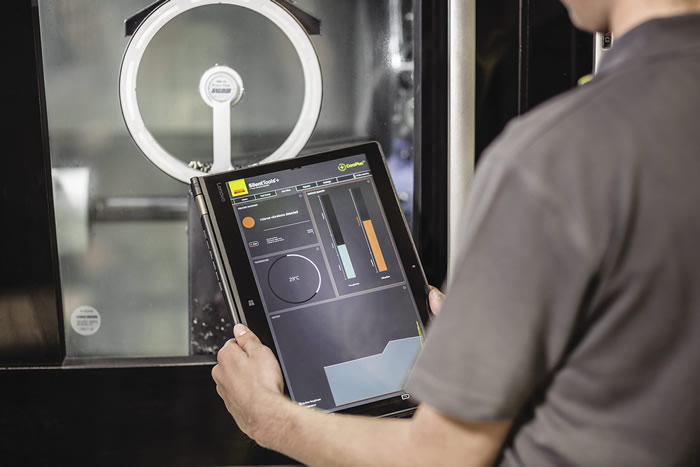 The CoroPlus connectivity platform helps manufacturers prepare for Industry 4.0. Image courtesy Sandvik Coromant.

The platform lets users optimize manufacturing through better insight into what's happening on shop floors and in machining environments on either a micro or macro level. For a CAM programmer, connection with accurate tool and application data means that recommendations can be adapted to specific tasks. Operators benefit from the ability to remotely monitor machining processes. And specific sensor-equipped cutting tools can be controlled to ensure that breakages are avoided and performance details are secured, with data intelligence collected live throughout the machining process.
The programs that currently make up the software side of the platform are:
CoroBore+, which lets users remotely adjust the cutting diameter on boring tools for quick and easy setups.
Promos 3+ data collector, which monitors tools and processes—micro and macro—in real time.
Silent Tools+ dashboard, which works with sensors for in-cut tool monitoring, making preemptive actions and process improvements easier.
CoroPlus ToolGuide, which uses an open API to give users tool-assembly speeds and feeds from within their CAM software.
Adveon tool library, which allows users to select tools from any supplier's ISO 13399-standard tool catalog, create an assembly and export the information to their CAM program.
In the early days of the internet, in-the-know computer users worked with a variety of programs to access email, newsgroups (ask your parents) and other online information. Many of these early programs—and there were a lot of them—called for advanced user knowledge. Then America Online came along and offered novices an inclusive, easy-to-use package for internet access. CoroPlus may be the Industry 4.0 equivalent of AOL in the late 1980s. It's designed to make IIoT quick and easy to get into for those who have, until now, only ready about it.
For more information about Sandvik Coromant Co., Fair Lawn, N.J., visit www.sandvik.coromant.com/us or call (800) SANDVIK.
Related Glossary Terms
boring


boring

Enlarging a hole that already has been drilled or cored. Generally, it is an operation of truing the previously drilled hole with a single-point, lathe-type tool. Boring is essentially internal turning, in that usually a single-point cutting tool forms the internal shape. Some tools are available with two cutting edges to balance cutting forces.

computer-aided manufacturing ( CAM)


computer-aided manufacturing ( CAM)

Use of computers to control machining and manufacturing processes.