Author
CTE Staff
Published
December 01, 2009 - 11:00am
Manually grinding tools is a way to start as a toolmaker but not an effective method for sustaining and growing the business. Specialty Carbide Products LLC began in 2001 with some manual tool post grinders, a carbide dust collector and not a single customer, according to Shaun Seidl, partner/co-owner of the Warminster, Pa., carbide bur manufacturer. In a few years, the company found it needed CNC equipment to keep up with demand. "We were working hard, hand grinding like cavemen and the business was starting to grow," he recalled.
Seidl added that manually grinding tools limits part consistency. "No two tools are the same," he said, noting that all burs are manually resharpened.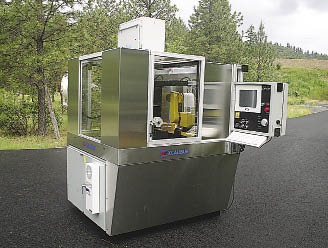 Courtesy of Excalibur Tool
Excalibur's ERG-6 RoboGrind 6-axis grinder comes standard with a Fanuc 5-axis LR Mate 200iC robot.
The CNC grinding machine Specialty Carbide found to meet the growing demand while satisfying its budget was the E45 from Excalibur Tool Inc., Murphy, Ore. The E45 is a manually fed grinder designed for producing straight tools. "We're able to maximize the machine and get it to actually do some radius tools with Excalibur's help tweaking some programs," Seidl said.
The business continued to grow and Specialty Carbide needed another CNC grinder a couple years later to meet demand. This time, the toolmaker wanted to manufacture radius burs and automatically load and unload them to do lights-out production after its three partners, including Steve Miller and Andy Meyer, went home. The company looked for a suitable grinder from other builders but found new equipment was out of its price range and used ones were nonexistent. Seidl noted that Excalibur's E60 grinder would have been appropriate but decided to buy Excalibur's top-of-the-line ERG-6 RoboGrind instead. "It was 'pull the trigger' on the biggest, baddest machine we could afford," he said.
The ERG-6 is a 6-axis grinder that comes standard with a Fanuc 5-axis LR Mate 200iC robot, which is located outside the wet grind enclosure for easy tool access. Although the robot loads and unloads the tools from the grinder, Specialty Carbide will occasionally hand load it for short runs and jobs requiring extended-length shanks because the maximum tool length for auto loading is 9.0 ".
Specialty Carbide, which initially had no CNC grinding experience, received the week's worth of training that Excalibur provides with a machine purchase when it bought the E45, but the second week of training was more than a refresher course. John Hammervold provided the training both times. "Obviously, we were a little more experienced this time around, but with the robot it's like getting two multiple-axis machines to dance together," Seidl said. (Excalibur provides 40 hours of training at its facility as standard, and training at the customer's site is optional.)
Although Specialty Carbide plans to continue to focus on producing carbide burs with an emphasis on specials, Seidl noted that its CNC grinders are capable of creating other types of cutting tools using the Excalibur-written conversational tool programs that come with the machines, and optional programs are available at no additional charge.