Author
CTE Staff
Published
July 27, 2021 - 06:45pm
A missed business opportunity motivated West Ohio Tool Co. to develop a drill that can produce up to a million — or more — holes in die-cast aluminum without the need to refurbish the tool.
The development process, which took six years, began when a longtime automotive OEM customer wanted to switch from solid-carbide to PCD-edged tools to drill die-cast aluminum transmission cases, the Russells Point, Ohio-based toolmaker reported. At the time, West Ohio Tool didn't offer that type of drill, so the customer went to another toolmaker.
Even high-quality carbide drills require regrinding after about 20,000 to 25,000 holes, and the drills become too short to use after about 10 regrinds.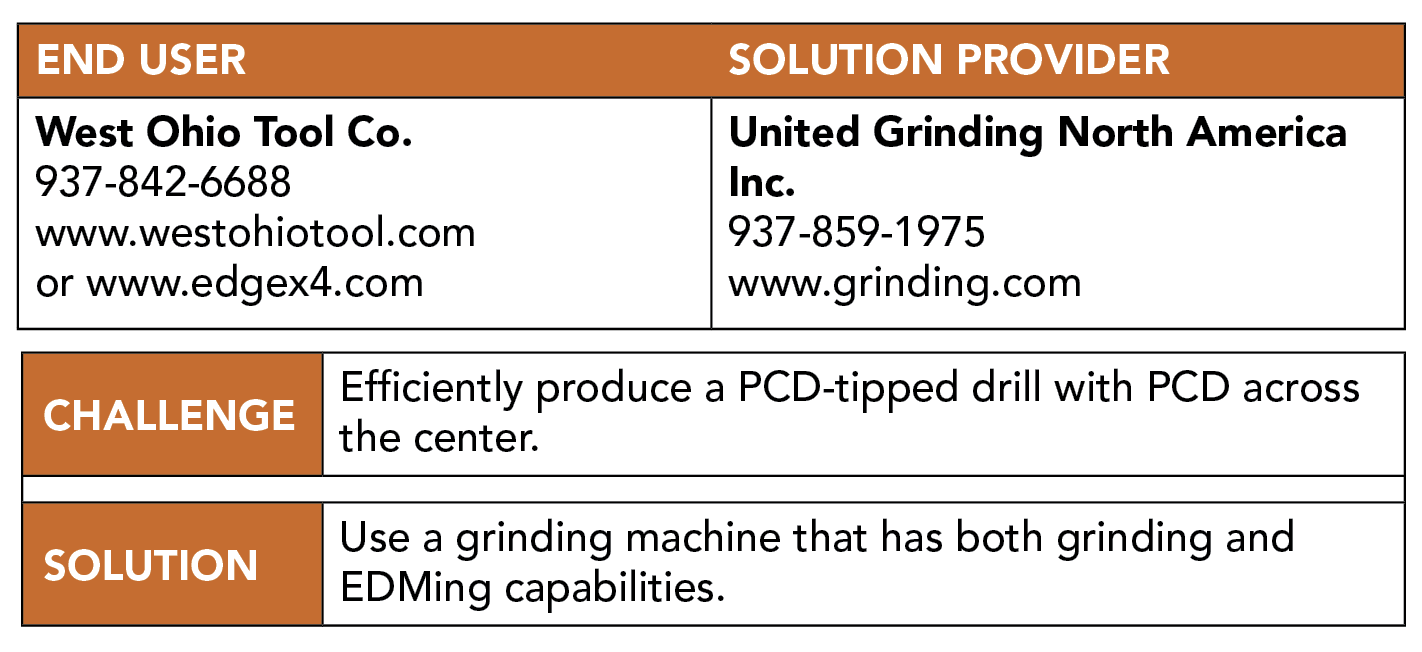 "Each regrind costs money and means downtime," said owner and founder Kerry Buchenroth. "PCD offered the possibility to minimize all of that, but it's expensive and notoriously hard to work with."
Grinding superhard PCD necessitates the use of diamond grinding wheels, which wear quickly because every amount of PCD removed from the workpiece equates to the same amount of diamond worn away from the wheel. However, because PCD contains cobalt, it conducts electricity and is suitable for EDMing. But that process can be time-consuming.
To grind or EDM PCD first requires brazing PCD to a carbide tool body. That's typically not an issue because PCD has a carbide substrate that is brazed directly and efficiently onto the body, explained Kaci King, co-owner and chief financial officer. Yet the PCD that the toolmaker determined was best for the drill didn't have a carbide substrate.
"If we couldn't get the PCD wafer brazed onto the body," she said, "we couldn't even grind it."
Therefore, West Ohio Tool needed suitable brazing equipment for the task and obtained a machine that the company felt would work.
"The equipment used is proprietary information," King said. "We were the first one in the entire world to have that piece of equipment."
She said after working with the equipment manufacturer for a week, West Ohio Tool didn't achieve the desired results. Rather than immediately shipping back the machine, the toolmaker decided to experiment on its own for another week.
"Our team was able to find a way to get that done," King said.
With that hurdle overcome, West Ohio Tool required a suitable grinding machine. She said a machine tool builder delivered a grinder that it claimed could do the job by grinding and eroding PCD, but the machine didn't succeed. West Ohio Tool returned the grinder.
The toolmaker then turned to Miamisburg, Ohio-based United Grinding North America Inc.'s parent company in Europe to acquire the necessary grinder, King said, noting that West Ohio Tool already had grinders, as well as measuring systems, from United Grinding.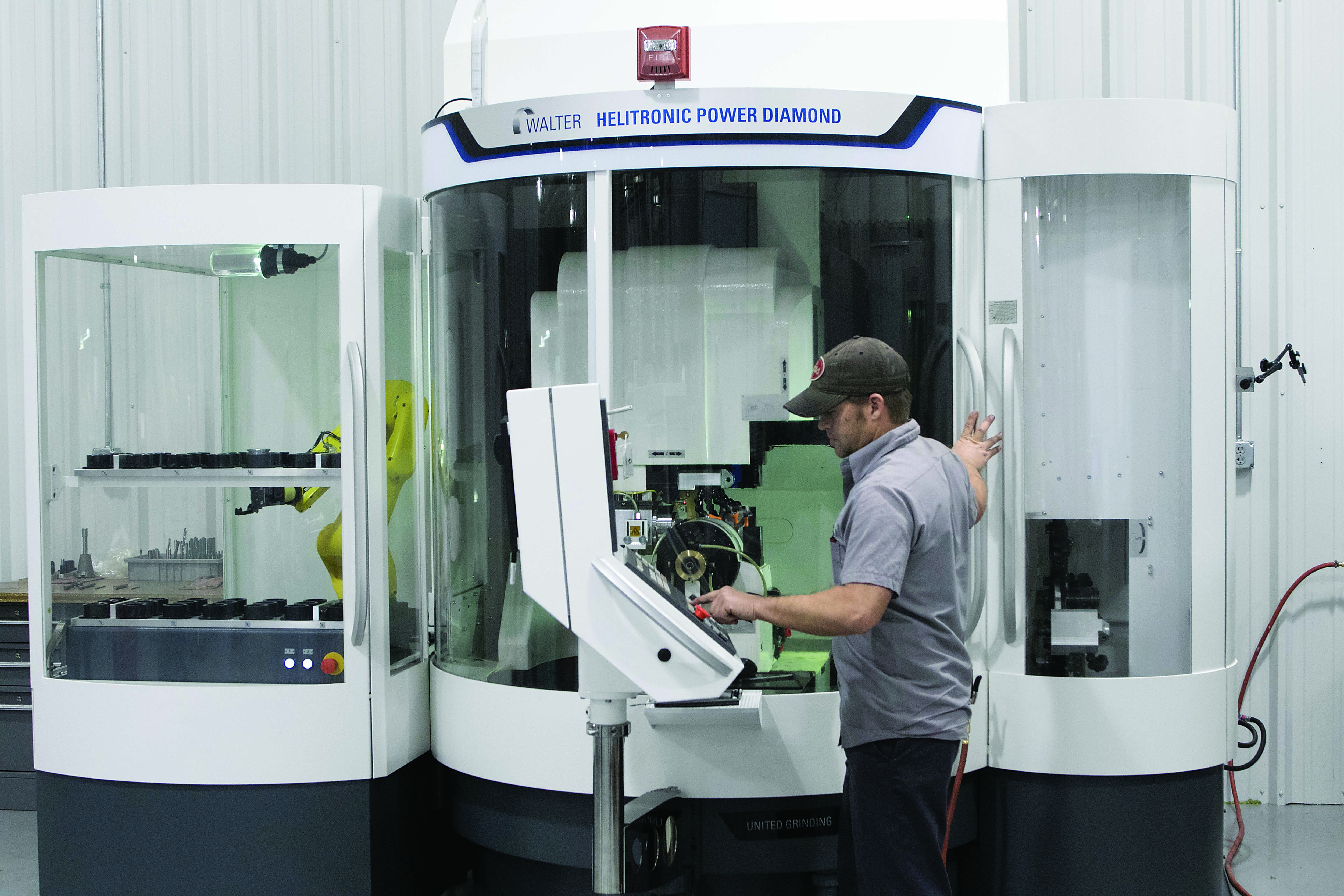 West Ohio Tool produces EdgeX4 cross-center PCD-tipped drills on a Walter Helitronic Power Diamond 600 grinder. Image courtesy of United Grinding
The additional machine is a Walter Helitronic Power Diamond 600, which provides both grinding and EDMing capabilities. Using copper electrode wheels, the machine rotary-erodes the PCD portions of tools and then conventionally grinds the carbide areas. According to United Grinding, the machine changes from grinding to eroding — or vice versa — on the fly and automatically to provide complete machining in a single clamping cycle. The single-spindle grinder has a robot loader and automatic wheel changer.
West Ohio Tool initially produced an outboard-tipped PCD drill, which has PCD just on the outside corners, that can drill 350,000 holes in die-cast aluminum with regrinding or re-tipping. Seeking to reduce the cost per hole even more compared with that type of tool, a customer requested a drill that lasts longer.
"The challenge with the outboard tip is that the outside PCD edges hold up great, but the center of the chisel is still carbide, and it still eventually breaks down," Buchenroth said. "The goal for the new tool was to find a way to get solid PCD all the way across the center and effectively marry it to a carbide tool shank."
West Ohio Tool worked on that goal, and the result was the EdgeX4 cross-center PCD-tipped drill, which King said produced just under a million holes in die-cast aluminum.
"Unfortunately, we still don't know the true tool life failure in that application because the drill outlasted the entire model change," she said. "At one point, they started over with a new drill designed for the new application."
King said the number in the name of the drill represents the four improvements it provides over the competition.
"It runs faster, it has stronger PCD, it's more efficient, and it lasts longer," she said.
The drill family has three versions: straight for aluminum and other nonferrous materials; helix, or twist, for composites and other abrasive materials; and full nib for composites.
King said work on the drill line, however, is not complete.
"We are still experimenting with geometries and continuing to add geometries to the EdgeX4 family," she said.
Because of the expense involved in stocking an inventory of standard PCD drills, King said all EdgeX4 drills are application-specific specials. Delivery time is from four to six weeks.