Author
Cutting Tool Engineering
Published
December 01, 2015 - 10:30am
A PROFIMAT MC 607 5-axis CNC grinding machine manufactured by Blohm Jung GmbH in Germany has been supplied in close cooperation with UK agent, J.R.A. Bennett Ltd, at The University of Sheffield Advanced Manufacturing Research Center (AMRC) with Boeing. It follows a rigorous tender process that involved evaluating hundreds of parameters and included grinding trials at the machine builder's factory in Hamburg.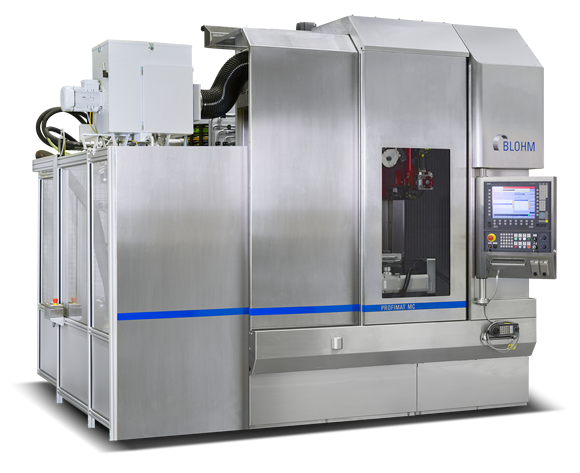 A PROFIMAT MC 607 5-axis CNC grinding machine manufactured by Blohm Jung GmbH in Germany has been supplied to The University of Sheffield AMRC with Boeing.

The moving-column grinding machine is located within the Design, Prototyping and Testing Center, a major expansion of the original AMRC building within the Advanced Manufacturing Park, which is supported by the High Value Manufacturing Catapult and the European Regional Development Fund. The center concentrates on the development of high-value manufacturing technologies mainly for the aerospace, Formula One and high-end automotive sectors.
Medical applications will also be developed, as earlier this year a new facility was set up within the center, called Medical AMRC, to concentrate specifically on this industry. One application will be to investigate finish grinding of prosthetics that have been 3D-printed layer-by-layer from cobalt-chrome powder. Knee joints will be a particular target due to their multiple profiled planes.
Capable of producing highly complex components, the BLOHM PROFIMAT MC is ideal for supporting the center's aim of looking at how the design process can reduce manufacturing costs long term, particularly by combining different technologies. A highly capable machine is desirable for such an endeavor. The PROFIMAT has features in abundance to assist in research and development programs and in evaluating wheel consumption against metal removal for achieving different levels of accuracy and surface finish.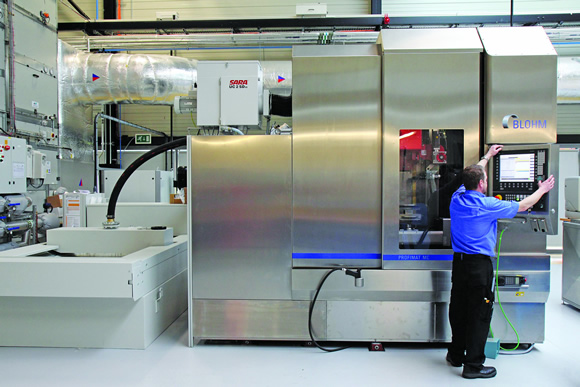 The latest Siemens Solution line 840D control, which includes a BLOHM user interface, can be used to program the machine's five CNC axes to interpolate simultaneously.

Complicated surfaces may be generated in this way, without using profiled wheels. Alternatively, one or both of the rotary axes on the table can be clamped while the others move simultaneously, a strategy that allows the number of separate machining operations for producing a component to be reduced, often to one. The result is a reduction in manufacturing cost and an increase in accuracy through less tolerance build-up.
All wheel-dressing options are available on the machine, including continuous, pulse and table dressing, as well as contour generation of grinding wheel profiles. If one of the in-process methods is chosen, one of two diamond dressing rolls can be selected under program control from an overhead, swiveling unit.
Flexibility of use extends to the ability to deploy mills, drills and other cutters in addition to grinding wheels, all housed in a 24-position tool magazine to the left of the machine, ready for automatic change into and out of the spindle. Grinding wheels up to a 16-inch diameter by a 4-inch width can be employed. The machine will accommodate all types of wheels, including aluminum oxide, CBN (cubic boron nitride), vitrified CBN and diamond electroplated steel.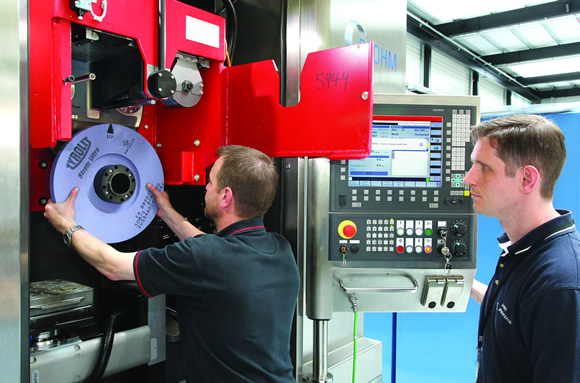 The machine will accommodate all types of wheels.

The compact, 9.3-ton grinder is the next-generation PROFITMAT MC, which offers higher rapid positioning, especially in the Y and Z axes, than its predecessor. Direct drives and larger ball screws have made it possible for the machine to offer feed rates of 98 feet/min in X and 39 feet/min in Y and Z. The Y and Z axes have also benefited from larger linear roller guideways. The design upgrade also yields an acceleration of 7 feet/s2 in all axes, double of what it was before. Linear scales are fitted for absolute, high-precision feedback of axis positions to the control.
A 52 kW motor, HSK-A 80 grinding spindle and reinforced wheelhead, coupled with increased machine rigidity, lead to higher productivity and component accuracy, commensurate with the type of advanced research being carried out at the AMRC. A more accessible, swiveling control panel that is adjustable for height, stainless steel guarding and an automatic door as standard are extra new features, along with safety integration in the control and double wiring to provide redundancy for critical operating functions.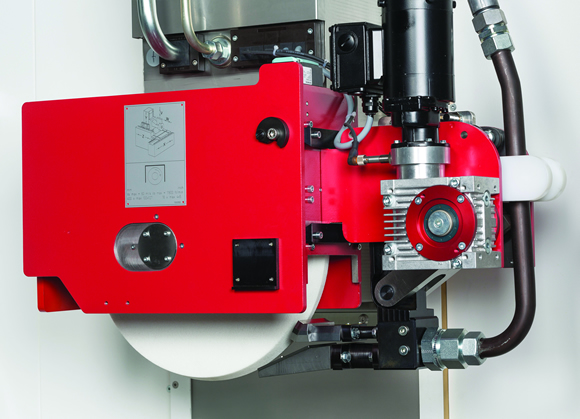 To increase productivity, the machine has a wheel cleaning system, called RazorTec.

To increase productivity, the machine has a wheel cleaning system, called RazorTec, that projects filtered coolant at the wheel at 30-40 bar pressure. This forces metallic debris out of the porous structure of the wheel, keeping it sharp and maintaining its profile. Furthermore, infeed rates increase, stock removal is maximized and there is a lower risk of burning the workpiece.
The flow rate and pressure of the coolant are programmed for each application to give the best results. Consistency is achieved by automatically maintaining the same angle between nozzle and wheel as the latter wears. It is achieved by mounting the nozzle on a positioning unit which is programmable in X and Y so that its distance from the wheel and the orientation remain the same. The cleaning jets are mounted just above the coolant nozzle, which is angled directly at the point of grinding. The carriage carrying both sets of nozzles is also adjustable automatically or manually in the Z-axis.
Initial grindability trials have already been carried out on Inconel and aerospace grade steels, with more exotic materials destined for evaluation shortly along with the cobalt-chrome alloy for medical applications.