Author
Cutting Tool Engineering
Published
August 01, 2016 - 04:15pm
If Cutting Tool Engineering's Ninth Biennial Salary Survey is any indication of the trajectory of the overall U.S. population's economic situation, it's little wonder that a sizable percentage of voters are expressing anger during this year's presidential election season and calling for a radical change in leadership. Across the board, paychecks are smaller than 2 years ago—from manual machinists to corporate managers.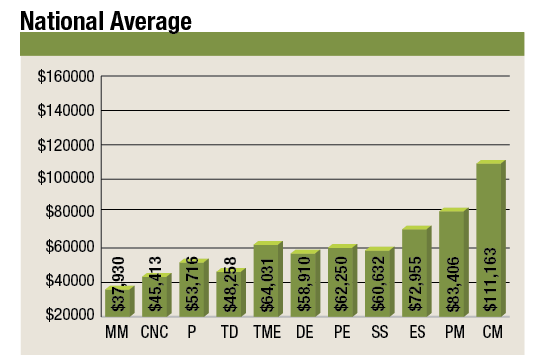 Corporate managers still came out on top, averaging $111,163. However, their earnings dropped the highest percentage—11.3 percent—from 2014. The other positions with double-digit percentage drops were engineering supervisors (11.0 percent) and plant managers (10.5 percent).
On the other end, programmers and CNC machinists fared the best, so to speak, averaging $53,716 and $45,413, respectively, and registering percentage declines, compared to 2014, of 0.4 and 0.5 percent,
respectively.
However, metalworking professionals at companies with 100 or more employees generally earn more now than 2 years ago, with eight of the 11 positions surveyed receiving bigger paychecks. For example, corporate managers at large manufacturers average $170,455 a year, an increase of 15.6 percent from 2014.
Benefits were also down across the job spectrum. These include health insurance, dental insurance, profit sharing, paid training/continuing education and use of a company car.
In 2014, for instance, a majority in 10 of the 11 positions surveyed received some health insurance coverage from their employers. This year, that's only the case for five positions: manual machinist, CNC machinist, shop supervisor, plant manager and corporate manager.
And while use of a company vehicle is typically not a benefit many receive anyhow, nearly 6 percent fewer corporate managers get to tool around town in one compared to 2014. Nonetheless, a third of them still receive one, with the next closest percentage being 7 percent for plant managers.
The majority in all positions don't receive any of the other benefits the survey asked about, but nearly half (49 percent) of all CNC machinists receive paid training. This, however, is down from 53 percent 2 years ago. Hopefully, this won't negatively impact the productivity and bottom-line gains that a trained and educated workforce provides.
Similar to the 2012 and 2014 surveys, CTE used email to collect survey data from owners and managers of parts manufacturing companies who subscribe to the magazine. The email directed them to a Web-based survey that requested average annual salaries and benefits for themselves and their employees.
CTE sent about 14,000 emails and received back wage information for the manufacturing professionals at 130 companies.
The average salary was calculated according to the arithmetic mean. For example, if four recipients indicated their programmers, even when receiving an hourly wage, earn average annual salaries of $46,000, $59,000, $51,000 and $53,000, the mean would equal $52,250 ([46,000 + 59,000 + 51,000 + 53,000] ÷ 4 = 52,250).
The benefit percentages were calculated by dividing the total number of positive replies for a specific benefit by the total number of respondents. For example, if 42 respondents indicated that their CNC machinists receive company-paid dental insurance, the percentage receiving that benefit would be 32 percent (42 ÷ 130 = 0.323).
Special thanks to Dennis Spaeth, electronic media editor, for coordinating the survey.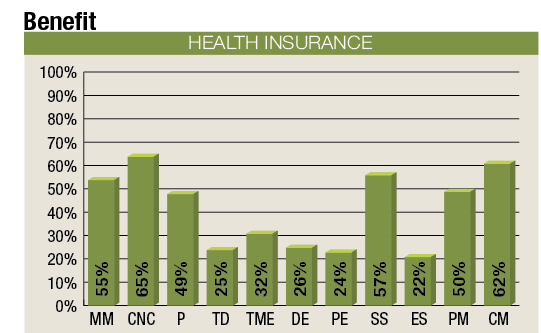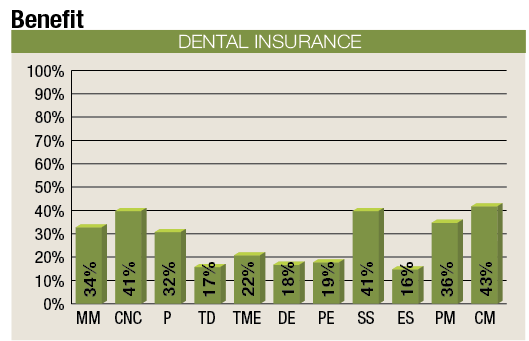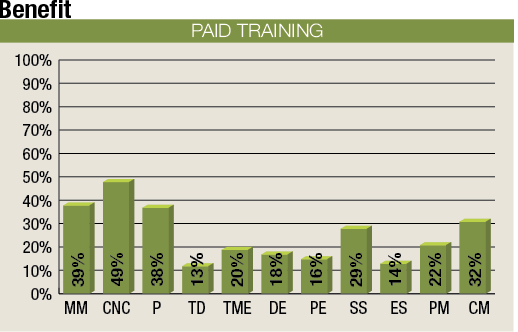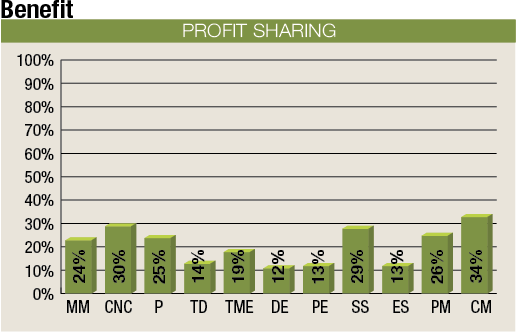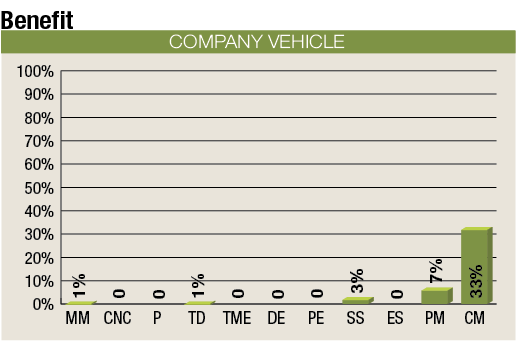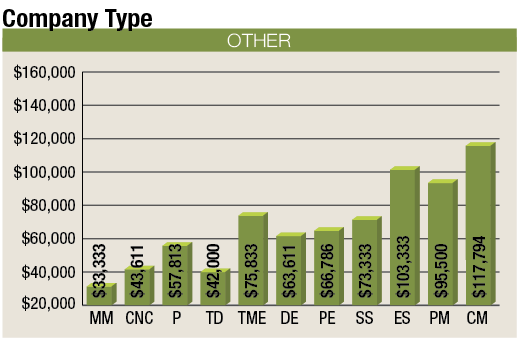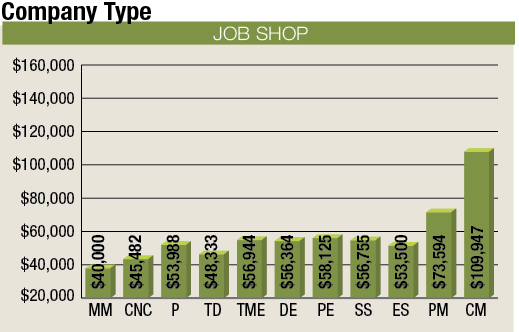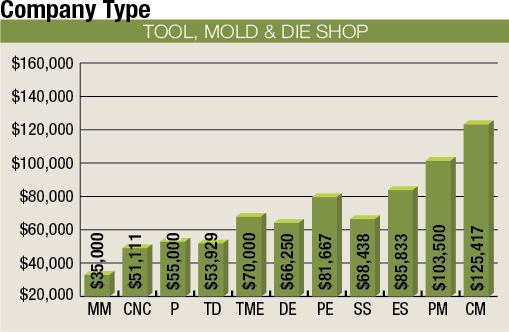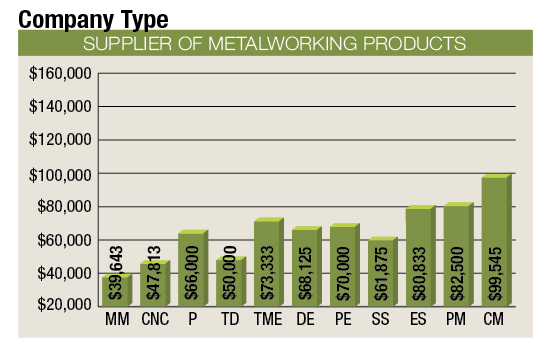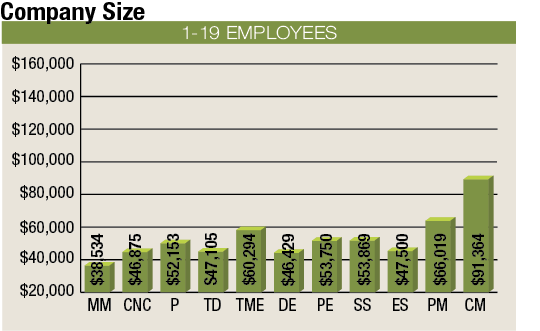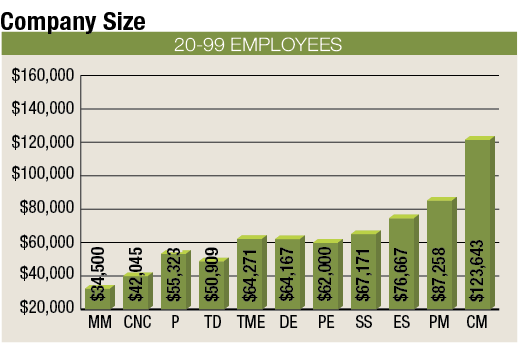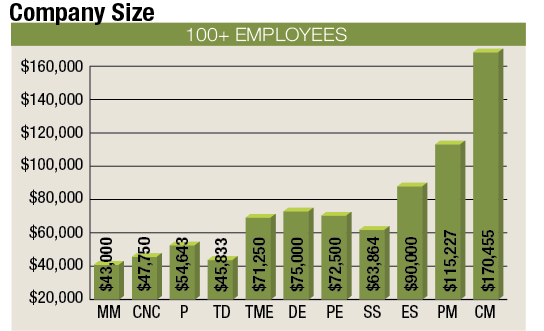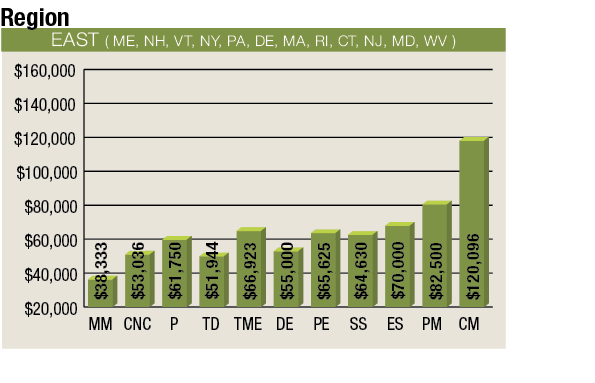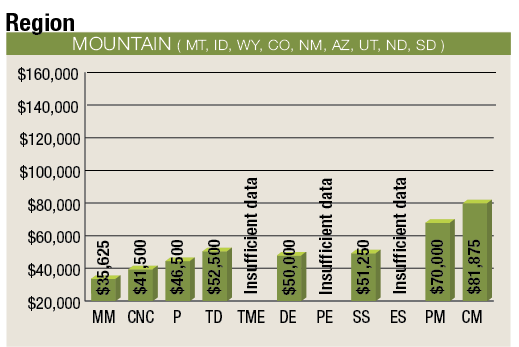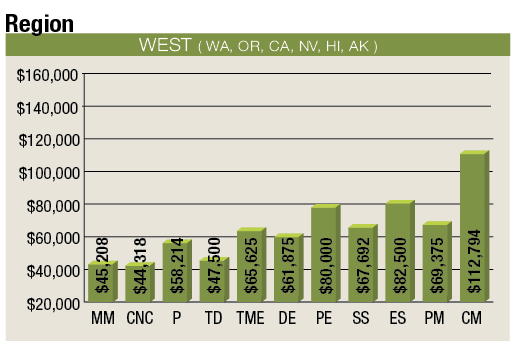 Related Glossary Terms
computer numerical control ( CNC)


computer numerical control ( CNC)

Microprocessor-based controller dedicated to a machine tool that permits the creation or modification of parts. Programmed numerical control activates the machine's servos and spindle drives and controls the various machining operations. See DNC, direct numerical control; NC, numerical control.

metalworking


metalworking

Any manufacturing process in which metal is processed or machined such that the workpiece is given a new shape. Broadly defined, the term includes processes such as design and layout, heat-treating, material handling and inspection.