Author
Christopher Tate
Published
October 08, 2019 - 10:30am
Raw materials for machining and fabrication arrive in various sizes and shapes. Rarely do raw material dimensions conform to necessary workpiece dimensions, which means that most jobs require some type of cutting activity to produce a workpiece.
Sawing is the most common way to cut a workpiece from a larger portion of material, and the bandsaw is probably the most popular saw at machine shops. Bandsaws come in two varieties: vertical and horizontal. Vertical saws orient the blade perpendicular to the floor whereas horizontal saws have a blade parallel to the floor. Horizontal saws are best suited for bar stock, tubing and structural materials, like angle iron. Vertical saws are better suited for fine work, such as trimming or shaping features in a workpiece, before finishing on another machine tool. Vertical saws are sometimes fitted with CNC tables and used to cut bigger plates into smaller workpieces known as plate saws.
Cold Cuts
Although they are versatile and productive, bandsaws don't always provide the desired accuracy. When that is important, especially with miter cuts, cold saws may be the better choice for cutoff operations. Cold saws use circular HSS or carbide-tipped blades that resemble the circular saw blades found at a wood shop. Being more rigid and less susceptible to walking in the cut, solid blades enhance accuracy.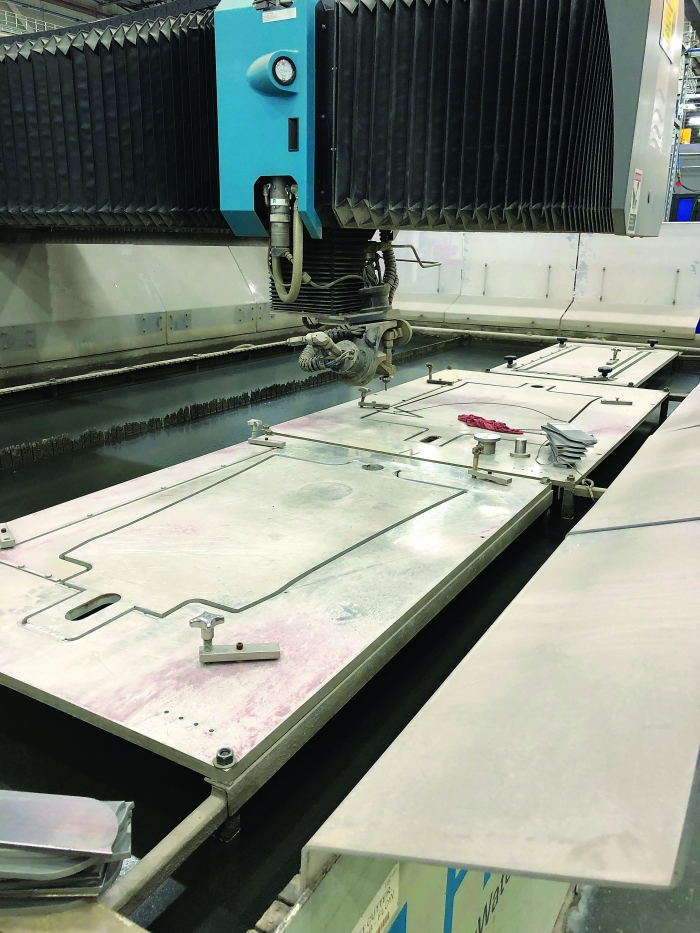 Abrasive waterjet cutting has few limitations, making it the most universal method for cutting flat stock. Image courtesy of C. Tate.
Cutting with a cold saw blade is similar to milling, so well-built cold saws have a firm way system, much like knee mills, to ensure that blades are supported sufficiently. The rigid blades and sturdy construction make cold saws more accurate than bandsaws. However, depending on the application, a cold saw might be less productive than a high-quality bandsaw.
Most flat stock is not cut on a saw. Flat materials provide distinct sawing challenges, particularly when materials are thin. Numerous other ways exist to cut flat stock, such as sheet and plate.
Cutting flat materials into rectilinear shapes is best done with a shear. Shearing is performed by firmly holding material against a stationary blade while another blade moves against the material, ultimately cutting, or shearing, it. Shearing metal is no different from using scissors to cut fabric. Shears are fast, accurate and inexpensive to operate. Unfortunately, cutting complex shapes is all but impossible with shears.
Thickness also can be challenging. Although shears that can cut 1"-thick material are available, few shops can handle anything over 3⁄8". Shears capable of cutting material over ½" can be expensive, and sheared edge deformation increases with material thickness, which reduces accuracy. So shearing may not be the best choice for thick plates.

Vertical bandsaws (top) typically are operated manually and commonly are used to make quick cuts or perform roughing operations in a toolroom. Horizontal bandsaws (above) are best for sawing longer materials, like bar and structural shapes. Automatic and CNC bandsaws are suitable for high-volume environments.
Cutting thicker-plate materials and creating complex nonrectilinear shapes require such processes as abrasive waterjet, laser, plasma arc and oxy-fuel. These cutting processes typically are incorporated into CNC tables, many of which are as simple to use as a computer printer.
Molten Metal
Laser, plasma arc, oxy-fuel and similar methods are thermal cutting processes that provide sufficient energy to create a small, molten pool, which is expelled by compressed gases or gravity, along the toolpath. Laser cutting is the most accurate of the processes but the most expensive, and refractive materials, like aluminum, can reflect laser energy back into the machine and damage it. With added safety precautions, lasers offer the ability to safely cut nonmetallic materials, which is a bonus.
Plasma arc cutting is accurate but less so than laser cutting. Unlike with a laser, plasma arc cutting is not hindered by refractive materials. However, material must be conductive, so nonmetallics, such as plastic, are out of the question.
Oxy-fuel cutting is often the best thermal option for material over 1". Oxy-fuel cutting systems are inexpensive when compared with other technologies and, like plasma and laser, are less challenged by thick materials. Efficiency does come with drawbacks. Flame-cut parts are less accurate than parts cut by waterjet, laser or plasma and may require significant cleaning before use. Oxy-fuel cutting thick material is also dirty as it creates large amounts of slag. Plus, a great deal of flammable, compressed gas must be kept on hand.
AWJ cutting has few limitations, making it the most universal method for cutting flat stock. It cuts anything that fits under the head and in the stream of water and garnet. Waterjet controls have seen substantial advances in the past decade, and issues with tapered kerf and poor surface finish have been eliminated, making waterjet cutting almost as accurate as laser cutting. Waterjet cutting is also environmentally friendly, producing no noxious gas, slag or hazardous waste to dispose of. Shops that cut a lot of complex shapes and wide varieties of materials may find waterjet cutting the best choice.
All these cutting processes and machines are the most common at shops, but others, such as iron workers, power hacksaws and abrasive chop saws, can be just as effective. As with everything in machining, the most efficient cutting methods depend on the shop and application.