Author
Cutting Tool Engineering
Published
June 01, 2016 - 12:00pm
--------------
END USER: Kluba Machine LLC, (636) 390-4088.
SOLUTION PROVIDER: CNC Software Inc., (800) 228-2877, www.mastercam.com.
CHALLENGE: Improve cycle times and spindle uptime while maintaining part quality.
SOLUTION: CAD/CAM software.
-------------
Kluba Machine LLC has built up a diverse customer base encompassing aerospace, defense, food processing, automotive and agricultural equipment since it opened its doors in November 2012. Each customer has a customized manufacturing process.
The Washington, Mo., job shop makes close-tolerance parts, generally small enough to hold in your hand, on four CNC vertical mills, two of which are 4-axis, and a CNC turning center.
For a new shop to make a go of it in these competitive times, it must keep the usual metrics in mind, such as quality, throughput, cycle times and total cost per part. But for owner Joe Kluba, the metric that weighs the most on his mind is spindle uptime. At a job shop where he used to work, spindle uptime was typically 37 percent, with an occasional surge to 42 percent. Kluba understood he would need to do better than that to compete with shops with mature processes.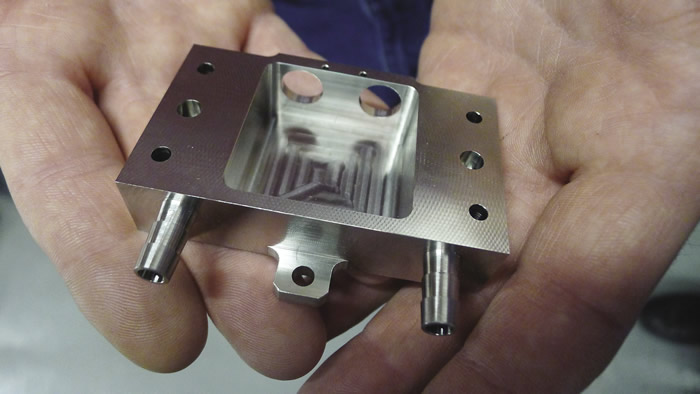 Kluba Machine produces close-tolerance parts, with each part having a customized manufacturing process based on the specific needs of the customer. Images courtesy CNC Software.

Kluba spent the first 3½ months running the shop during the day and writing CAM programs at night. During that time, he generated nearly 4,000 programs in Mastercam CAD/CAM software from CNC Software Inc., Tolland, Conn.
"Our mission in those early days was to take the comprehensive tools that were available to us in Mastercam software and break manufacturing processes down on a customer-by-customer basis," Kluba said. "That way, subsequent programs would only use processes known to work every time, based on the customer's material, geometry and quality requirements."
He applies this concept not only to cutting tool selection and machine setup, but also to machining parameters and toolpaths to control all the elements as much as possible.
Kluba said: "From day one, my aim was that this company would not be set up as an R&D project on every job we won. For the most part, a titanium pocket is a titanium pocket. You know your feeds, speeds and settings, so why not use them from job to job?"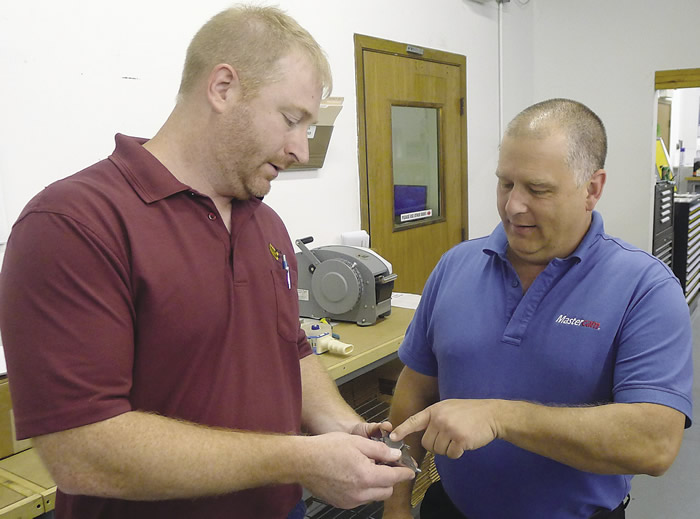 Joe Kluba (left), owner of Kluba Machine, works with Mark Clark, applications engineer for Mastercam reseller QTE Manufacturing Solutions, St. Charles, Mo., to help resolve a CNC machining issue.

Nearly all of the manufacturing processes Kluba Machine programmers develop for its customers rely extensively on Mastercam's "Dynamic Motion" technology, which automatically adjusts tool movements based on material conditions ahead of the tool.
"Before Dynamic, programmers were always looking out for the worst-case scenario and adjusting feeds and speeds to make sure we didn't crash a tool," Kluba said. "Dynamic has all these fluid motions. Nothing is direct any more. The programmer has to make fewer decisions because the motions are governed automatically according to the chip load, which is kept constant to give you a best-case machining process."
Kluba credits Dynamic Motion technology with helping the company to improve cutting precision, and reduce cutting tool wear, tool costs and cycle times. For example, a part that once took 15 minutes to cut was reduced to 6 minutes. These changes were made to the template, and the cycle time improvements now apply to all the parts in the family. If Kluba Machine made a part 6 months ago, and subsequent improvements are made to the template while generating another part program from this family, then these improvements will be applied to the older program when it is used again.
Kluba's systematic approach has been working. In 2013, the company was awarded a large contract that doubled the size of the company. Kluba Machine grew by another 300 percent in 2014. By 2015, growth had leveled off to a more-sustainable rate of 8 to 9 percent a month. As impressive as these numbers are, the metric that Kluba has kept the closest eye on remains spindle uptime.
He understands that for shops that do production machining, 60 percent is considered to be a good number. At Kluba Machine, which has some production work but mostly short part runs, spindle uptime is 62 percent.
"That's even better than it looks because of the insane material-removal rates we are getting. Because Dynamic Motion technology is reducing machine cycles, we have to put an even greater emphasis on fast transitions," he said.
Related Glossary Terms
computer numerical control ( CNC)


computer numerical control ( CNC)

Microprocessor-based controller dedicated to a machine tool that permits the creation or modification of parts. Programmed numerical control activates the machine's servos and spindle drives and controls the various machining operations. See DNC, direct numerical control; NC, numerical control.

computer-aided manufacturing ( CAM)


computer-aided manufacturing ( CAM)

Use of computers to control machining and manufacturing processes.

turning


turning

Workpiece is held in a chuck, mounted on a face plate or secured between centers and rotated while a cutting tool, normally a single-point tool, is fed into it along its periphery or across its end or face. Takes the form of straight turning (cutting along the periphery of the workpiece); taper turning (creating a taper); step turning (turning different-size diameters on the same work); chamfering (beveling an edge or shoulder); facing (cutting on an end); turning threads (usually external but can be internal); roughing (high-volume metal removal); and finishing (final light cuts). Performed on lathes, turning centers, chucking machines, automatic screw machines and similar machines.