Author
Ken Schnepf
Published
August 09,2018 - 09:30am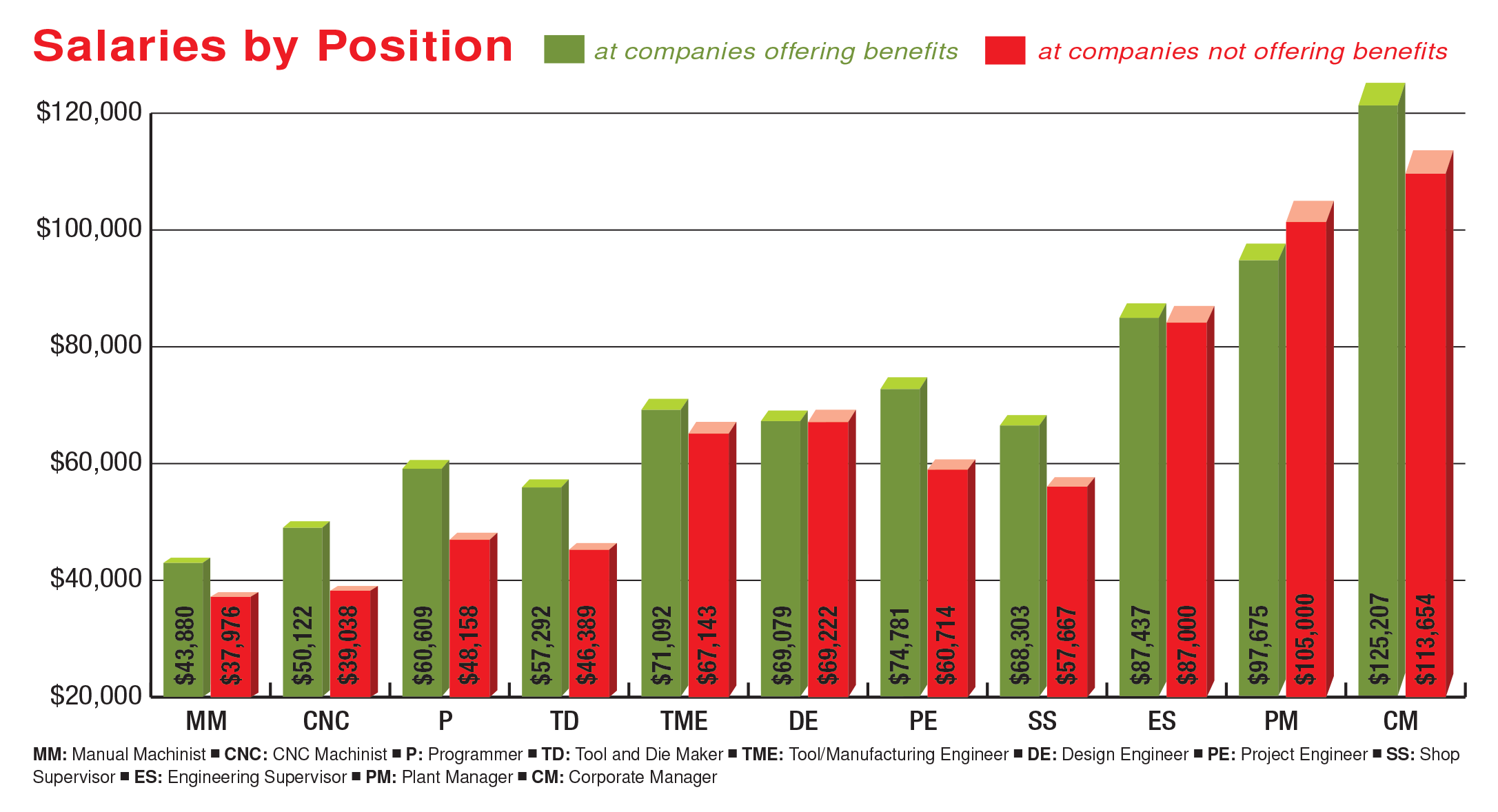 Supply and demand and automation are driving increases in salaries and benefits across the metalcutting industry. That's the view of industry experts who analyzed the results of CTE's 2018 Biennial Salary Survey.
"The increases are pretty remarkable," said Phil Kurtz, president of the United States Cutting Tool Institute and vice chairman of Wetmore Tool and Engineering Co., Chino, California. "When you see double-digit (percentage) increases in salaries over 2 years, that's impressive."
Although remarkable, the results are not necessarily surprising. Current market conditions are pushing the numbers higher.
"They look right in line with what I expected," said Patrick McGibbon, vice president of strategic analytics for AMT – The Association For Manufacturing Technology. "They reflect not inflation but lack of supply."
Health care benefits and compensation packages have been continually rising, according to Kurtz. The entire compensation package has become increasingly important to younger workers.
"The benefits are just following along with what's going on with the salary," McGibbon said. "People look at the jobs as much more than money to take home. It's a health plan, a dental plan, a 401(k)."
Additionally, the workforce is in transition. As older employees retire, employers are competing for younger workers with automation skills to fill redefined jobs.
"In most factories, when you walk through, you expect the average age of the employees to be in the 30s, but it's not," McGibbon said. "The average age is clearly up in the 50s and in some places 55 or older."
There continues to be a lack of younger people coming into the workforce, according to Kurtz. The lack of available employees has caused pay to increase.
"Employers just have to realize that it's the cost to fill these positions," he said. "Being able to reduce production costs or raising prices to pay the wages—it pushes the employer toward automation."
There are still plenty of jobs for manual machinists, whom McGibbon calls "artists." The automation-trained workers are more like mechanics, programming the necessary details into design to CAM.
"Less art, more learning," he said. "Experience still matters, but you can gain your experience a lot faster in the digital world."
Looking at tool and die makers, design engineers and design supervisors, there are significant increases in compensation, McGibbon said. "There was a lot of competition when things were tight. These positions made a little bit more than others. Prices have been very tight. You can't increase salaries without increasing prices."
Gone are the days when people landed a good job and, many times, that would be their career, Kurtz said. This is another result of automation applied in a different way.
"For the next generation, low unemployment and the internet allow for lots of salary comparison that never occurred before," Kurtz explained. "It makes salaries increase."
The shortage of skilled workers persists even as the industry combats stereotypical perceptions of unpleasant working environments that many people still imagine exist in machine shops.
"All organizations in the U.S. are doing their best to promote any type of factory careers," Kurtz said. "Shops are not what they used to be when they were dirty and hot. Now they are clean and comfortable.
"Industrywide, everyone's trying to promote that," he added. "Having said that, the placement rate coming out of school is 100 percent because unemployment has been remarkably low."
The hope, McGibbon added, is that schools will help the young workforce grow in the technologies that companies are going to need. A younger workforce will make the industry more competitive.
Kurtz said one of USCTI's initiatives is to train to retain, which focuses on the current lack of workers and means training existing employees to move from manual labor to automation. The aim of the program is to help retain valuable knowledge in the workplace and apply it to automation.    
Related Glossary Terms
computer-aided manufacturing ( CAM)


computer-aided manufacturing ( CAM)

Use of computers to control machining and manufacturing processes.

metalcutting ( material cutting)


metalcutting ( material cutting)

Any machining process used to part metal or other material or give a workpiece a new configuration. Conventionally applies to machining operations in which a cutting tool mechanically removes material in the form of chips; applies to any process in which metal or material is removed to create new shapes. See metalforming.