Author
Alan Richter
Published
December 01, 2021 - 11:00am

With the arrival of COVID-19 vaccines late last year, the pandemic was expected to peter out, and manufacturing activity looked to return to some sense of normalcy. The coronavirus, however, mutated its spiky head to become even more contagious and caused a new surge in cases.
Missing Chips
For the automotive industry, the increase in COVID-19 cases because of the highly contagious delta variant is keeping the microchip famine in place as pandemic-related lockdowns occur in Southeast Asia, such as Vietnam and Malaysia, where a significant amount of testing and packaging of semiconductors occurs.
"This has been the most recent domino that has fallen," said Eric Anderson, senior analyst of North American light vehicle production forecasting for IHS Markit Ltd. in Southfield, Michigan.
According to the London-headquartered information and analytics provider, new cars typically require more than 1,000 computer chips as automobiles increasingly are becoming mobile computers.
Anderson said the semiconductor shortage gained steam earlier in the year after a winter storm hit chip plants in Texas, a drought in Taiwan affected water-intensive chip production and a fire at a Japanese semiconductor factory further reduced supply.
"Automotive for decades has had such resiliency in its supply chain," he said. "But unfortunately, it has been pushed to the brink over the last eight or nine months. It shows it just takes that one component out of several thousand to have a material impact on the production build numbers."
As of early September, the chip problem had reduced third quarter light vehicle production by an estimated 3.1 million units after the deficiency caused a 2.6 million second quarter hit, IHS Markit reported. Because of the chip shortage, Anderson expects auto production to be down in the fourth quarter as well, with the situation even lingering into 2022.
To maximize earnings while overall production is constrained, he said automakers are focusing on producing higher-profit, higher-volume vehicles, such as full-size pickups and sport utility vehicles.
"There still seem to be many people willing and ready to purchase a vehicle," Anderson said. "Demand is still there in pretty strong numbers both in a fleet and retail perspective."
Compared with pre-pandemic annual production of 16 million to 17 million vehicles in North America, IHS Markit forecasts about 13.1 million vehicles to be assembled in North America in 2021 after production of 13 million in 2020, in which inventory was depleted as a result of factory lockdowns during the first few months of the pandemic, Anderson said.
He said it is difficult to determine when production numbers will return to pre-pandemic levels.
"At some point, we know we'll need to recover these inventory levels," Anderson said. "But can it be done in 2022? It does not seem likely at this time."
In the meantime, he said production levels will continue to determine sales, unlike the traditional model of sales determining production levels.
Although the short-term disruptions are unfortunate, Anderson said original equipment manufacturers are not letting the disturbances alter the long-term strategic shift toward electric vehicles. The electrification transformation will create an entirely new build process and significantly change the supply chain.
"We are still in the midst of one of the biggest supply chain disruptions that we've seen on top of the fact that there are other ripples on the water as well that haven't had that material role but are still demanding time and attention," he said. "If it's not one thing, it's another."
Overcoming Turbulence
The aircraft industry also uses semiconductors, such as for black boxes and other electronic components. But because far fewer airplanes are produced compared with autos, the chip shortage is not a problem for plane manufacturers, said Richard Aboulafia, vice president of analysis for Teal Group Corp. in Fairfax, Virginia.
With November 2020's return of the 737 Max narrow-body airliner, which was grounded in March 2019 after two crashes, he said Boeing Co. continues to deliver about 450 already-built Max jets and to ramp up production of the popular plane.
"The 737 Max is coming back," Aboulafia said, "and people love it."
He said the main concern for the industry is twin-aisle, wide-body jetliners.
"Everything else seems to be coming back fairly well," Aboulafia said.
In addition to a reduction of international flights, especially as business travel remains subdued, he said airlines are shifting from twin- to single-aisle planes whenever possible.
"More and more international routes are being flown by smaller jets," Aboulafia said.
He said one single-aisle plane that is particularly popular for trans-Atlantic flights is Airbus SE's A321neo, or new engine option, which can travel more than 8,334 km (4,500 nautical miles) and seat up to 244 passengers with a "cabin-flex" option, Airbus reports.
"It's the only jet that really is production-constrained rather than demand-constrained," Aboulafia said. "It's a nice problem to have in this day and age."
He said the military and defense sector is also in decent shape, with pure-play contractors faring best.
With its pent-up demand, Aboulafia said the military segment is experiencing faster growth than other segments because the downturn last year was purely due to the logistical challenges of the pandemic, such as factory closures and equipment shipment disruptions. However, advanced development programs are at greater risk.
He said one segment that took a significant hit in 2020 but is coming back strongly in terms of utilization is business aviation. The recovery for small and medium-size business jets correlated with corporate profits and equities indexes.
"That really hasn't translated yet to bigger orders or higher production rates," Aboulafia said.
He said the industry did everything it could to survive last year, including loading up on debt, cutting head counts, deferring spending and selling "everything that couldn't be nailed down. Amazingly, we came through it because of that. I can't believe there weren't more bankruptcies given the horror of the downturn."
With the aviation industry poised for solid growth next year, Aboulafia said it all comes down to the risk of a prolonged or resurgent pandemic, such as from a coronavirus variant that's even more contagious than delta.
"What happens if there is another shock to the system and everyone is stretched incredibly thin and maybe government assistance won't be as forthcoming this time," he said. "That is a real nightmare scenario that should keep everyone a little bit weary at night."
Aboulafia said another concern that might interrupt a good night's sleep is what the tight labor market means for commercial aviation. He recalled the consequences of the enormous growth in the industry because of the Vietnam War.
"Wages rose, and they rose faster for military workers, and that dragged more people over to that side of the house and made it harder for the commercial side to get the people they needed," he said. "It has been an ongoing issue, and I think it's going to get worse."
World aircraft deliveries by value, 1989-2030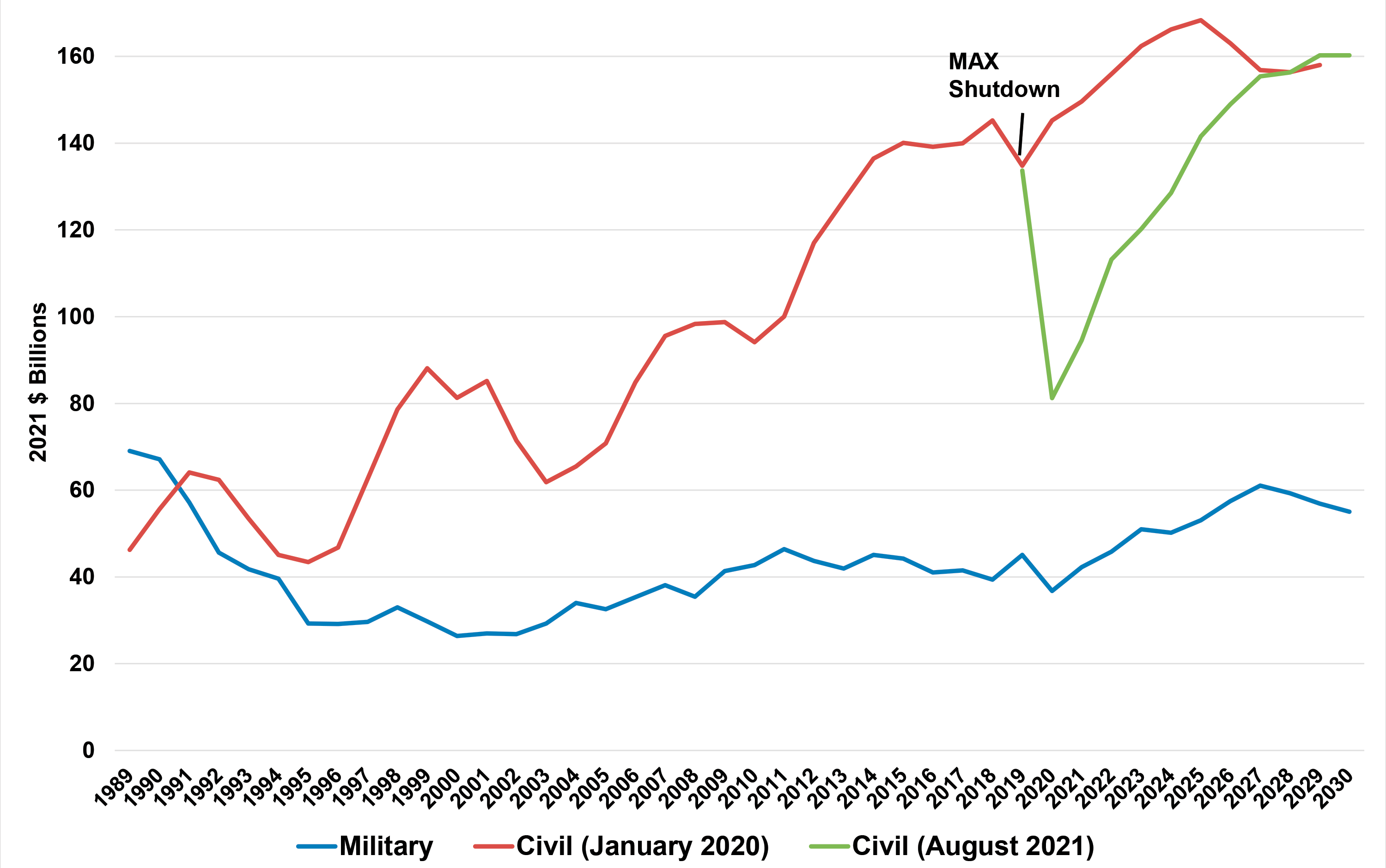 Air transport market by segment: A tale of two markets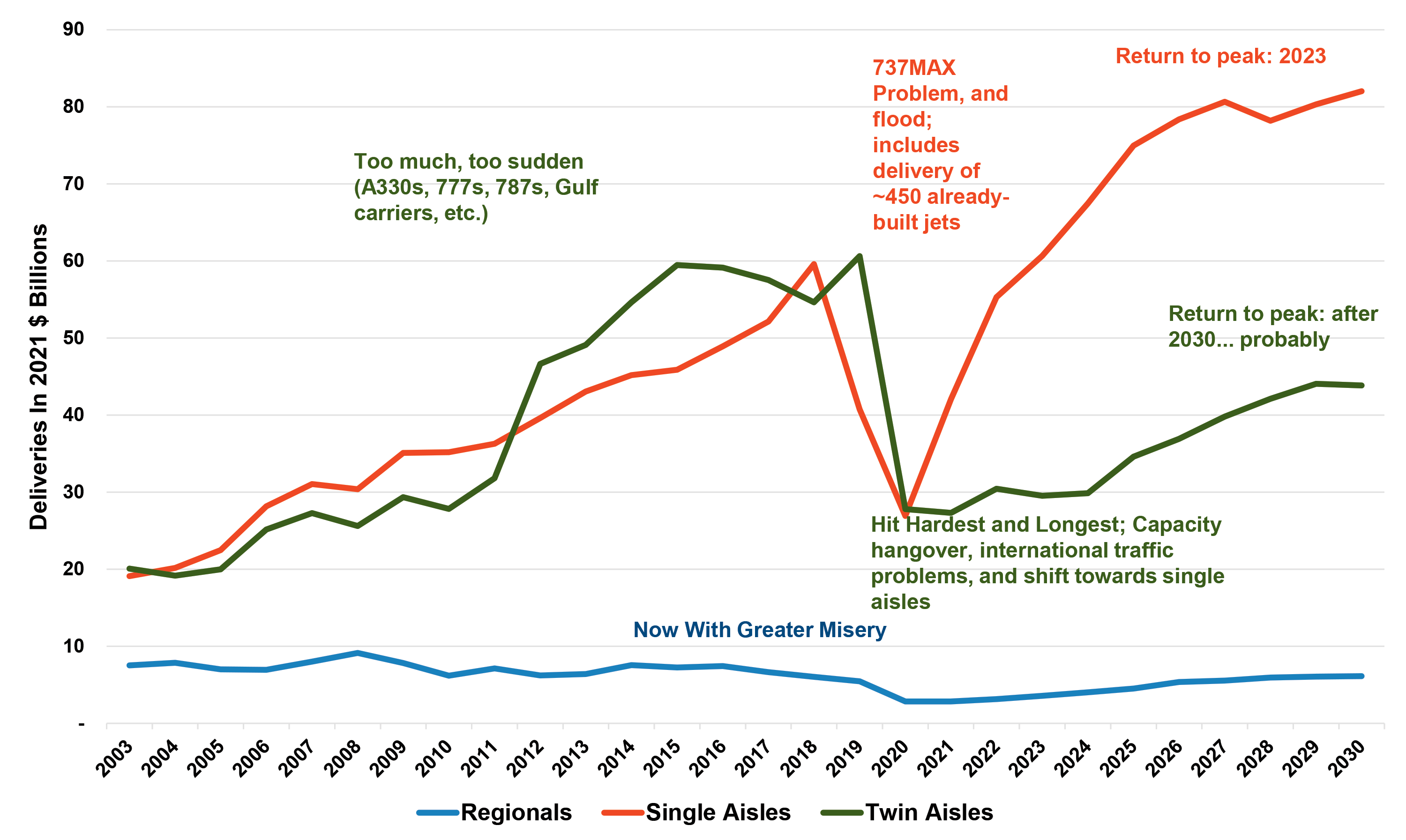 Charts courtesy of the Teal Group
Robots to the Rescue
The pandemic has exacerbated the labor shortage by driving people from the workforce, said Joe Campbell, senior manager of strategic marketing and applications development for Ann Arbor, Michigan-headquartered Universal
Robots USA Inc.
"The operating assumption is people have decided to retire early," he said.
Campbell said the coronavirus also added to the scarcity of labor by increasing reshoring as more manufacturers realized that producing goods more than 11,000 km (6,835 miles) away in China maybe wasn't the best choice.
"You can't react fast enough and make changes," he said.
Even though a manufacturer can't automate everything, robots can help alleviate the labor crunch.
"You want skilled workers and operators, and you let them do the most demanding tasks that are right in their wheelhouse," Campbell said. "Let automation do the dull, the dirty and the dangerous. Because if you are having trouble hiring in general, try to hire for a crappy job. You can't. People just laugh at you."
Because manufacturers are struggling to hire workers, he said global sales of Universal Robots' collaborative robots, or cobots, are up 40% for the first half of the year compared with 2020 and up 22% compared with 2019.
"By the end of last year, we shipped 50,000 robots," Campbell said. "Right now, we are (on) pace to ship another 10,000 to 12,000 this year."
He said the company predicts 25% to 30% annual growth over the long term.
Sales have been particularly strong at small and medium-size manufacturers because cobots are easy to deploy and provide a quick payback, Campbell said.
"If you're running a contract machine shop or contract assembly shop, you don't need a 20-week solution," he said. "You need a next-month solution. You've got to find a way to boost your production next month."
Whether it's a metalcutting machine tool, a press brake or a die-casting machine, Campbell pointed out that about half of Universal Robots' sales are for machine-tending applications — some kind of machine loading and unloading.
He said a growing application for cobots is welding, with products being developed so a welder can set up without needing an automation engineer.
"The key is it is not welding for the engineer," Campbell said. "It is welding for the welder."
He said the welding segment represents about 6% of Universal Robots' overall sales volume.
This is the "golden age" for automation because end users understand it better than in the past, Campbell said.
That knowledge enables manufacturers to invest incrementally in automation, allowing them to automate one workstation, for example, for $75,000 and generate a quick payback before adding automation to more stations or cells.
"We jokingly say, but it's not that much of a joke — it's the truth: automation even a CFO would like," Campbell said.
Cutting Through
Predictably, the number of robots at manufacturing plants continues to rise while orders increase for U.S. manufacturing equipment.
"Given the state of the economy last year, orders were expected to be up, but so far 2021 is shaping up to be a historic year," stated Douglas K. Woods, president of The Association for Manufacturing Technology, in a July press release for the organization's U.S. Manufacturing Technology Orders report. "In only three other years since 1998 have orders surpassed $2 billion by May. Manufacturers across the industry have expressed broadly positive sentiment, so we would expect the remainder of the year not only to return to the pre-pandemic trend but also to exceed previous forecasts."
One machine tool segment expected to see strong growth throughout the upcoming decade is waterjet cutting machines. According to a report from Dublin-based research and consulting company Fact.MR, the global waterjet cutting machines sector will experience a compound annual growth rate of nearly 5%, topping $1.5 billion by the end of the 2021-2031 assessment period. In addition, the United States is estimated to dominate the global waterjet cutting machine landscape, accounting for a revenue share of 36% from 2021 to 2031.
Steve Ulmer, vice president of sales for Omax Corp. in Kent, Washington, agreed that sales of waterjets are strong. He said the builder of abrasive waterjet machines is seeing rising sales as pent-up demand results in more purchase orders, with a positive outlook continuing into 2022.
"Right now," he said, "it looks like we'll grow at a little faster pace than 2021."
Ulmer said logistical challenges continue to slow shipment of goods overseas, but Omax effectively can control its supply chain by producing needed components at its factory in Kent.
The sailing is not as smooth when shipping completed waterjets to overseas customers.
"There is limited capacity for containers going outbound," Ulmer said, "so that has been a bit of a challenge for some of our customers. But that doesn't mean they don't get their shipment. It's just a little delayed."
He said any wait is worth the performance and precision that waterjets can provide.
"As the supply chain gets pinched, more challenged, customers are looking for faster turnaround times on their own production, their own parts," Ulmer said. "And we are able to do that with the waterjet."
He said Omax supplies waterjet machines to both companies that are waterjet-only shops and companies that have waterjets to complement other machining and fabricating services, and the amount of waterjet work continues to rise. For example, he said a waterjet customer was so busy with its waterjet work that it started outsourcing excess waterjet work.
"There are a lot of good reasons for us to be optimistic going into 2022," Ulmer said. 
---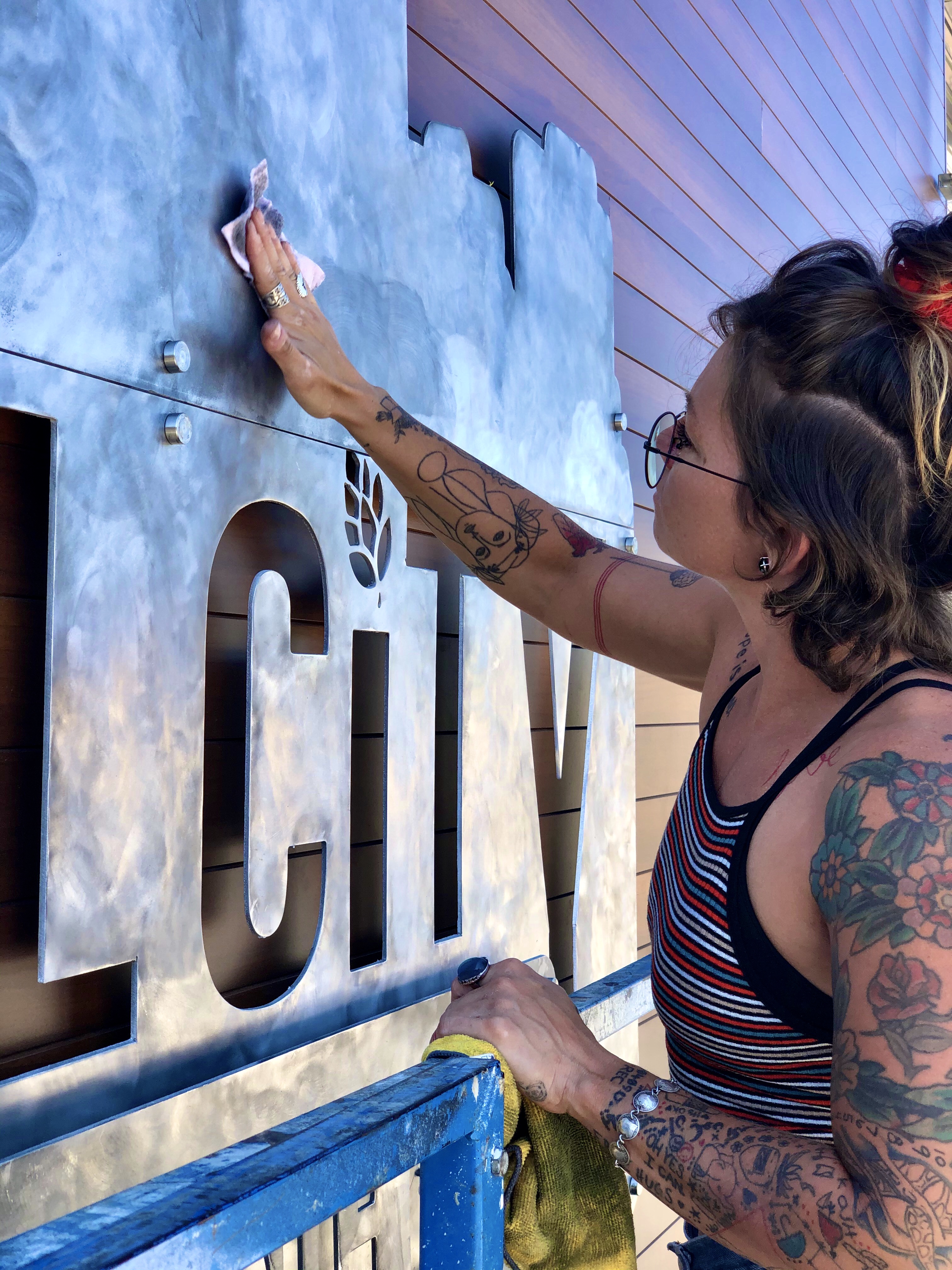 Rae Ripple puts the finishing touches on her sign for Tall City Brewing. Image courtesy of Rae Ripple
The Art of the Part
The pandemic has opened some markets in which job shops can find opportunities. One is making signs.
For example, at the beginning of the pandemic, Rae Ripple, a metalworking artist who runs a one-person job shop in Big Spring, Texas, acquired a FastCut CNC G8 plasma cutting system. She later upgraded the table with a Powermax Sync plasma cutter from Hypertherm Inc. in Hanover, New Hampshire. The equipment enabled her to apply her artistic talents to a new line of business: sign making.
"Businesses, since they were shut down, used that opportunity to remodel and upgrade a lot of things, such as outside signage," she said. "It was weird how my art shifted and went from sculpture work to business signs."
Ripple's first sign was for Tall City Brewing Co. in Midland, Texas.
She said her sculpting work began with cakes but didn't pan out in the small city where she lived.
"I never made money off of it," Ripple said, "so I quit doing it."
She transitioned to metal, first by painting it and then by cutting sheet metal with snips and riveting the parts together. She ultimately shifted to plasma cutting and welding. Using social media, she started selling her sculptures online.
"At one point in my life," Ripple said, "I did try to become an artist full time, and I failed miserably."
Fortunately, the situation has improved, and 2020 was one of her busiest years as an artist. She continues to work through the backlog of orders.
Although she needs other types of metalworking jobs to help pay the bills, such as producing baseplates for pipelines and welding water main lines, Ripple said her reputation as a top metalworking artist landed her on the "Metal Shop Masters" competition series on Netflix.
"It's very bingeworthy," she said.
Ripple said her upbringing, however, was not exactly conducive to a successful metalworking career.
"I ran away from home at 14 after being sexually assaulted by my dad," she said. "I grew up on the streets. I had my daughter as a young teen. I fell into the cycle and became part of my environment."
Ripple said that cycle included working at a strip club to make ends meets while living in her pickup truck. She eventually obtained two full-time jobs and saved enough money to rent an apartment.
She describes herself as an advocate for women who come out of similar situations.
"They are badass and can do whatever they want and are capable of anything," Ripple said. "I want to teach people to be a badass. Do what you love and make money at it, and you can do what you love every single day."
Moving forward, she wants to produce bigger and better sculptures and be part of more television productions.
"I hope to have my own show one day," Ripple said.
For more information, visit www.raeripple.com.
—Alan Richter