Author
Alan Richter
Published
August 24, 2018 - 10:00am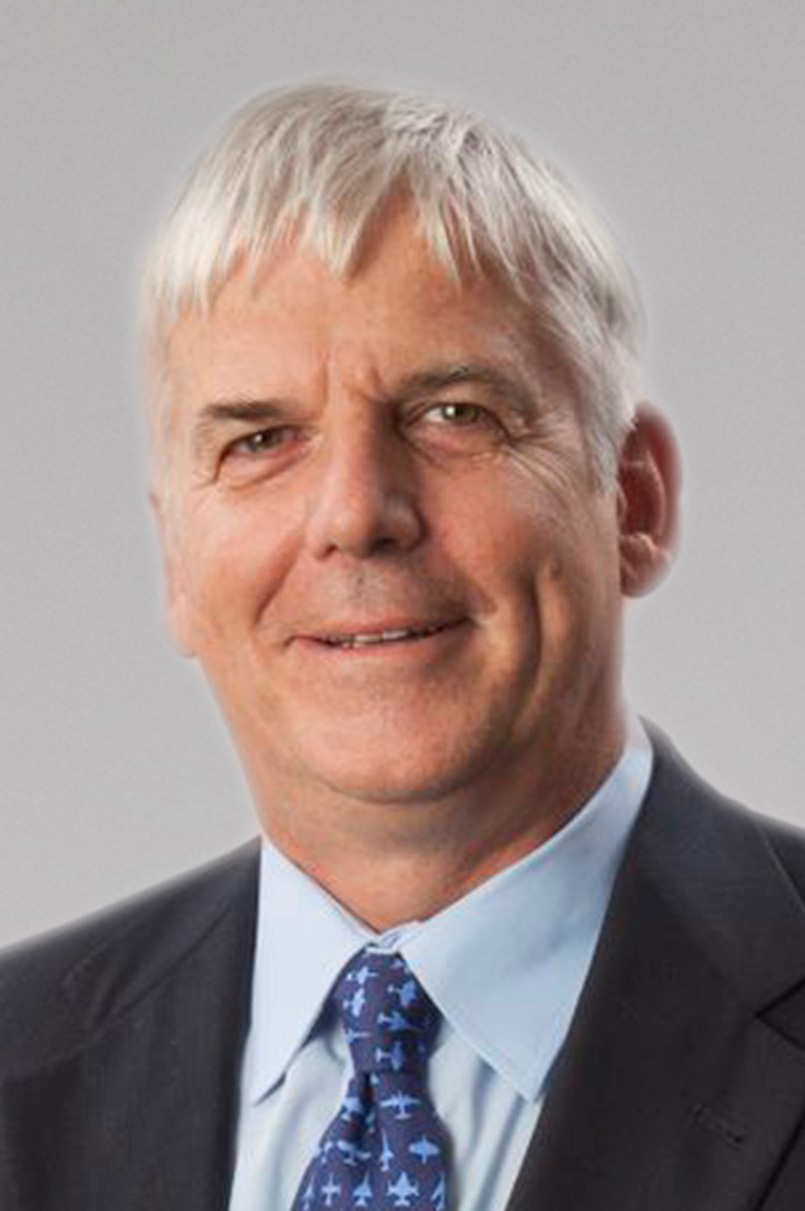 Doug Rose founded Aero Gear in 1982.
As the demand for commercial and military jet engines approaches stratospheric levels, Windsor, Connecticut-based Aero Gear, which Doug Rose founded in 1982, is rising up to meet the demand. The company manufactures the power drive gear systems for fixed and rotary wing aircraft. The mechanisms are as essential as the combustor that creates the thrust for the engine—the "brain" behind the brawn. 
In an interview conducted by CTE Editor Alan Richter, Rose discussed the company's new 24,000-sq.-ft. facility expansion, which brings the total to 100,000 sq. ft. He also spoke about the company's flow line concept to shorten lead times and minimize waste and the benefits of being part of a cluster of aerospace component manufacturers.
Cutting Tool Engineering: What motivated you to expand the facility?
Doug Rose: The aerospace industry in general is busy, with both the commercial aviation and military aviation being busy at the same time. Demand is up. The gear portion of that aerospace industry is strong as well. We see it being busy for another 3 to 5 years. Most of it is driven by the new fuel-efficient aircraft and the new engines going into production. We have about 175 employees now. We probably hired about 25 people in the last 6 to 8 months. We will probably hire another 20 to 25 people in the next year, if not sooner. All companies try to increase output, not through brick-and-mortar but through acquisition of higher-technology equipment and lean activities. We've done that and grew about 25 percent last year. At some point, you need to add floor space in order to add more people and more equipment.
CTE: What does Aero Gear's flow line concept involve?
Rose: The most advanced way of making products these days is to set your equipment up in the sequence of the processing of the part. What we've been doing is put families of parts in a particular flow line and sometimes into a cell. You line up the equipment in the sequence of the manufacturing process and flow the product. It's a little like a production flow line, but we tend to do low-volume and mixed-model work. How you lay out your equipment into the flow lines allows you to improve productivity quite a bit and shorten lead times.
CTE: What role does the Connecticut government play in supporting manufacturing?
---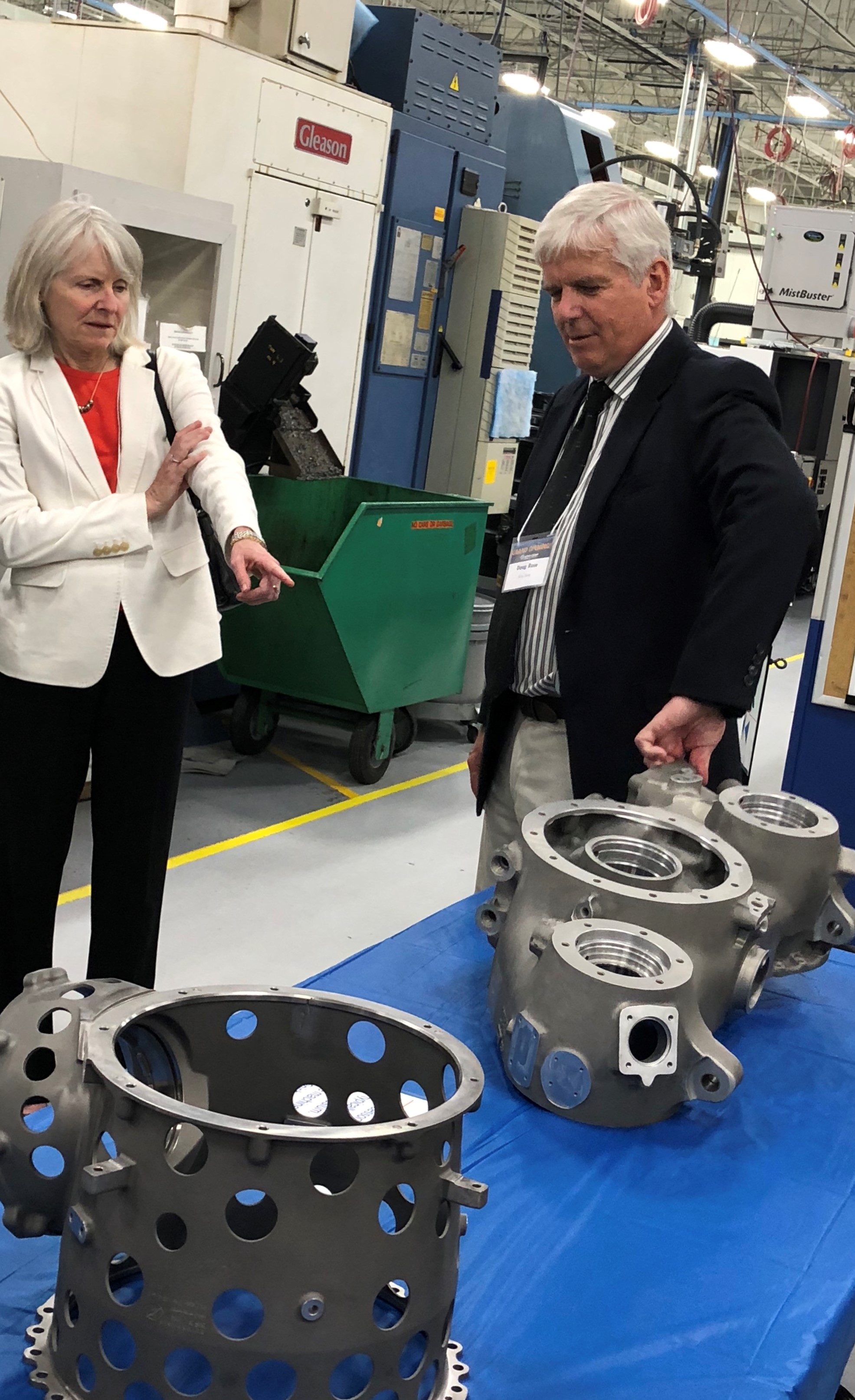 Doug Rose, founder of Aero Gear, guides Catherine Smith, commissioner of the Connecticut Department of Economic and Community Development, through the company's facility for an up-close look at the new space. Image courtesy of Alliances by Alisa Media Relations
---
Rose: They've done a really nice job here in Connecticut of supporting the cluster of aerospace companies that we have. We have this natural cluster of aerospace manufacturing companies that do everything from machining, such as bearing manufacturers, to providing raw material to plating. The different companies kind of feed off of each other. It would be very difficult to run a business like ours in an area that didn't have all of the supporting industries. Connecticut Department of Economic and Community Development Commissioner Catherine Smith and the Connecticut state government in general have been doing quite a bit to foster and develop those clusters of companies working together.
CTE: What's a specific example of that development effort? 
Rose: Probably the most pronounced one is they have helped get some manufacturing training programs going at community colleges. What the community colleges did here is they came to the companies and asked, "What skills would you like students to have before they come to your company?" I call it a demand-driven training. It wasn't like the schools deciding what ought to be taught; it was the schools coming to the companies and asking, "What output do you want from our schools?" It has worked out well.
CTE: How do companies in the cluster share knowledge with each other?
Rose: We have a group here called ACM—aerospace component manufacturers. It's a cluster of small and midsize companies like ours. We have monthly meetings and workforce and business development meetings. Sometimes we've even done kaizans at other companies. We have 60 to 70 members. What tends to happen is you do a lot with people who are not direct competitors. You build up little networks and share that way.   
Related Glossary Terms
feed


feed

Rate of change of position of the tool as a whole, relative to the workpiece while cutting.