Author
William Leventon
Published
January 03, 2023 - 11:00am
In addition to desired part shapes, machining processes produce part contamination that must be removed. One system designed to do this important job features both a large batch-cleaning capacity and a small footprint.
Sold by Ecoclean Inc. in Southfield, Michigan, the EcoCcompact solvent-based part-cleaning system won't take up an excessive amount of space on a plant floor. Measuring 3,200 mm long × 1,600 mm wide × 2,450 mm tall, the latest version of the system includes a working chamber with a standard diameter of 550 mm, giving it a 10% higher batch capacity than that of conventional part-cleaning systems, according to Ecoclean. The company also touts the new EcoCcompact's improved washing mechanics, wash fluid reconditioning and energy-saving technology.
The system is aimed primarily at manufacturing operations that leave an oil residue on parts.
"It removes oil extremely well," said Director of Sales Sandro Siminovich.
That, for example, makes the EcoCcompact a good fit for screw machine shops and typical stamping operations, he said. In addition, the system can handle water-based coolants in some cases using alternative solvents.
But "if you (use) exclusively water coolant or high volumes of water coolant," Siminovich said, "we are going to recommend that you use a water-based machine."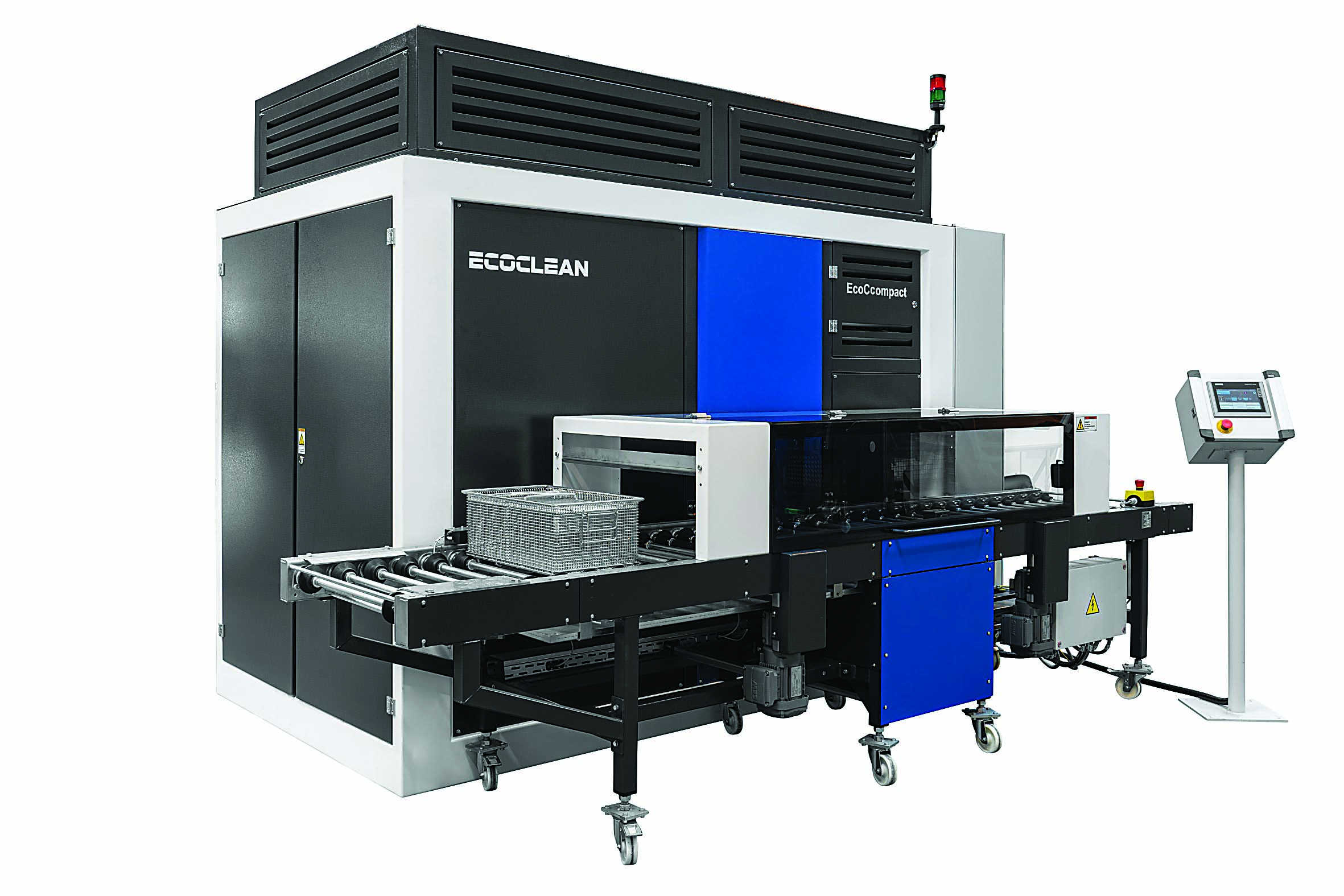 The EcoCcompact comes with two or three fully integrated flood tanks, each fitted with bag-type or high-performance filters and bypass filtration in the supply and return lines. High flooding volume ensures that parts are immersed entirely in the wash fluid during the cleaning process.
"Some machines on the market have smaller tanks and therefore cannot submerge the parts completely," Siminovich said.
To compensate, parts are rotated in the tanks, he explained, but that doubles the amount of time required for adequate cleaning.
Besides ensuring that the working chamber is quickly filled and emptied, the EcoCcompact's frequency-controlled flood pumps achieve a high level of mechanical cleaning during standard injection flood washing, according to Ecoclean. Cleaning results can be improved, however, with the addition of an optional frequency-controlled drive to rotate and position the parts to be cleaned in a specific way.
To boost the efficiency of the distillation process and reduce solvent requirements, the EcoCcompact's distillation unit is installed in a vertical rather than a horizontal position. This shrinks the surface area at the bottom of the unit, Siminovich explained, thereby reducing debris and dirt buildup there, which extends bath life and speeds up solvent regeneration.
In addition, he pointed out that a vertical orientation reduces the surface area that must be heated during distillation, making the process more energy efficient. Further reducing the EcoCcompact's energy consumption is the fact that two of its flood tanks are warmed by heat recovered from the distillation process.
Another advantage of a vertical distillation unit is that it reduces the number of supports needed to mount the unit. Siminovich said the heavy cylindrical unit, filled with solvent and contamination, would require support in the center, as well as at the ends, to keep it from bowing if oriented horizontally.
For control, the EcoCcompact includes a 7" human-machine interface touch panel and self-explanatory pictograms to simplify and speed up operation. The system also offers a feature called integrated parts visualization, which is designed to make process tracking and maintenance easier. While the panel allows users to enter their cleaning program and view basic process data, such as temperatures, he said the visualization feature gives additional process information, such as pressures, valve status and how liquid is distributed inside the machine.
"More information (will allow) you to monitor your cleaning program and your cleaning process better," Siminovich said. "You have full access into the machine and what's going on behind the scenes." 
Related Glossary Terms
coolant


coolant

Fluid that reduces temperature buildup at the tool/workpiece interface during machining. Normally takes the form of a liquid such as soluble or chemical mixtures (semisynthetic, synthetic) but can be pressurized air or other gas. Because of water's ability to absorb great quantities of heat, it is widely used as a coolant and vehicle for various cutting compounds, with the water-to-compound ratio varying with the machining task. See cutting fluid; semisynthetic cutting fluid; soluble-oil cutting fluid; synthetic cutting fluid.