Author
Martin Eastman
Published
February 01, 1995 - 11:00am
The Big Three automakers have scrapped their own quality requirements in favor of a new joint standard.
Detroit is changing the rules, and suppliers are happy about it. Gone are Chrysler's Supplier Quality Assurance program, Ford's Q-101 program, and General Motor's Targets for Excellence and General Quality Standards programs. In their place is a new standard called QS-9000.
The new quality standard applies to first-tier suppliers to the automakers' North American operations only. About 13,000 companies fall into this category, which includes any firm contracted by one of the automakers to manufacture a product that becomes part of the car, according to Radley Smith, quality engineer in Ford's Quality Office, Dearborn, MI. A company supplying machined aluminum wheels to GM, for instance, would be covered, but a company supplying carbide turning inserts would not. Smith says a standard for toolmakers similar to QS-9000 is in the works and should be ready in the next couple of years.
QS-9000 was not designed to apply to a broad range of suppliers. "We do not seek to encompass the entire world of automotive manufacturers, but rather the requirements for our three companies," says Smith. Even so, the document could influence quality-assurance practices throughout the United States' manufacturing sector. In addition to the Big Three, the heavy truck manufacturers Freightliner, Mack, Navistar, Paccar, and Volvo will be imposing the QS-9000 standard on their first-tier suppliers.
Suppliers further down the auto and truck industries' supply chain will feel the affects of the standard, too. Although QS-9000 doesn't require first-tier suppliers to impose the standard on their suppliers, it does make first-tier companies responsible for the quality of the components they purchase from the outside. By borrowing key systems and practices from QS-9000 itself, first-tier suppliers can monitor the quality of the parts flowing into their plants in a way that will be sure to meet with their customers' approval.
In the future, the QS-9000 standard, or some adaptation of it, could see use in a broad range of applications. "Any other auto manufacturer or, indeed, any manufacturer of anything is welcome to buy copies of the document and issue it as a requirement to their suppliers," says Smith.
Some may regard the automakers' adoption of QS-9000 as an affirmation of the principles behind the ISO 9000 quality standards. QS-9000 is one of the first adaptations by any U.S. manufacturer of the European standards. Seeing the European standards accepted and used by such a large and influential group of manufacturers and suppliers may encourage others to adopt or adapt the ISO standards for their purposes.
Three Into One
When the automakers first sat down in December 1992 to hash out a common quality standard, developing a modified version of the ISO standard wasn't their first objective, according to Smith. Their intent was to simplify the quality system requirements they were imposing on their suppliers.
"Before QS-9000, you had three different standards, three different sets of paperwork, and three different ways of doing things," says Jim Scheuer, senior quality engineer for first-tier supplier Deco Grand, Royal Oak, MI. Because Deco Grand served more than one auto-industry customer, it had to become familiar with each automaker's requirements, develop procedures and docu-mentation for each customer, and prepare for multiple inspections. "There usually was a walk-through audit by each supplier-quality-assurance representative we were trying to get certified by," Scheuer says.
QS-9000 consolidates these standards into a single document. Now, even a supplier who works with several auto-industry customers needs to be familiar with only one set of requirements. And with the common standard's provision for third-party registration, one audit by an independent organization is enough to satisfy all of the supplier's Big Three customers.
The suppliers themselves requested a common standard, according to Ford's Radley Smith, and their input was sought throughout the development process. The task force that produced QS-9000 included suppliers and others in the purchasing and supply network as well as representatives from the Big Three. And as the task force's work progressed, a 40-member supplier advisory board was consulted to ensure that the suppliers' concerns were being addressed. The result is a standard that the suppliers say they like.
The ISO Connection
Early in the document's development, the task force reviewed the ISO 9000 standards to determine their applicability to the auto industry. The European standards, which include ISO 9000 through 9004, require suppliers to have a formal, well-documented quality system. They also call for audits of the supplier's operation by a third party to verify that the system is in place and working as planned. "We quickly decided that we had no problem with any statements in the ISO 9000 standards," says Smith. "But it was also obvious that they did not go nearly far enough, and by themselves they could never replace the documents that our three companies were already using."
Although the task force couldn't use the ISO standards as is, it did find ISO 9001, the most comprehensive of the ISO standards, useful as a framework for the standard it was building. The broad language of ISO 9001 has been incorporated in its entirety into QS-9000. Figure 1 lists the ISO 9001 requirements, which are now part of QS-9000 as well.
ISO 9001's Requirements
To be registered under ISO 9001 a supplier must:
Manage quality resources and personnel
Implement a quality system
Review contracts for problems
Review designs for problems
Maintain and disseminate quality-related documents
Monitor the quality of purchased goods
Monitor purchaser-supplied products
Identify and track products
Control manufacturing and installation procedures
Inspect and test products
Maintain inspection and test equipment
Identify a product's inspection and test status
Control nonconforming products
Correct causes of nonconforming products
Handle, store, package, and deliver products
Maintain quality records
Conduct internal quality audits
Train personnel in quality assurance
Control quality of after-sales service
Apply statistical techniques to monitor quality
Figure 1: These 20 elements from ISO 9001 have been incorporated into QS-9000.
Onto the ISO framework the task force welded provisions from the automakers' individual standards. In some cases, the task force compared similar language in the three automakers' standards and incorporated the best of the three into QS-9000. In other cases, the provisions of the three were combined.
The task force has added requirements, suggested and preferred approaches, and notes and clarifications to all but two of ISO 9001's 20 elements. Some of these additions simply define terms used in ISO 9001. Others specifically designate the approaches that are to be taken to reach the objectives stated in the original ISO document.
Custom-Made Standard
The finished QS-9000 standard retains the ISO standards' focus on documented quality systems and third-party audits. But these key concepts have been narrowed and defined to create a standard custom-made for the Big Three automakers.
Ford's Radley Smith says some may consider QS-9000 requirements more specific than ISO 9000's. For instance, where ISO 9001 says only that quality planning shall be carried out, QS-9000 specifies the planning steps the supplier is to follow. However, QS-9000 is still a relatively broad document. "We do not dictate how suppliers should specifically implement their quality systems," says Smith. "We don't say what type of software they should use, for instance, or what type of gaging they should use. There is nothing in any way product specific in QS-9000."
QS-9000's requirements will be familiar to anyone currently supplying the auto industry, say the standard's developers and those suppliers with whom we spoke. "The things that are in QS-9000 are just things that we should all be doing anyway. So there's no real surprises in there," says David Mahlke, customer technical liaison for first-tier supplier Burgess-Norton Mfg. Co., Geneva, IL. Mahlke doesn't believe his company will have to change its practices significantly to be in compliance with the standard.
What some suppliers may find different is the level of formality and documentation QS-9000 requires, says Mahlke. Procedures and lines of responsibility that may have been informally established and explained to employees will now have to be clearly designated and the workings of the entire system will have to be written up in manuals. Documents a supplier will have to prepare include a manual that specifies who is responsible for quality and how that quality will be achieved; a manual that explains who will carry out quality procedures, what these procedures are, and when they are to be carried out; job instructions that explain how quality-assurance procedures are to be performed; and records that prove the system is working (Figure 2).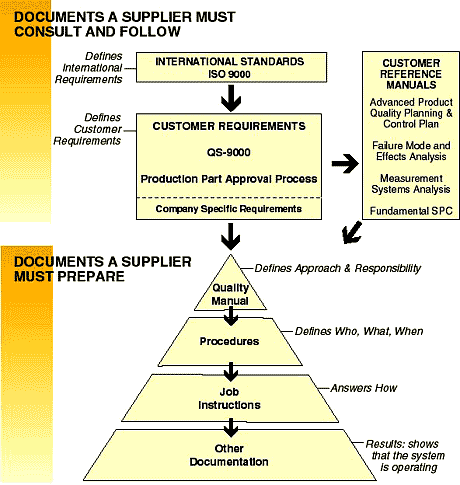 Figure 2: QS-9000 procedures might be viewed as a progression of documents, from those prepared for the supplier to those prepared by the supplier.
QS-9000 also stipulates that the supplier must establish and implement a product-quality-planning process, following the procedures in the "Advanced Product Quality Planning and Control Plan" reference manual that was also produced by the task force. The manual lays out a disciplined step-by-step approach to planning the quality of a product, says Dennis Whitman, GM's manager of supplier quality. To develop a quality plan, the supplier will have to conduct feasibility reviews and a process-failure-mode-and-effects analysis and draft a control plan.
Some of QS-9000's provisions cover quality-assurance practices that weren't addressed in the ISO 9000 standards. To formalize these requirements, the task force added three new elements to ISO 9001's original 20. These are found in QS-9000's "Section II: Sector-Specific Requirements." One of the elements specifies that suppliers are to follow the procedures found in the production-part-approval process manual issued by the task force. A second element says suppliers must work toward continuous improvements in quality, service (including timing and delivery), and price. This element also lists the measurement methodologies, such as capability indices, control charts, parts-per-million analysis, and benchmarking, that the supplier should be able to use where appropriate. A third new element in the document says that the supplier must ensure that it has the facilities and tools it needs to produce the part it is being contracted to supply.
In the ISO 9000-based section and the sector-specific section of QS-9000, the automakers have surrendered their ability to control their own suppliers' quality systems, depending, instead, on a jointly developed program that governs all suppliers. They take back some of their individual power over suppliers with the customer-specific requirements each has added to the document. These are listed by company in a third section of QS-9000. The section includes concepts, terms, and procedures that one automaker defines differently from the others. Each automaker also has specified a list of publications it has released that contain additional requirements.
QS-9000's customer-specific section is one of Scheuer's concerns. The automakers could regard the customer-specific section as the place to distinguish themselves from their competitors by establishing different requirements from those in the common sections of QS-9000. If this happens, Scheuer fears, the industry could be back where it started, with suppliers scrambling to comply with three individual standards.
Verifiable Quality
The automakers would be powerless to enforce QS-9000 without some way to verify that their requirements are being met. In an appendix to the QS-9000 document, the task force has outlined a couple of verification options. Both alternatives contain provisions for self-assessments by the suppliers themselves as well as verification by an independent party. When it comes to self-assessments, the suppliers have no choice. All three automakers have said they will require their suppliers to conduct self-assessments. But some suppliers will be able to decide for themselves how to obtain independent verification. They might choose to let each customer audit them, using the "Quality System Assessment" manual the task force has issued. Or they might hire a third-party registrar to inspect their operations and issue certificates that will be accepted by all of the auto and truck manufacturers that have signed on to QS-9000 in lieu of individual audits. Although QS-9000 leaves the choice of independent verification method up to the suppliers, the suppliers must consider what their customers will require when they select a method.
GM's suppliers will not be able to choose between second- and third-party audits, however. The automaker has said it will require third-party audits, and it has set a deadline for when it expects these audits to be completed. The other automakers say they may follow suit, because third-party auditing frees up resources that must be devoted to supplier assessments when the automakers conduct these audits themselves.
Whether voluntary or mandatory, a third-party audit must be carried out by an accredited registrar. The automakers say they will accept accreditation from the Registrar Accreditation Board, Milwaukee; Raad voor de Certificatie, Driebergen, Netherlands; and the National Accreditation Council for Certification Bodies in London. Agreements with accreditation bodies in countries other than Great Britain and the Netherlands probably will be reached soon, according to Ford's Radley Smith.
Smith says that, in addition to accreditation, a registrar must sign the Code of Practice for Quality System Registrars at the time it signs a contract with the supplier. The code, which has been published in Appendix B of the QS-9000 document, specifies what the extent of the audit is to be and the standards the registrar is to follow. It also forbids a registrar that has provided consulting services to a supplier from also auditing that supplier.
Paying for a third-party audit is the responsibility of the supplier. The price of an audit is set by the registrar, and it generally depends on the number of employees at the supplier's place of business and whether the supplier designs as well as manufactures its products. Bob Kozak, certification manager for Entela Inc., Grand Rapids, MI, says a three-year cycle of audits for a shop with 30 employees that is designing as well as manufacturing parts would be about $12,800. The first year's audit would cost $9200. Follow-up audits in the next two years to verify that problems have been corrected would cost $1800 apiece.
Kozak says his company is planning to keep the price of its QS-9000 audits in line with what it charges for ISO 9000 audits. But other auditors may consider the additional requirements that must be audited for QS-9000 and charge more.
The certificate the supplier receives after passing its audit is valid for ISO as well as QS-9000 registration. "When a company's found to be in compliance with QS-9000, it will be issued an ISO certificate, but the certificate will be annotated with a QS-9000 notice as well," says GM's Dan Reid, manager of supplier development for GM/Service Parts Operation's Supplier Quality Area, Flint, MI. A registration for ISO 9001 will be issued to suppliers who design as well as manufacture products. Firms that do not perform design work will be issued an ISO 9002 certificate. ISO 9003, which covers only a supplier's final inspection and testing procedures, and ISO 9004, which offers general guidelines, are not applicable to a QS-9000 audit. The certificates issued by a QS-9000 auditor should be accepted by any customer in or out of the auto industry that accepts the equivalent ISO registration.
The Big Three will not accept all ISO certificates, however. To receive a registration recognized by the automakers, a supplier must be audited specifically for its adherence to QS-9000's requirements, and its certificate must bear the QS-9000 annotation. "If somebody has a certificate that only says ISO 9001 or ISO 9002, they have some work to do—not a lot perhaps—but some," says Ford's Radley Smith. "They have to call their third-party registrar back, and the registrar would review the additions or modifications the supplier made to its system [to comply with QS-9000]. And that same quality registrar could now give them an ISO plus QS-9000 certificate."
Deadlines
Each automaker has set its own deadlines for implementation of QS-9000 and the assessments it requires. GM began conducting its own assessments of suppliers in January. In January 1996, the company will expect all new suppliers to be registered by a third party. At this time GM will begin phasing out its own assessments. By December 31, 1997, the company expects all suppliers to GM locations worldwide to be third-party registered.
Chrysler also began using QS-9000 to audit its suppliers in January. It wants all supplier self-assessments turned in by June 1995. Chrysler hasn't set a specific date yet, but it does anticipate requiring third-party registration sometime in the future.
Ford says that QS-9000's requirements supersede its own Q-101 program immediately upon the supplier's receipt of the document. By the end of January 1995, the company wants its suppliers to have quality manuals that comply with QS-9000 and all support procedures to be in place by March 31, 1995. By June 30, 1995, self assessments are to be completed. By this date, suppliers are to let Ford know if they intend to pursue third-party registration.
If a supplier is working toward registration but its audit hasn't been completed, it won't be shut out of the bidding process or lose work from its auto-industry customers. "It's more fair to say that what we're going to be looking for initially is a clear indication from the suppliers that they are proceeding toward registration," says Russell Jacobs, Chrysler's manager of supplier quality planning, securement and supply, Auburn Hills, MI.
Outside Help
On the way to registration, a supplier may decide to seek outside help. Although the standard is based on common industry practices, some suppliers may want to be assured that they have interpreted the requirements correctly and that the quality system they are planning will satisfy the automakers' objectives.
To gain a fundamental understanding of the standard the supplier could send its employees to one of the seminars being offered. The Automotive Industry Action Group (AIAG), Southfield, MI, offers the only seminar that has been commissioned by the automakers themselves. It's a two-day session held Monday through Thursday every week at AIAG's facilities or at the Cobo Center, Detroit. The course provides an overview of the standard and the assessment process.
Suppliers who want help from the ground up in developing a quality system that will meet QS-9000's requirements might consider hiring a consultant. However, Jim Scheuer says, suppliers like Deco Grand that have earned registration under one of the Big Three's individual quality programs shouldn't need this type of costly assistance. "We were successful in meeting the automakers' individual requirements, so I think we can be successful in meeting QS-9000's," he says.
What would be useful, Scheuer says, is more help and advice from the automakers themselves. "Often the only time I will see a Big Three quality rep is after a problem occurs, not during the launch phase or during the product- or project-development phase."
Burgess-Norton's David Mahlke says the automakers' involvement could help strengthen the relationship between them and their suppliers. Without personal contact, he fears, quality assurance could become a bureaucratic exercise.
Suppliers have expressed concern that the organizations that provide help or auditing services will become overloaded with the crush of suppliers trying to meet the automakers' deadlines. Some of these fears seem to be well grounded. For instance, slots for the AIAG seminar filled up quickly shortly after it was offered, and suppliers had to wait several months for an open class. Chrysler's Russell Jacobs wants to assure suppliers that the automakers are aware of this problem. He and the other automakers' representatives hope the demand for registrars will ease somewhat as additional firms become accredited. And the automakers are taking the availability of registrars into consideration as they establish their deadlines for compliance and registration.
These concerns have not dampened the suppliers' enthusiasm for the concepts behind QS-9000, however. They're happy to see the industry come together to simplify and streamline the quality-system development and assessment process. "This harmonization of automaker standards, as it gets more fully deployed, is going to enable suppliers to free up a lot of resources and devote them to more value-added types of activities, such as advanced quality planning," says GM's Dan Reid.
"It's a real sigh of relief to see this finally come about," says Scheuer, expressing a sentiment many suppliers share. "I'd rather not see us go back to the old way of having three different surveys, three different ways of doing control plans, or three different ideas on the best way to ship product."
Related Glossary Terms
quality assurance ( quality control)


quality assurance ( quality control)

Terms denoting a formal program for monitoring product quality. The denotations are the same, but QC typically connotes a more traditional postmachining inspection system, while QA implies a more comprehensive approach, with emphasis on "total quality," broad quality principles, statistical process control and other statistical methods.

relief


relief

Space provided behind the cutting edges to prevent rubbing. Sometimes called primary relief. Secondary relief provides additional space behind primary relief. Relief on end teeth is axial relief; relief on side teeth is peripheral relief.

turning


turning

Workpiece is held in a chuck, mounted on a face plate or secured between centers and rotated while a cutting tool, normally a single-point tool, is fed into it along its periphery or across its end or face. Takes the form of straight turning (cutting along the periphery of the workpiece); taper turning (creating a taper); step turning (turning different-size diameters on the same work); chamfering (beveling an edge or shoulder); facing (cutting on an end); turning threads (usually external but can be internal); roughing (high-volume metal removal); and finishing (final light cuts). Performed on lathes, turning centers, chucking machines, automatic screw machines and similar machines.