Author
Alan Richter
Published
January 13, 2023 - 12:00pm
Plenty of holes require finishing in a vast array of parts, including transmission and pump housings, engine cylinders, gear cases, fracking blocks and crank and cam bores. When boring is appropriate and manufacturers face a high-mix, low-volume parts environment, modular boring bars can prove effective.
"It's a selection of parts that allows you to get to where you need to go without the expense of a custom tool," said Eric Amberger, C6 product manager for Techniks Inc., about modular boring bars.
The Indianapolis-based company offers modular boring tools from its Parlec brand in Fairport, New York.
Specials are not only usually expensive but can require long lead times.
"Lead times for custom tools can be a real bottleneck," said Matt Tegelman, senior product specialist for Hoffman Estates, Illinois-based BIG Daishowa Inc., which markets modular boring bars under the company's BIG KAISER brand.
The modular line includes shanks for all standard machine spindle tapers in multiple lengths for each connection size, plus modular extensions and reductions to achieve tool lengths to match assembly requirements while maintaining rigidity, he added.

Of course, manufacturers can keep backups in their tool inventories, but that is not necessarily a given, according to Tegelman.
"They just want quantities that are running on the machine," he said, "but if something unforeseen happened, then they're kind of under the gun or in a rush to replace those tools. And those aren't off-the-shelf items, so there's lead times involved."
Modular Motivation
Tegelman added that end users gravitate to modular boring systems for the performance and efficiency they provide.
"In addition to the large number of building block components offered to build boring tool assemblies," he said, "there are several boring head and accessory products that we offer to provide shorter setup and cycle times, whether it's limited-quantity work or high-volume production."
In addition, unless a special is needed to do something like boring multiple diameters, he said a boring bar assembly made of
standard products functions about the same as a custom tool.
"You're not going to see a huge difference in performance," he said, "so it makes sense to go with the modular solution."
Nonetheless, whenever there is a connection between components as there is in a modular design, there's a risk of deflection because of that connection, said Pat Mulcahy, senior manager of strategic accounts/product specialist for indexable at ARCH Cutting Tools Corp. in Bloomfield Hills, Michigan. However, he added, the design of the company's Ultra-Dex brand of modular boring bar provides 90-degree conical contact to grab the entire connection surface and hold it tightly and rigidly.
"It basically unites the modular head to the modular bar and acts as one," Mulcahy said.
The Ultra-Dex system offers 28 different head configurations.
"You essentially could use one modular bar for 28 different applications in ISO standard geometries," he said.
If a special application head is needed, ARCH Cutting Tools can provide it without the need to make a special boring bar.
"You dream it up — we can build it," Mulcahy said.
He said the ability to switch heads — whether standard or custom — makes a modular design cost-effective when a shop requires multiple geometries.
"The biggest aspect for modular would be the interchangeability," he said.
Let's Connect
Two set screws provide a secure union between the bar and head on an Ultra-Dex tool, Mulcahy said, and the screws back up but don't come completely out of the bar when changing a head.
"That's nice not worrying about losing the screws," he said.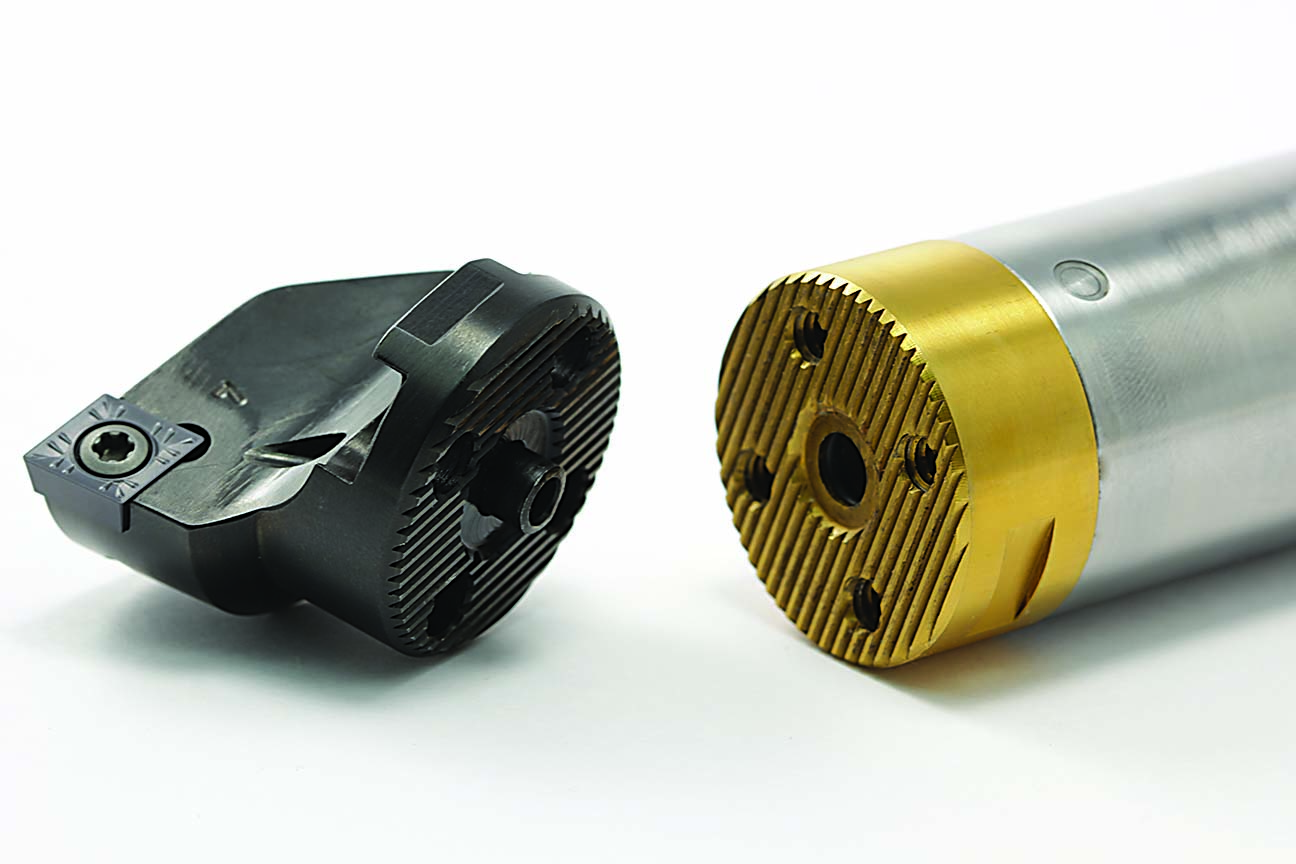 In addition to its Ultra-Dex proprietary design, he noted that ARCH Cutting Tools offers two industry-standard models.
BIG Daishowa reports that its modular boring systems use CK, CKB and CKN connections. CK provides a runout of 0.0051 mm (0.0002") and consists of a cylindrical male pilot and female receptable, and the connection is made by means of a radial locking screw with a 15-degree taper. CKB is derived from CK without loss of technical and dimensional features or interchangeability. The CKB connection is equipped with a floating drive pin, which engages on both sides into respective pockets in the mating part.
The CKN connection is almost 100% compatible with CKB and is based on a three-screw connection, according to the company. By tightening the three screws, the slotted male connection expands and gives additional rigidity to the tool connection.
"CKB is the single-set-screw connection with a floating CKB pin for torque transmission during heavy cuts," Tegelman said. "CKN uses three connection screws and slotted male pilot holes for better cylindrical and face contact between the mating components."
He said CKN also permits the use of aluminum extension tubes for long-reach assemblies with reduced weight.
"CKB is far and away the dominant connection type," he said. "CKN is really kind of a specialty for longer tools."
To perform both a balanced cut and a step cut, Amberger said Parlec's system has individual height and diameter settings for inserts. On a twin-bore tool, a balanced cut has both insert holders at the same diameter and height.
"We can feed it four times faster than a standard tool," he said. "It also makes the tool act really stiff because one side is pushing against the other."
In addition, Amberger explained that the independent adjustability of the insert for height and diameter enables a step cut.
"You can take half of the inscribed circle of the insert per insert and cut a larger diameter than you could cut with a nonadjustable, single-insert tool," he said.
The modular design also allows the boring bar to be telescoped when finishing a deep cavity, he added. For example, a boring bar that's 50.8 mm (2") in diameter can be built up to telescope 254 mm (10") into a cavity.
"We have extensions and reductions, so you can go in with a very large shank and reduce it down to the size you need so the tool remains rigid instead of having a long, skinny tool that would not perform for you," Amberger said.
Cut the Chatter
Boring a deep cavity with a long, skinny tool could cause the tool to deflect and generate chatter — a huge problem, according to Amberger. A fixturing issue, he added, is a common cause of chatter, and Parlec offers a heavy metal boring bar to enhance damping and rigidity compared with the standard steel bar.
In addition to its proprietary steel and heavy metal modular designs, Mulcahy said ARCH Cutting Tools offers two industry-standard models in carbide and steel, with steel being the lower-cost option and carbide costing up to 500% more. However, steel is suitable only up to a 4-1 projection ratio without worrying about chatter or harmonics, he said. A heavy metal bar can hang out at a projection up to 6-1 while the tungsten-carbide one can achieve at least a 7-1 and potentially an 8-1 projection when boring with a positive insert.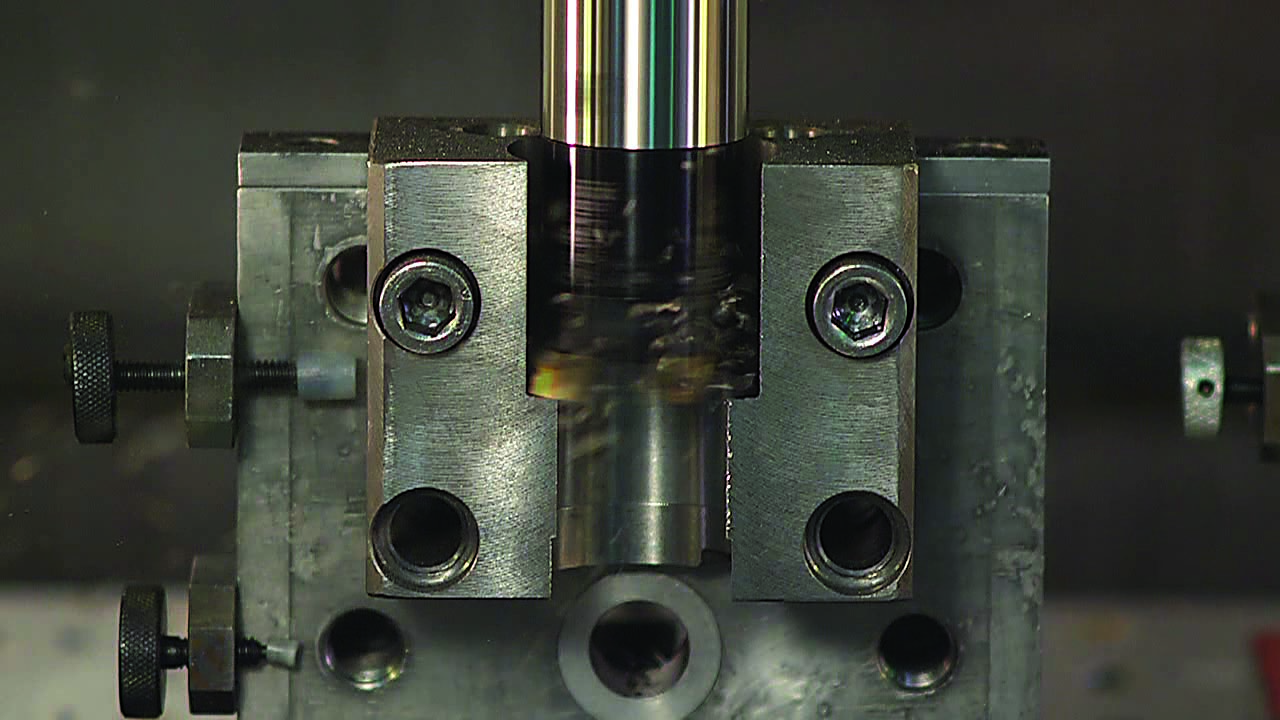 ARCH Cutting Tools also offers Patriot High Performance Stealth boring bars by Ultra-Dex. The bars have internal damping devices and are available to achieve a 5-1, 7-1, 10-1, 12-1 or 14-1 ratio projection, Mulcahy noted.
Although the two smallest ratios can be achieved without a damping system, he said they are suitable for applications in which there's significant insert engagement with the workpiece, such as when threading or grooving.
"A lot of insert engagement creates the most harmonics," Mulcahy said. "We recommend it because they will dampen harmonics that build with increased insert engagement."
To counter vibration, Tegelman said BIG Daishowa offers the Smart Damper, which is a friction-based system where components slide against one another to absorb cutting vibration.
"It is a sealed unit and has the same through-tool coolant capabilities as our other standard products," he said.
Keep Boring Cool
Effectively applying coolant to the tool/workpiece interface is critical to successful boring operations. When a machine tool does not have through-coolant capability, a coolant inducer proves beneficial, but most newer machines have that capability, Tegelman said.
As a result, most boring is done without a coolant inducer.
"All of our boring tools direct the coolant to the cutting tip to blow the chips out of the way and lubricate the cut," Amberger said about Parlec's products.
In addition, delivering coolant directly to the cut minimizes thermal cracking of the insert, Mulcahy said. If the speeds and feeds are correct, virtually all the heat generated in the cut leaves with the chips and coolant helps manage them, so they do not become long and stringy.
"Cooling that chip should be done immediately after it's cut," he said. "It will break the chip. So now you have smaller pieces of material that are easier to evacuate, and that's a big deal when it comes to boring."
Modular boring bars provide an effective means to finish a variety of holes in a high-mix, low-volume environment. The bars may even make sense for manufacturers with machines that are set up to run the same boring application day in and day out and without ever changing the head, according to Mulcahy. If a manufacturer crashes the head, the entire tool does not have to be sent out for repair.
"The beauty of the modular, regardless of what style it is, is you could just unscrew the head and put a new head on," he said. 
---
For more information from BIG Daishowa and ARCH Cutting Tools about boring bars, view video presentations at  https://qr.ctemag.com/1ed2g and https://qr.ctemag.com/1ed2e