Author
Michael C. Anderson
Published
January 11, 2017 - 02:45am
The GE Blue Arc machining process that, according to GE, "cuts through titanium like a hot knife through butter," has been in development for years, but it's taken a large step closer to being put into commercial production. 
GE has partnered with Mitsui Seiki Kogyo Co. Ltd. to develop a 5-axis horizontal machining center with a Blue Arc head attached. Built at Mitsui Seiki's headquarters, outside of Tokyo, the prototype machine is now at GE's global research facility in Van Buren Township, Mich.
---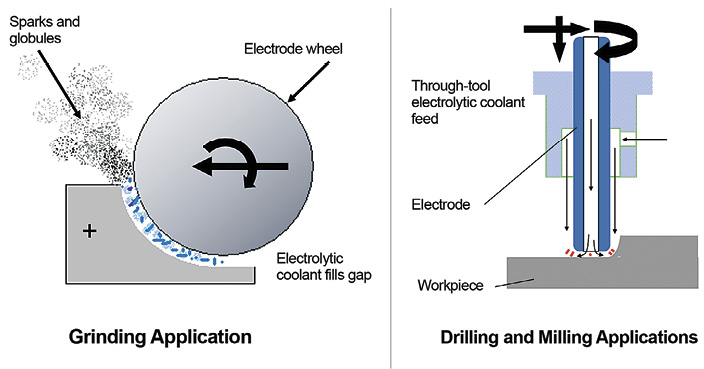 The Blue Arc electrode can be shaped for optimal drilling, milling and grinding. Image courtesy of Mitsui Seiki USA.
---
Blue Arc is an electro-erosion metal-removal method designed to rough extremely challenging-to-machine alloys, such as aerospace-grade titanium and nickel-base superalloys, about four to five times faster than conventional machining, according to Scott Walker, president of Mitsui Seiki USA Inc. Using high-amperage, low-voltage electrical energy, sparks and heat are created between the electrode tool and the workpiece. During the electrical-arcing activity, portions of the workpiece are melted and the molten material is quickly flushed away with high-pressure coolant. The process exerts low force, permitting higher feeds and speeds. 
Walker told CTE that while there may be three or four machining centers around the world that have been retrofitted to work with Blue Arc technology, the Mitsui Seiki HMC "is the first new machine with blue arc on it in the world [that's] designed and built to work with this technology." It's a machine that's suitable for production purposes and can run for 75,000 hours, he added.
The copper-tungsten electrode that produces the electrical arc can be whatever shape, diameter or contour the user wishes, said Walker, adding that it's "much like using a cutting tool for machining." 
The technology has sustainability benefits as well. "The material removed [via the Blue Arc process] is recoverable" Walker said. "If you're burning Inconel, the material removed looks kind of like BBs, titanium looks like milled titanium chips [and] stainless looks like sand," he said. "But all of the materials being burnt off can be reclaimed."
In operation, the Blue Arc process performs all the roughing, a dedicated robot removes the head and a conventional cutting tool is put in its place to perform finishing operations. 
Because of Blue Arc's low forces, the process can eliminate a high-power, high-torque machine tool and highly engineered cutting tools and replace them with a smaller, less-rigid machine and a simple electrode tool. The process is recommended for the difficult-to-reach deep cuts and very thin cuts commonly found in aerospace, power generation and automotive applications.
For more information about Mitsui Seiki USA Inc., Franklin Lakes, N.J., visit www.mitsuiseiki.com or call (201) 337-1300.