Author
Alan Richter
Published
October 13, 2022 - 10:00am
Part manufacturers have a host of toolholder types to select from, but the ER collet is the favorite — hands down.
"Clearly, right now it's the most popular," said Bill Pulvermacher, director of marketing for YG-1 Tool (USA) Co. in Vernon Hills, Illinois.
End users gravitate to ER collets because they are relatively inexpensive, one collet can clamp a range of tool shank diameters and they are a familiar, time-tested technology.
However, while noting that all ER collets are not created equal, Pulvermacher said they tend to have significant total indicator runout and being able to grab a variety of shanks doesn't necessarily mean that all shanks are held adequately.
"The flexibility is the reason people buy it," he said, "but the flexibility is also its downfall."

In addition, an ER collet should be tightened to a specific torque value with a torque wrench based on the collet size and diameter of the tool being clamped, Pulvermacher said, but that's not reality.
"ER collets have a huge overtightening problem too," he said, "because almost no one tightens an ER with a torque wrench."
Tom Raun, chief technical officer for Arlington, Texas-based Iscar USA, concurred that the ER collet style is the most popular toolholder, even if it's not the best one for a particular challenge.
"I do think there are opportunities to provide a more rigid, more accurate toolholder at times," he said, "but people just tend to fall back on that tried, true ER collet toolholder technology."
Nonetheless, improvements to the technology are being made. For example, Raun said Iscar introduced a line of collets that eliminates the collapsible range in favor of exact-size collets for popular shank diameters in both inch and metric sizes.
"It gives you more accurate clamping onto the shank of the tool and more clamping force," he said. "It's definitely well received, and it was demanded."
Taper Time
Emuge-Franken USA took a different approach to enhancing that tried-and-true technology, said Milling Products Manager Dan Doiron. In addition to a wide range of high-performance cutting tools, the West Boylston, Massachusetts-based toolmaker sells Franken Precision Chuck holders, which are manufactured by partner company Albrecht.
He explained that unlike an ER collet with its relatively steep angle of about 30 degrees, an FPC holder has a shallow taper of about 1.5 degrees to provide a consistent gripping force along the entire tool shank.
"The taper is what's aligning a tool into its sweet spot of concentricity," Doiron said, "and it's pulling it from the stem versus when you're going into the ER collet. It's being compressed from the top with a nut."
He added: "It looks like a hydraulic holder, but it's not. It's mechanical. It has a collet."
Doiron said having a collet means that an end user isn't restricted to one tool diameter per holder while the holder's metal-on-metal compression effectively grips the tool in the collet.
In one application where a customer experienced chatter issues, he said he recommended changing only the holder while running the same cutting tool at the same machining parameters. As a result, the tool produced 350 parts after the switch compared with 65 to 75 parts previously.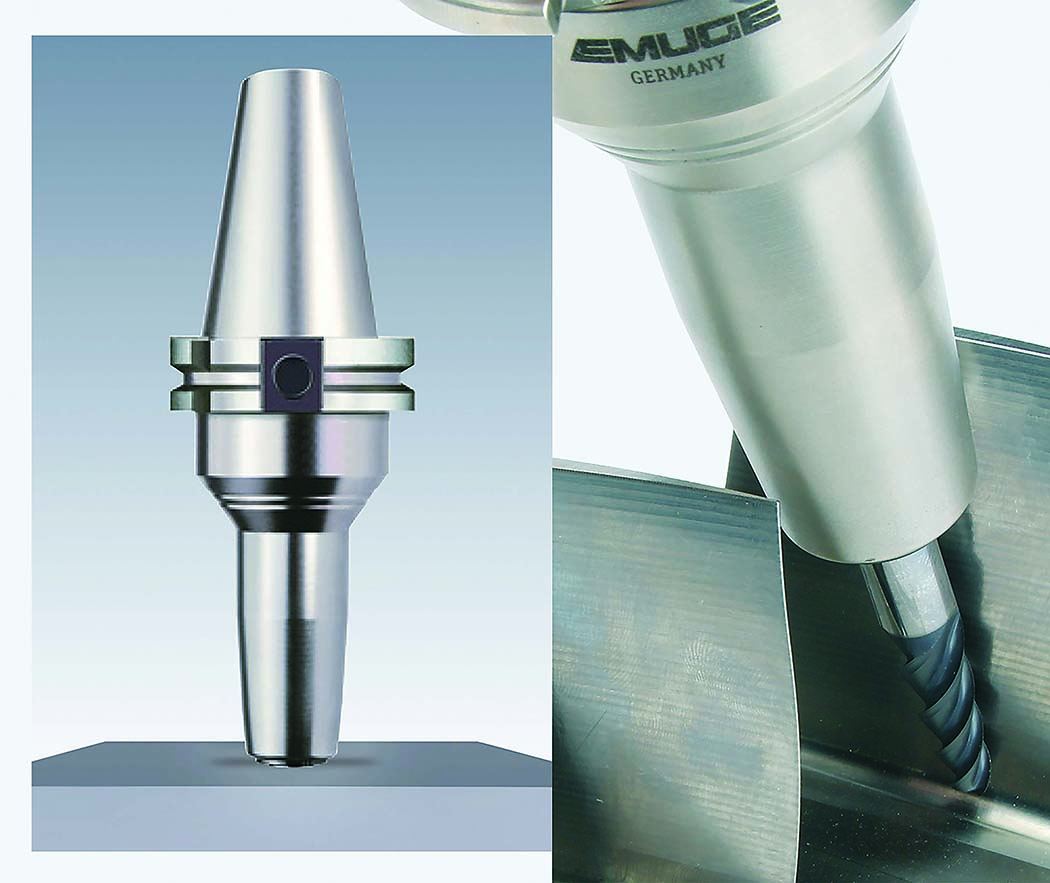 Doiron said Emuge-Franken always has offered a variety of toolholders, including ER collet, hydraulic and shrink fit, "but we've never had the level of success like we've had with our FPC brand."
One requirement for FPC holders is the use of a torque wrench to achieve a torque value of 10 Newton-meters (7.38 ft.-lbs.).
"When you purchase a holder, it comes with a dual-contact alignment system in which you keep torquing the wrench until two lines align to each other," Doiron said. "Then you know you're at the correct torque level."
He said the company also sells a pneumatic breakaway-style wrench that snaps to indicate when the recommended torque value is reached, as well as a hexagon torque wrench for shops that have relatively large production cells with frequent tool changes.
"If you have to change 50 tools every day using that wrench by hand, you will have forearms like Popeye," Doiron said. "I believe the FPC holder's performance will provide more tool life, reducing tool changes."
Need for Speed
When an application requires a holder and tool assembly with the least amount of TIR, especially when running at a high spindle speed, Raun recommends shrink-fit toolholders.
"They're balanced for that purpose," he said. "If you can move to shrink, that's always the best-case scenario."
However, some shops hesitate to make that move from fear of workers potentially burning their hands because a shrink-fit holder must be heated to expand the bore so it can accept a tool shank, which then is held rigidly after the holder is cooled rapidly.
"Sometimes there's a safety factor that companies don't like," Raun said.
In addition, manufacturers must purchase a shrink-fit holder machine, which has an electric induction heating coil.
When a manufacturer decides against a shrink-fit system, Raun said a hydraulic holder provides a sufficiently high level of accuracy and clamping force but only for finishing applications, as well as axial-type applications like drilling or reaming.
"You're not going to really be able to put a lot of side load or do a lot of heavy roughing with that type of toolholder," he said. "It has a tendency to flex internally because it has a bladder around the tool as far as how 'hydro' tools are designed."
Pulvermacher agreed that hydraulic chucks for drilling give performance benefits. He said an advantage for a hydraulic holder is that it can accept a reduction sleeve to hold a tool with a diameter that's slightly smaller than the holder's bore.
In addition, he said the reduction sleeve, which is like a taperless spring steel collet produced to a high-quality standard, provides a damping effect while still maintaining minimal runout.
"There is some stackup, but it's very minimal and we've had zero complaints over the years," Pulvermacher said about reduction sleeves. "With our MQL or our deep-hole drills at 20, 30 times diameter, we highly recommend a hydraulic holder with a reduction sleeve to get better performance and a much higher chance of success."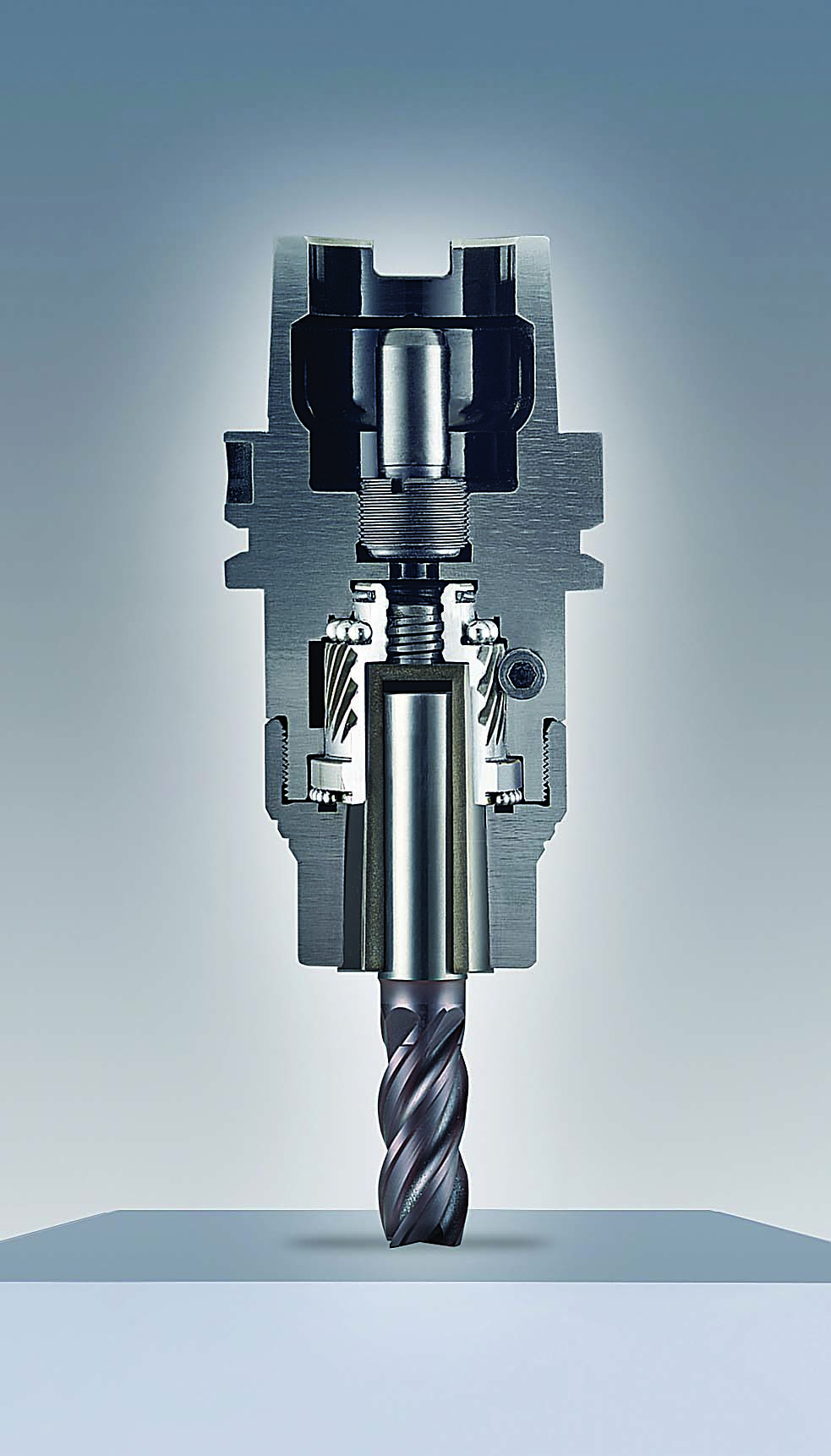 For rough milling "within reason," he said YG-1 Tool (USA) offers Power E-Hydro hydraulic chucks. The toolmaker reports that the chuck's rigid body design overcomes side thrust and reduces deflection while high rotational torque transfer prevents slippage or pullout of a cutting tool.
Pullout Prevention
Using a toolholder designed to prevent slippage or pullout when aggressively machining, however, isn't going to completely do the trick if good housekeeping is lacking. Pulvermacher said if an end user forgets to properly clean the tool shank and the holder bore, any oil or debris on either surface can cause trouble.
"With a hydraulic for sure, some people get frustrated with pullout, and we find out that they didn't wipe the tool off," he said. "They didn't clean inside the bore. They didn't do anything."
Pulvermacher recommends using brake cleaner or a similar agent to remove any oil and residue from the shank and bore surfaces.
"When I was working at a shop, I would use a CRC contact cleaner because our company didn't like the smell of brake cleaner," he said. "It's a great habit to get into for all tools to keep them absolutely clean and dry before they assemble together."
Even when all surfaces are clean and dry, machining aggressively can still cause tool pullout, even in a shrink-fit holder. One option to prevent a cutter from spinning or pulling out from a shrink-fit chuck during extreme machining is the Haimer Safe-Lock system, which has special drive keys in the chuck and grooves in the tool shank. Raun said Iscar is licensed to produce tools with the appropriate grind for that system and offers them upon request instead of as a standard.
For milling tools with a Weldon shank, Doiron said Emuge-Franken offers its pin-lock anti-pull-out system for FPC brand chucks.
"It's basically a dowel pin that's pressed into the Weldon flat in the collet that prevents the tool from pulling out," he said, "which happens when you do very aggressive milling."
Nonetheless, even a high-performance tool designed for extreme cutting work won't get the job done if it's mismatched with a holder. For example, Raun said he was surprised to hear that one customer was having problems with such a tool. He assumed that it was placed in a robust, rigid holder, such as an ER 32. But after driving two hours to assist with the application, he discovered that it was in a small ER 16 or 20 collet.
"He put it into the ER 32," he said, "and the cutting parameters that I had recommended all of a sudden were working just fine." 
---
For more information about integral collet toolholders from Iscar, view a video presentation at qr.ctemag.com/1bopi