Author
Cutting Tool Engineering
Published
September 19, 2023 - 02:30pm
Researchers at Carnegie Mellon University's Robotics Institute have designed a system that makes an off-the-shelf quadruped robot nimble enough to walk a narrow balance beam — a feat that is likely the first of its kind.
"This experiment was huge," said Zachary Manchester, assistant professor at the institute and head of the Robotic Exploration Lab. "I don't think anyone has ever successfully done balance beam walking with a robot before."
By leveraging hardware often used to control satellites in space, he and his team offset existing constraints in the design of the quadruped to improve its balancing capabilities.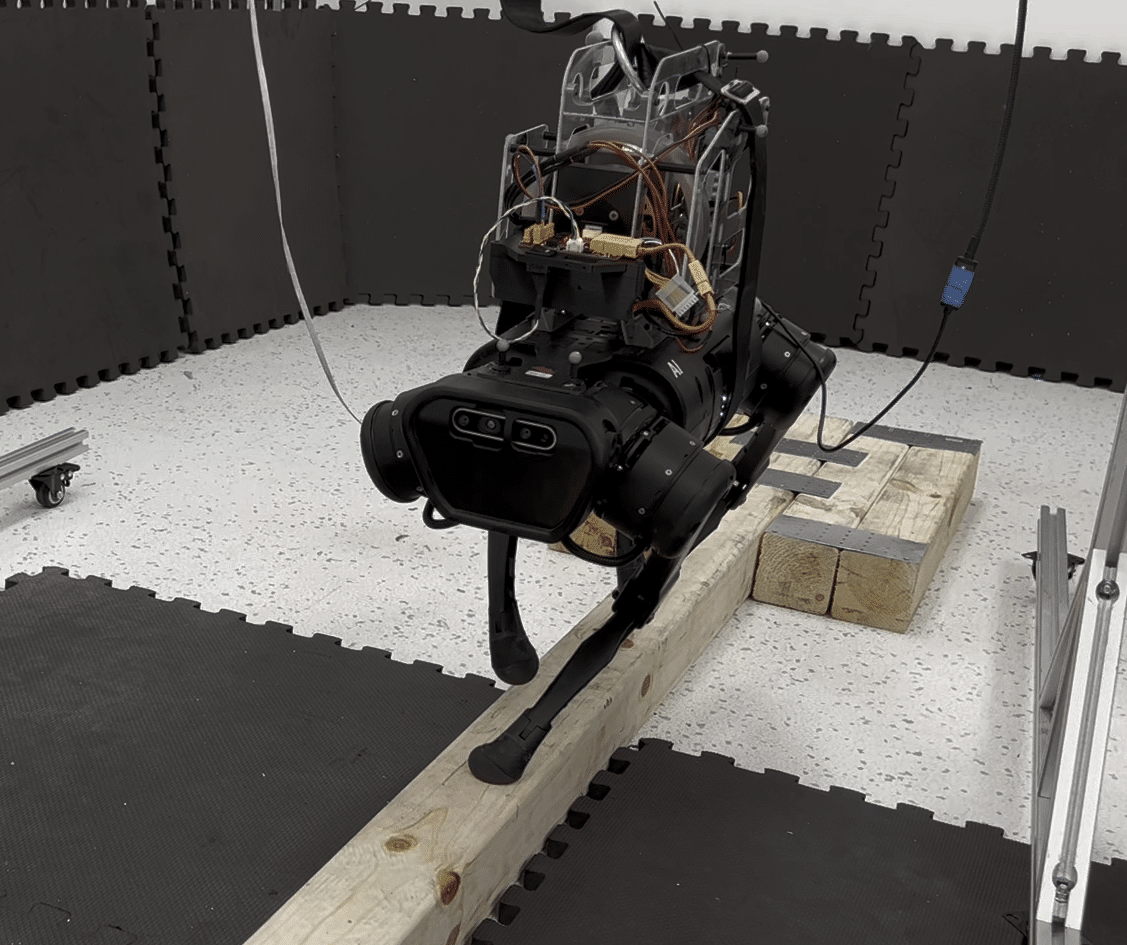 The standard elements of most modern quadruped robots include a torso and four legs that each end in a rounded foot, allowing the robot to traverse basic, flat surfaces and even climb stairs. The design resembles a four-legged animal. But unlike cheetahs, which use their tails to control sharp turns, or falling cats, which adjust their orientations in midair with the help of their flexible spines, quadruped robots do not have such instinctive agility. As long as three feet of the robot remain in contact with the ground, the robot can avoid tipping over. But if only one or two feet are on the ground, the robot can't correct easily for disturbances and has a much higher risk of falling. This lack of balance makes walking over rough terrain particularly difficult.
"With current control methods, a quadruped robot's body and legs are decoupled and don't speak to one another to coordinate their movements," Manchester said. "So how can we improve their balance?"
The solution by the team employs a reaction wheel actuator, or RWA, system that mounts to the back of a quadruped robot. With the aid of a novel control technique, the RWA permits the robot to balance independently of the positions of its feet.
RWAs are used commonly in the aerospace industry to perform altitude control on satellites by manipulating the angular momentum of spacecraft.
"You basically have a big flywheel with a motor attached," said Manchester, who worked on the project with Robotics Institute graduate student Chi-Yen Lee and mechanical engineering graduate students Shuo Yang and Benjamin Boksor. "If you spin the heavy flywheel one way, it makes the satellite spin the other way. Now take that and put it on the body of a quadruped robot."
Manchester predicts that quadruped robots soon will transition from being primarily research platforms in labs to becoming widely available products for commercial use, similar to where drones were about 10 years ago.
"Quadrupeds are the next big thing in robots," he said. "I think you're going to see a lot more of them in the wild in the next few years." 
— Kayla Papakie
Related Glossary Terms
flat ( screw flat)


flat ( screw flat)

Flat surface machined into the shank of a cutting tool for enhanced holding of the tool.

robotics


robotics

Discipline involving self-actuating and self-operating devices. Robots frequently imitate human capabilities, including the ability to manipulate physical objects while evaluating and reacting appropriately to various stimuli. See industrial robot; robot.