Author
James Harvey
Published
October 01, 2016 - 02:45pm
With the advent of CAM software, generating G code is no longer the big deal it was a few decades ago. A CAM system will generate all the G code you need in a matter of seconds. Presented here is the first part of a multiple-part series of columns on the subject.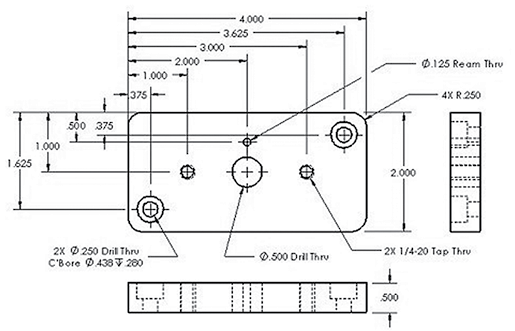 An adapter plate can be machined using manually written code. Image courtesy J. Harvey.

"G code" is an all-encompassing, informal term used when referring to CNC programming code. For example, when troubleshooting, you may hear someone say, "The drawing is correct; the problem must be in the G code." This means the problem is in the CNC program. Not all controllers use the same G code, but, generally, there are many similarities.
Learning G code may seem tedious at times, but becoming familiar with it is necessary to edit programs at the machine. As good as CAM systems are at spitting out G code, if you don't know the functions of the code and how to edit it, you will be at a disadvantage in terms of making adjustments at the machine. Many unproven programs have issues that must be fixed or fine-tuned.
The majority of machining operations can be undertaken with just a handful of G and M codes. G codes can loosely be described as tool-positioning codes, and M codes as switches for actuating mechanisms, such as the toolchanger, the chip auger and valves that open and close to allow and restrict coolant or air flow. M codes have other functions as well. If you're new to CNC programming, it may look complicated. However, simple patterns will soon emerge that appear over and over again.
Now that machining operations are created with CAD/CAM applications, G code can be output for a specific machine using the appropriate post-processor, which is just a computer file. With the correct post-processor, incompatibility is not that much of a problem anymore, at least not for computers. Operators may still have issues with variations in G code as they move from one machine to another.
Writing programs manually is a good way to become familiar with G code. I have always preferred learning something by doing a project, so that's how I'm going to present the material for this series of columns. Specifically, in the December issue of CTE, I will present a manually written program for machining an adapter plate. The adapter plate is similar to one I made for a hydraulic valve for an existing molding machine.