Author
Kip Hanson
Published
February 04, 2019 - 11:30am
Shops have plenty of reasons to automate their CNC lathes. Throughput becomes more predictable. Labor costs go down with unattended machining. There's a subsequent increase of available working hours. And don't forget the primary motivation behind any foray into automation: It's tough to find people with the required skills.
Adding a robot can make people cringe at the thought of further complicating an already challenging shop-floor equation. The installation process means undergoing a machine tool risk assessment, most often followed by investment in safety fences or light curtains. There's automation integration to think about, along with conveyors, grippers and programming systems. The lure of increased uptime notwithstanding, is it really worth the hassle?
Going Gantry
Al Bingeman, deputy general manager at Doosan Machine Tools America Corp., Pine Brook, New Jersey, thinks that automation is worthwhile. He said last year's sales figures for robotics show that many manufacturers agree.
---

A FANUC LR Mate 200iD uses 3D vision for part orientation. Image courtesy of FANUC America
---
"There's the labor part of it, certainly," he said, "but I think a lot of shop owners and managers are also realizing the payback on one of these systems is usually measured in months, not years."
One such system is Doosan's GL series of fast gantry loaders. Some models boast load times of 5.7 seconds and traverse speeds in excess of 5,900 ipm.
But why focus on lathes? It should be clear to anyone who's watched CNC machining centers sit idle that they are also begging for automation—perhaps even more so than a lathe, which can be equipped with a bar feeder, eliminating the need for a robot in bar stock applications. And why a gantry robot? Aren't robotic arms the dominant technology for machine tool automation?
Bingeman said Doosan offers "traditional" robots as well, including the company's DooCell drawer-style robotic loading cell, but gantry loaders offer several advantages in certain applications.
"They're in many ways simpler," he said. "Simpler to program and operate, simpler to integrate to the machine tool. Compared to a pedestal-style robot, they can be very cost-effective, particularly in higher-volume jobs where speed is
paramount."
---

Gantry-style loaders are generally faster than articulated-arm robots, although changeovers can be more involved. Image courtesy of Doosan Machine Tools America
---
The biggest downside to a gantry robot, according to Bingeman, is that changeovers are generally more involved than they are with robotic arms. Gantries are also less flexible in terms of workpiece mix. Flanged parts shaped like hockey pucks are fine, as are long shafts, but not necessarily both in the same group. As for whether it's better to first automate a lathe or a machining center, the answer is simple: Lathes typically are the lowest-hanging fruit in any automation scenario.
Picking the Fruit
"With a lathe, you're always loading and unloading to the centerline of the chuck," said Geoff Dawson, sales director at FANUC America Corp., Rochester Hills, Michigan. "That makes the programming pretty easy no matter what kind of parts you're working with. Also, the parts are nearly always round, so the end-of-arm tooling is simpler than with some applications. And since the chuck is hydraulically actuated, there's no need to purchase pneumatic or hydraulic vises like there is on a machining center. The biggest expense—aside from the cost of the robot of course—is adding an automatic door, and some shops will task the robot with this activity as well. Lathes are for the most part robot-ready."
Installing a robot is one thing, but what about the next step of turning out the lights? He noted that control options, such as broken-tool detection, tool life management and remote monitoring, are an integral part of any unattended manufacturing initiative. The challenge here is that implementing these advanced functions can be more difficult than bolting a robot to the front of the machine and showing it the ropes.
The good news is there's no shortage of such products or of companies with the people and expertise needed to make them tick. So regardless of whether a shop decides to let its CNC lathes go it alone, properly leveraging these capabilities will serve to increase productivity and reduce manufacturing costs.
---

Thanks to an adjustable three-pin gripping arrangement, the Load & Go system eliminates conventional end effectors. Image courtesy of Gosiger Automation
---
But what about safety guarding? And how will parts actually be presented to the robot for loading and to be carried away once they're done? As with the advanced control features, choosing and then installing a robot's auxiliary equipment can be tough.
Dawson said the addition of vision systems to robotic arms has simplified the material management piece of the puzzle in a number of manufacturing scenarios. As long as the workpiece is placed within reach of the arm, the robot will see the workpiece, grab it and put it where it needs to go. Yet he also suggested that high-mix, low-volume shops might do best with a drawer-type system. Though it might be less flexible than a vision-equipped robot, it's simpler to implement and use.
Load and Go
A notable example is the Automation Within Reach systems from Gosiger Automation LLC, Dayton, Ohio. Greg Feix, vice president and general manager, said AWR is a simple yet versatile machine-tending system designed specifically for job shops and other low-volume, high-mix manufacturers.
---

A FANUC CR-7iA cobot loads a lathe chuck. Image courtesy of FANUC America
---
AWR comes in two versions. The Drawer Cell series has a sequence of two-sided drawers, each filled with adjustable templates. An operator loads raw material from 1⁄2" to 5" in diameter into one side and closes the drawer. An integrated 6-axis FANUC robot then opens the drawer from the other side and loads the blank into the machine. When the part is completed, the process is reversed. The Rotary Cell series works similarly but is based on a Lazy Susan approach and accommodates parts up to 11" high. Both systems use a set of adjustable pins to grab the workpiece, eliminating the need for special grippers.
Aside from managing raw material and finished parts, AWR eliminates the need for safety fencing. An integrated scanning system monitors the area in front of the machine. If someone approaches, the robot slows down. If someone actually enters the robot's workspace, it stops.
"AWR allows machine shops to differentiate themselves from their competition," Feix said. "Instead of the stereotypical piece of CNC equipment with an operator standing in front, there's a lathe with an automation system. Changeover takes minutes. Programming it is a matter of answering a few prompts. And if you decide to finance it through us, it'll cost you around $14 an hour. It's just a great way to increase throughput and pick up some additional hours each night after everyone goes home."
The Need to Collaborate
Craig Tomita, target marketing manager at Universal Robots USA Inc., Ann Arbor, Michigan, suggested a different approach, one that also—in most installations—avoids having to install safety guarding.
---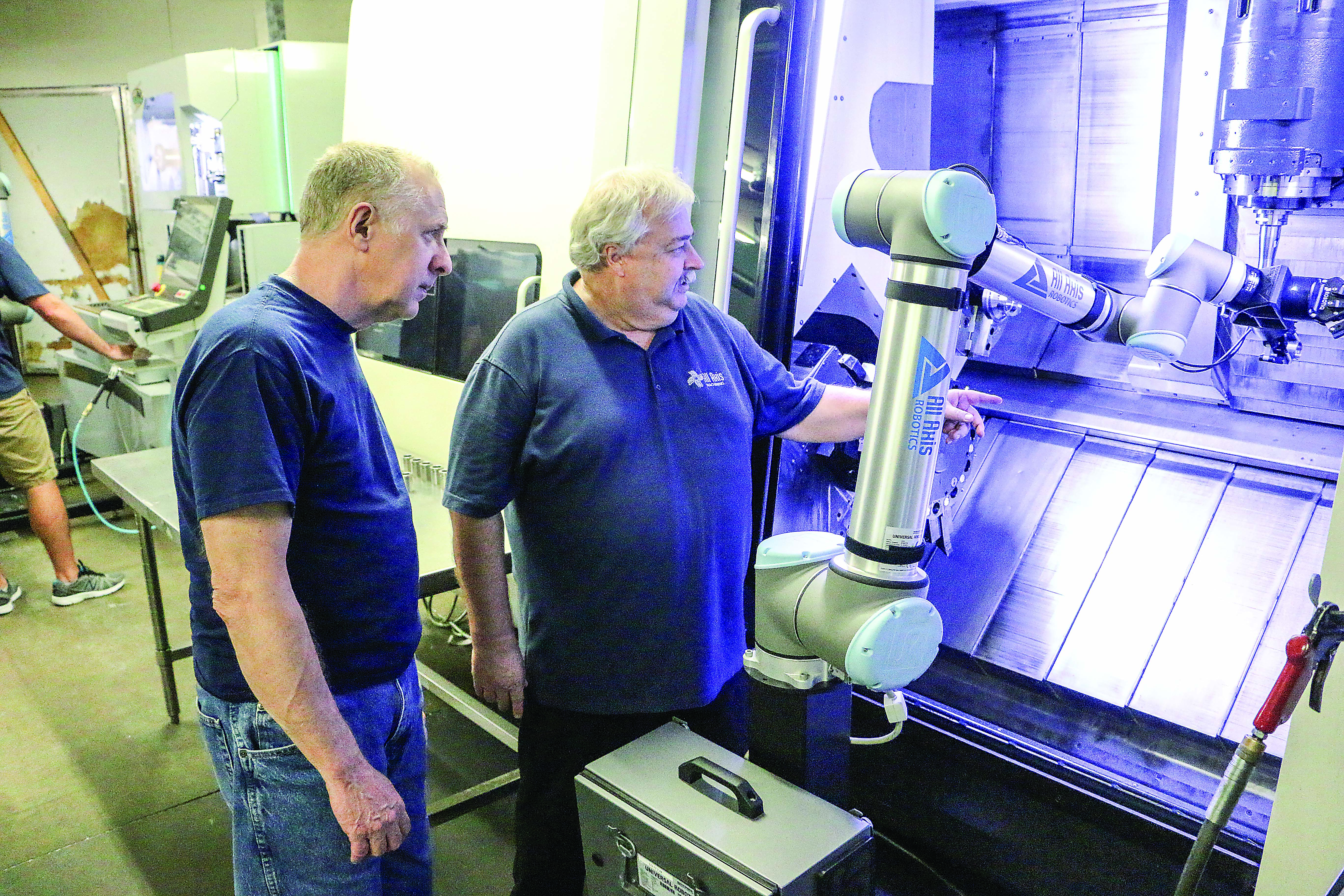 The open architecture of Universal Robots' cobot arms enabled Dallas-based All Axis Machining Inc. to quickly automate six different operations, including lathe tending. Image courtesy of Universal Robots USA
---
"Collaborative robots were labeled as a fad when they first emerged a little more than a decade ago," he said. "Since then, we've proven ourselves as a viable alternative to so-called industrial robots for a variety of reasons."
He shared several examples of the benefits of cobots:
Because cobots can be "taught" what to do, a barrier to entry for many manufacturers—complicated programming—has been removed.
Within minutes, a cobot can be moved to a different location or taught how to do a different job.
Provided that proper safety assessments have been done, cobots can work alongside humans without guarding.
Cobots can operate on either 220v, three-phase power or 110v, single-phase power.
A cobot can be used to tend a lathe, apply glue, install screws, inspect parts and do many other tasks.
"Add it all up," Tomita said, "and it's an ideal solution for a lot of shops but especially for small to medium-sized manufacturers or those new to automation."
For people considering buying a cobot, Universal Robots is trying to make the process easier. The company has a webpage (www.universal-robots.com/builder) to walk potential users through the selection process, including how to choose the correct end effectors and network type.
"It's a little like building a car on the Ford or Lexus website and about as difficult," Tomita said. "We recognize that machine shops are very good at what they do. They know their machine tools and tooling and everything needed to produce parts. But for many of them, automation remains a scary proposition. So we're trying to make it easy for them to say, 'OK, this is affordable. It's a way to address the difficulty of finding machine operators. It will handle the mundane tasks that no one wants to do. And best of all, I can install it myself.'"