Author
Alan Richter
Published
May 16, 2023 - 10:00am
When automating a manufacturing process at a job shop, some feel that every application is collaborative robot-compatible based on their perceptions about what cobots can achieve.
"The marketplace is thinking cobots are the end-all, be-all solution, but in reality this is not always the case," said John Tuohy, executive director of global accounts for Fanuc America Corp. in Rochester Hills, Michigan.
The company manufactures a variety of industrial robots and factory automation systems, including conventional robots that can handle payloads up to 2,300 kg (7,055 lbs.) and the CR and CRX series of cobots with payloads from 4 to 35 kg (8.8 to 77.2 lbs.).
Greg Buell, staff engineer of QSSR and machine tending applications for the general industry and automotive segment, concurred with his colleague.
"Collaborative robots may not be a good fit for all applications," he said. "There are some cases where the integration and use of a collaborative robot could be more expensive than a standard robot."
For example, if a shop requires a specific throughput rate to achieve a return on investment within a required timeframe, a cobot might not do the trick because it moves slower than a conventional industrial robot, Tuohy added.
Nonetheless, when implementing a cobot into a high-mix, low-volume production environment makes sense, the ROI can be fairly quick.
"A year is becoming very common," said Joe Campbell about a cobot's payback.
He is senior manager of strategic marketing for cobot manufacturer Universal Robots USA Inc. in Ann Arbor, Michigan.
Campbell said manufacturers achieve a fast ROI in two different ways: by controlling the expense of getting the cobot up and running and by leveraging it to increase utilization. Installing a cobot for tending a machine tool might cost $75,000 to $80,000.
"That's the cobot, the gripper, the mounting — everything," he said. "The cost is pretty close to what you would pay a manufacturing operator over the course of the year with a little bit of overtime and benefits."
And because a job shop or contract manufacturer doesn't necessarily have a steady stream of similar parts that a hard-mounted traditional robot can feed into a machine, Campbell noted that high-mix, low-volume manufacturers can use a cobot like a tool and move it from machine to machine as needed.
End users often envision a cobot being repurposed and used in a variety of locations throughout a facility, but they frequently find that it works so well in one application that it remains there and additional cobots are purchased instead, according to Buell.
Incremental Investment
Toolcraft Inc. in Monroe, Washington, is a provider of CNC machining services that realized an ROI in 12 months after purchasing a UR5e cobot from Universal Robots USA, Campbell said.
"Twelve months is common, and the fastest we have on record is 34 days," he said. "I believe those calculations included additional business that they would not have secured with the additional capacity from the cobot."
Since then, Toolcraft has purchased a second UR5e, said Brian Laulainen, automation engineer for the company. One performs a variety of smaller jobs in a machine in which Toolcraft swaps between different part numbers and different machining operations.
"All the programs are saved," he said, "and all the positions are saved, so we can pretty much just set the parts up in the same position in the machine and on our in-feeders."
Laulainen said the other cobot is for a high-production job in which the part is machined on a five-axis trunnion before being moved to a fixture for a second operation.
"From there we pull the parts out, clean them and set them on a completed tray," he said.
Laulainen added that Toolcraft might require custom end effectors, or end-of-arm tooling, for the different cobot setups that the company has, and it uses its Formlabs 3D printer to quickly produce the needed design.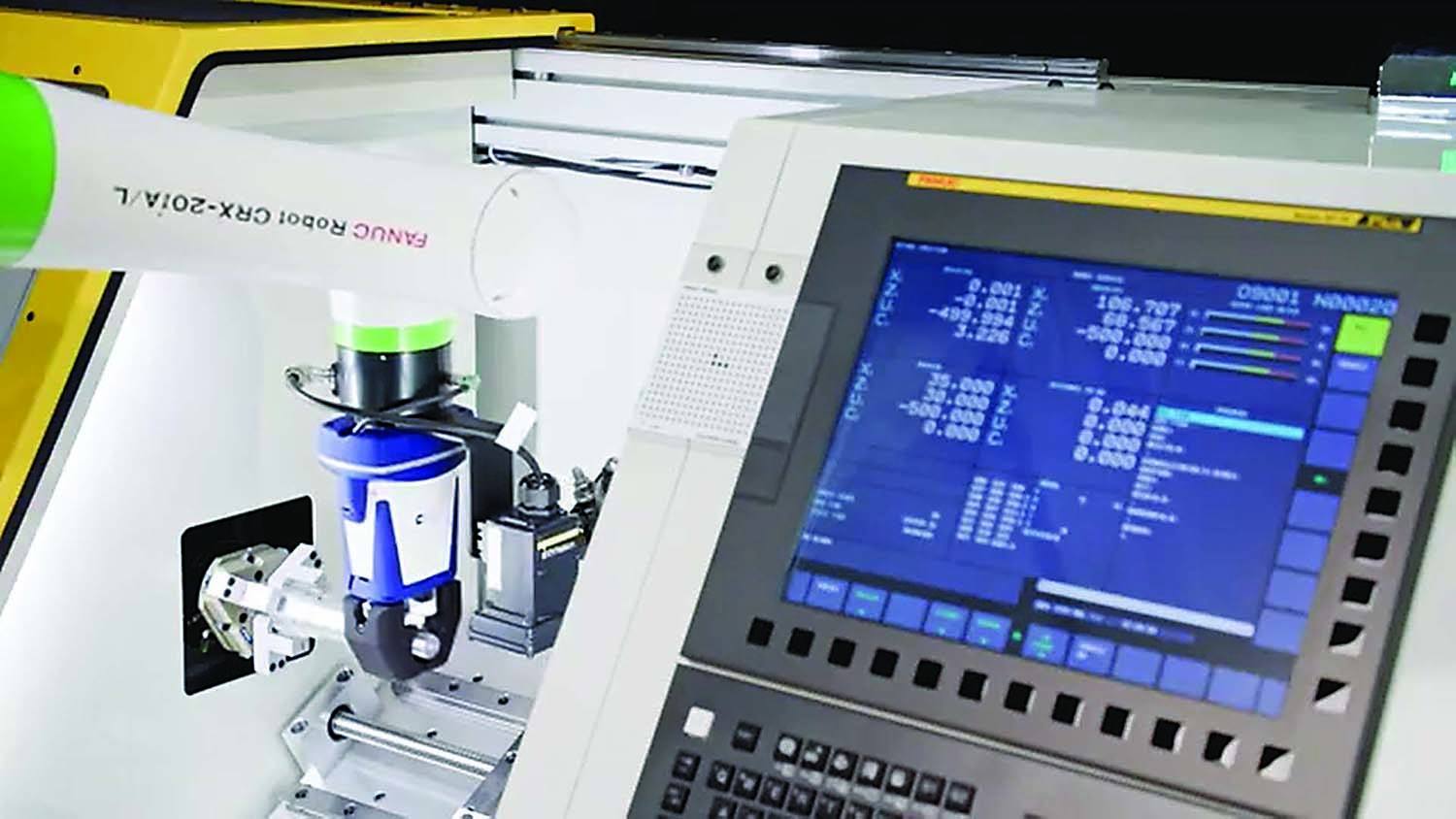 "Within a few hours," he said, "we have a new end effector."
Campbell said not only is printing end-of-arm tools a quick way to produce them, but making them does not tie up the machine shop.
"The faster you can get any investment up and running," he said, "the faster you start generating returns."
In addition to gaining jobs that the shop might not have landed otherwise, Laulainen said the cobots enable Toolcraft to run lights-out machining and maximize payback. And the company's incremental investment in automation equipment isn't complete.
"Once the right parts come in and we see we have the ability or the place to add another cobot, we would do it," he said.
Adding cobots continues to become quicker and easier as cobot manufacturers continue to make improvements, such as making it easier to program them for machine tending, Laulainen noted.
Programming Ease
End users are looking for more ease in programming, agreed Gilles Le Quilleuc, head of general industry for North America at Stäubli Corp. in Duncan, South Carolina. It's important to get a cobot up and running quickly and achieve a fast ROI because job shops don't typically have an engineering team and it's becoming more difficult to find and hire application engineers. 
Stäubli offers a host of robotic equipment, including industrial robots, mobile robots, automated guided vehicle platforms and cobots. According to the company, its TX2touch Power cobots offer safe operation around workers thanks to advanced skin technology, quick reaction times and embedded modular safety functions. 
Le Quilleuc added that ease of programming enables end users to quickly reprogram cobot positions for machine tending.
"The capacity to plug or connect this robot to one machine and the day after to be connected to another one —this is clearly what end users are looking for," he said. 
In addition, Le Quilleuc said they understand that a cobot is a flexible, stable automation solution based on four reasons: the need for speed, worker safety, maintaining part quality and an increased capacity to produce on the same type of machine.
"In the end, the cobot is not so complex," he said. "Today, any kid 8 to 10 years old can program the robot." 
According to Le Quilleuc, cobot customers are looking for an ROI from six months to two years, with machine tending being the fastest way to achieve payback. 
One reason for that quicker payback for machine tending compared with other applications is because machinists usually are paid more than workers in other areas of the shop that are ripe for automation, such as packaging or material handling, Buell said.
Campbell said skilled welders are also well compensated and in demand as a severe shortage exists.
As a result, he said cobot applications for welding are "going through the roof right now."
Shops typically use cobots for welding small-to-medium-volume parts that are straightforward to assemble, Campbell added.
"Then they take their skilled welders and move them over to more value-added assignments on more complex weldments," he said, "which are also more profitable."
ROI Methodologies
Tuohy pointed out that there are three basic methodologies to calculate ROI when purchasing a cobot. He equates these perspectives to taking "a 10,000-foot view" because every shop has a different burden rate, such as labor rate and the cost of electricity.
The first covers the return on the capital expense for the piece of automation equipment and how long that cost is amortized based on what an accountant sets up, he said. The second way looks at the change in the cost per part, with the reduction in the piece rate after a cobot is installed being used to calculate ROI. The third methodology considers the hourly rate of an operator versus robotic automation.
To simplify the math for that method, Tuohy gave an example of paying operators $15 an hour to run three shifts 365 days a year before taxes, benefits and vacations, which is a bit more than $131,000.
"Let's use $150,000 by the time you put taxes and benefits in there, probably even a little higher today," he said.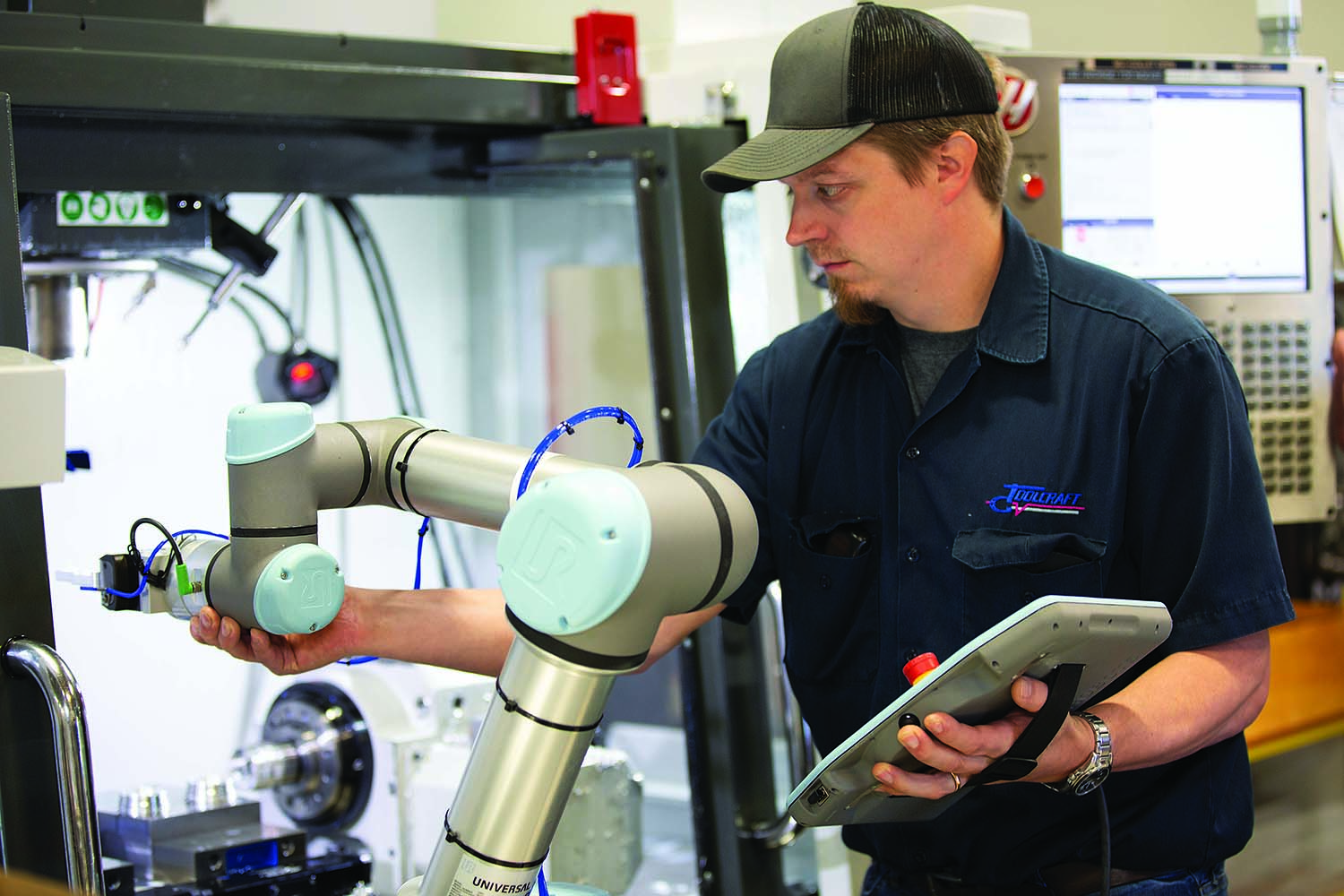 For math's sake, the cobot costs approximately $50,000 and the mean time between failures for a Fanuc robot is 100,000 hours, or 10 years, Tuohy said. In addition to the initial cost, the cobot has operating expenses, such as maintenance and electricity.
"So at the end of 10 years," he said, "you're looking at $100,000 to operate that machine or tend that machine versus in excess of $1 million with manual labor. The ROI is very simple to prove out."
Campbell said being able to perform lights-out production, even if for only a couple of hours a day, by adding a cobot enables shops to extend the workday without adding overtime.
"That productivity boost drops directly to the bottom line," he said.
Campbell added that a cobot can be a cost-effective problem-solver when a manufacturer that can't add production equipment because of limited floor space or a lack of workers receives a significant order increase.
"If a shop's No. 1 customer wants to increase their orders to me by 30% and they don't have enough capacity to fill those orders, it's a real problem," he said. "They don't want to tell their customer no because then they're going to have a competitor. The customer has no choice but to source another supplier."
Once one cobot is in place, Campbell said adding subsequent ones to tend similarly controlled machines is even quicker.
"You've already done that handshake," he said, "so obviously the time to integrate is reduced."
Tuohy noted that a Fanuc robot is connected to a machine with Fanuc controls and software, which simplifies robot integration and startup. This allows an end user to use one Ethernet cable connection and some software in the background on the robot and on the CNC to potentially decrease the time to integrate from days to hours.
"The ROI is greatly improved when you have a Fanuc-controlled machine and a Fanuc robot working in tandem," he said.
Tuohy said once a Fanuc cobot is successfully integrated into a job shop, there are advantages to standardizing that brand for the facility personnel and bottom line.
"They learn the ins and outs of the product line," he said. "It's definitely more cost-effective to stick with one brand of automation."
The rapid growth of the cobot market is attracting a lot of new automation companies into the market, Campbell noted, which enhances the options for end users, and a competitive environment tends to generate innovations and cost savings.
"The bad news is that there will be a lot of new companies that enter into this market that won't be here in 10 years or five," he said. "I'm an old-timer, and the last time I saw this in the robot industry was 1980. Companies like General Electric, Bendix, IBM, Cincinnati Milacron and Westinghouse, they all entered the robot business and are no more." 
---
For more information from Universal Robots USA and Stäubli about collaborative robots, view video presentations at https://qr.ctemag.com/1i47j