Author
Christopher Tate
Published
September 15, 2023 - 03:00pm
Many of the machine shops where I have worked relied on machinists and toolmakers who had specific skills. It was common to hear people referred to as "lathe hands" or "grind hands." As the terms imply, these people were specialized, often running only one type of machine after honing their skills over many years. While all of them were capable of handling other machines, they had found a niche that fit and had managed to master a particular type of machine. This is what many of us think of as old-school machining.
Also common is the fact that those specialists are retired or will be soon, causing a shift in the metalworking industry. Fewer people are entering the machining trade, and apprenticeships have all but disappeared. Young toolmakers and machinists frequently do not have the opportunity to specialize as was done in the past. Additionally, I think it's fair to say students today are not fond of handles and cranks after growing up on video game controllers and smartphones. And I think it's fair to say I would be the same way if I had grown up with that technology.
The impact of these conditions has altered the machining landscape and machine tool design.
Because fewer people are entering the trade, there is tremendous pressure on everyone in the trade to become more productive and flexible. Multifunctional machine tools are one of the innovations that machine tool builders have presented to the market to address changes in our workforce and our need for more productive technologies.
Multitask machines have been around for a few decades. Like all innovative machines, early models usually were found only at large companies, such as Department of Defense contractors and medical device makers. Just the largest machine tool builders produced multitask machines, and small shops were strictly a fringe market. In the past decade, the machines have proliferated. Now it is normal to see a small shop with two or three multitask machines and none of the more traditional turning and milling machines.
So what is a multitask machine? The answer depends on the person who is asked. In general, it is a single machine capable of performing multiple types of machining operations like milling and turning. The machines are computer-controlled and hold a plethora of cutting tools. It is also common to see the machines fitted with bar feeders or other automatic loading devices. The goal is to load a piece of stock and remove a finished part, eliminating the need to use other machine tools.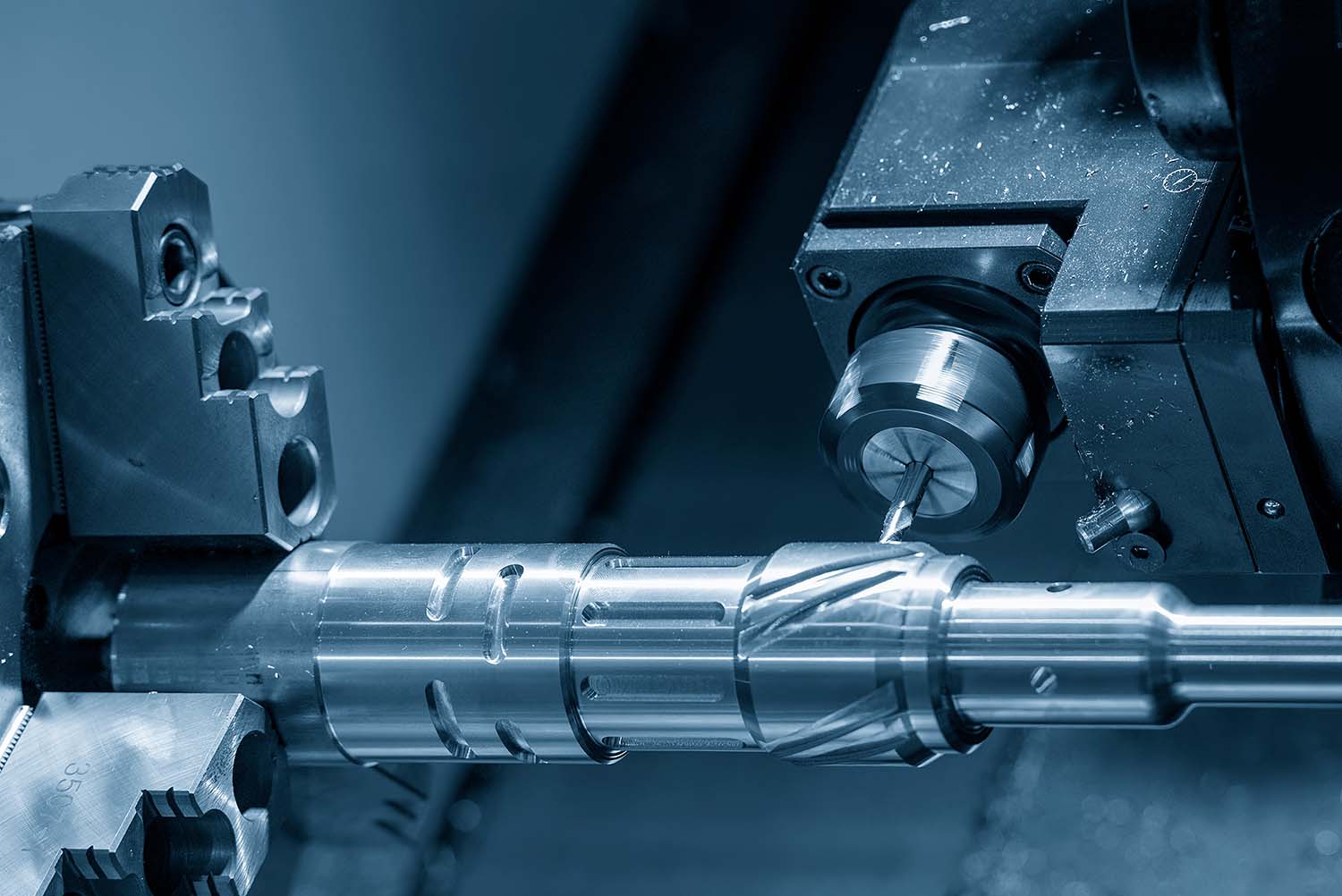 Several advantages come with completely machining a part in one machine, and the most significant is the reduced cost of labor. Old-school methods would move the part from machine to machine until it was complete. A shaft is a good example. First, someone would use a saw to cut a blank from a bar. The blank would be taken to a lathe, where the blank would be turned. After turning, the shaft would go to a milling machine to have holes or keyways cut. Finally, the shaft might go to a grinder, where the bearing journals would be ground.
Each of these operations requires a setup, which introduces more cost. But all these operations can be completed in a modern multitask machine, thereby eliminating all the extra setup time. Add automation, such as a bar feeder or robot, and the machine could produce completed parts unattended.
Completing a part in one setup also enhances precision and accuracy. When a part is processed across multiple machine tools, it is easy to introduce errors. As the part is moved from machine to machine, a new setup is required, and any error in that setup is transferred to the part geometry. Parts completed in a multitask machine are not subject to errors from multiple setups. In some cases, geometric tolerances are so stringent that a multifunctional machine is necessary, not a choice.
Even if old-school machining was as efficient and accurate as a multitask machine, it is unlikely we would find enough skilled people to work at the shop. Multitask machines allow shops to be productive and profitable with fewer skilled employees, and it is common to see one person tending more than one machine — usually expending little effort and often just keeping machines full of stock and fresh tools.
Modern technology makes machining more appealing to the people entering the workforce. With younger generations having grown up using smartphones and playing video games, it is difficult to interest people in old machines with dirty handles. Let's face it: The days of shimming parts on a grinder with cigarette paper have passed. Newer generations want to enter information on a screen and let the electronics do the rest. And newer technologies like multitask machines are going to help when we are trying to convince talented young people to start a trade.
Programming these machines is complex. Although the controls are advanced and most include onboard features to simplify the process, success still can be a daunting task. Plus, the time spent programming typically interferes with production. For these reasons, multitask machines frequently are programmed using offline computer-aided manufacturing software packages that have phenomenal graphical interfaces.
Nice CAM packages, coupled with advanced multitask machines, are another way to lure young talent to the craft. Even old-school guys like me stare in awe at trade shows watching simulated machining operations on a screen. Plunk a shaft with keyways, cross holes, hobbed gear teeth and engraving in front of a mechanically minded young person, then tell him or her that it can be made with a computer and a multitask machine, and selling the craft will be much easier.
One day, I will retire, and I plan to have a small shop. It will have a knee mill, a lathe, a surface grinder and other manual machines. I won't have any CNC machines and certainly won't own a multitask machine. I do not want CNC machines because I prefer to continue honing my craft and enjoying the art of old-school machining. This endeavor will be for enjoyment, not profit.
However, were I to start a shop today intent on generating profit, a multitask machine likely would be one of my first purchases. It just makes sense in today's market. I often am solicited for advice about machining and machine tools, and I quickly advise most shops to invest in multitask machines for all the reasons mentioned here.
Old-school machining is fading away and being replaced by modern advancements like multitask machines because of practicality. If the technology had been available decades earlier, it would have been adopted then just as quickly as it has been adopted today.