Author
Alan Richter
Published
October 09, 2023 - 01:00pm
Aerospace parts are not only used to make aircraft that transport people and cargo from one place on Earth to another but to make spaceships to explore outside this planet's atmosphere. Artemis is one such space program. NASA reports that Artemis I, which performed its mission late last year, was the first in a series of increasingly complex missions that will enable human exploration to the moon and Mars.
Ingersoll Machine Tools Inc. in Rockford, Illinois, has been a partner in the Artemis program for nearly a decade, said Jeffrey Ahrstrom, CEO of the machine tool builder. The crew capsule for the program is named Orion.
"We machined five of the six components that make up the Orion crew capsule," he said.
Each workpiece started as a massively thick ring of 20 series aircraft-grade aluminum that ends as "an intricate skeleton that needs to be light and strong outside Earth," Ahrstrom said.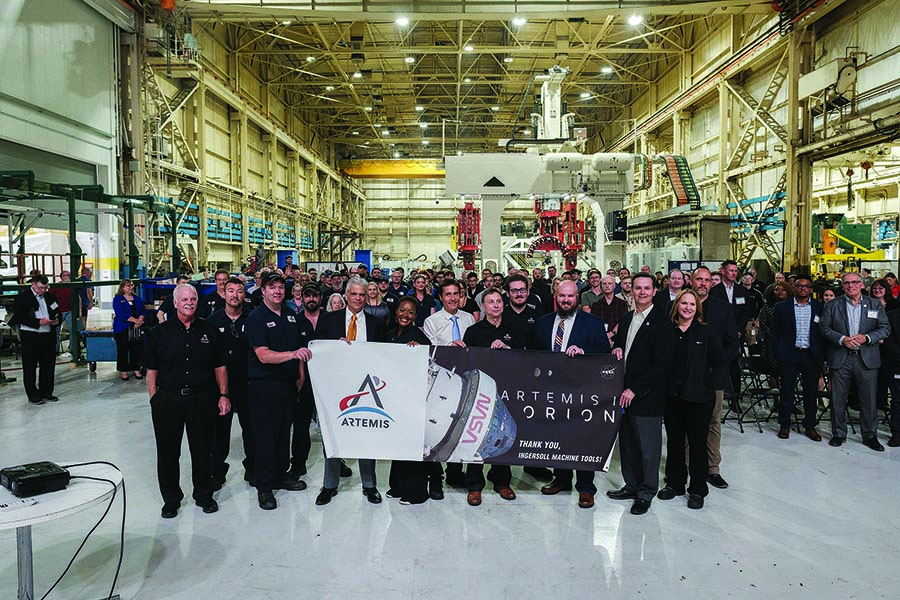 One component, for example, weighed as much as 6,350 kg (14,000 lbs.) before machining, and its final weight was about 363 kg (800 lbs.).
Ahrstrom described the parts as "incredibly complex," with numerous pockets, thin walls and standoffs for mounting items.
"A wonderful challenge in engineering and art," he said.
During internal and external machining, the company needed to compensate for drift, draw and distortion.
"No matter how much pre-treating, heat treating and stress relieving you do," Ahrstrom said, "you're going to impart stresses into it."
As material is removed, the stiff, rigid ring becomes "flimsy" out of necessity, he said, and vacuum fixturing is employed for workholding.
"There's not a lot to hold on to," Ahrstrom said.
In addition to controlling machine vibration and the toolpaths, it is critical to control the temperature at the shop by ±2 degrees Fahrenheit.
"If we get outside of that 2-degree window," Ahrstrom said, "we shut down manufacturing till we can stabilize the temperature for the machine and the part."
An intensive post-finishing operation also is required, in which workers manually remove any stress risers, sharp corners or ridges from the parts. After the addition of some hardware, Ingersoll Machine Tools sends the parts to Lockheed Martin Corp. for assembly.
Ahrstrom emphasized that master machinists and tooling engineers are needed to successfully machine these types of aerospace components.
"You need the people who understand how to do this through experience and knowledge," he said.
That knowledge includes knowing which tools to use. Because 20 series aluminum is somewhat gummy, some cutting tools were pulling out of their holders during roughing. Ingersoll Machine Tools switched to Safe-Lock tools, which were developed for demanding applications and have a reverse locking mechanism.
"They can't pull out," Ahrstrom said.
Although he said the company is fortunate to have the talented machinists and engineers that it needs, achieving that level of expertise doesn't happen quickly.
"For any of these roles, it'll take three to five years for them to become proficient to some degree," Ahrstrom said. "It'll take another decade for them working at that level to become a journeyman, and then it'll take another decade after that to become a true master of it. You can become a surgeon in less time."
To help fill the pipeline of talented workers, Ingersoll Machine Tools has an internship program for high school students.
"We're sending them to school," Ahrstrom said, "and they're coming back and working."
Unlike Artemis I, the Orion crew module for Artemis II will carry astronauts around the moon.
"They're going to use the moon as a staging point for missions to Mars," Ahrstrom said. "Those are active conversations happening at suppliers' conferences associated with the Artemis program. We're actively getting ready to go to Mars."
He predicts that venturing to the planet should happen within the next generation's lifetime.
---
For more information about Ingersoll Machine Tools, call 815-987-6000 or visit https://en.machinetools.camozzi.com.
Related Glossary Terms
stress relieving


stress relieving

Annealing designed to relieve internal stresses caused by machining, welding, casting, cold working, quenching or normalizing.