Author
William Leventon
Published
December 04, 2019 - 10:15am
To separate additively manufactured metal parts from build plates, a new wire EDM is billed as a dramatic improvement over traditional cutoff methods.
Unveiled at EMO Hannover 2019 by GF Machining Solutions LLC, Lincolnshire, Illinois, the AgieCharmilles Cut AM 500 quickly and efficiently separates 3D-printed parts from build bases, thereby speeding up production and lowering operational costs, according to the company. Accommodating part sizes up to 510 mm × 510 mm × 510 mm (20.08"×20.08"×20.08"), including the baseplate, and weighing up to 500 kg (1,102.3 lbs.), the machine uses 0.2 mm-dia. (0.008"-dia.) molybdenum wire to cut off additively manufactured parts at a maximum speed of 300 mm2/min. (0.465 in. 2/min.).
The system was developed to solve problems, such as part damage and geometrical inaccuracy, encountered by manufacturers that use bandsaws to separate additively manufactured parts from build plates. Employing a fully submerged wire EDMing process, the Cut AM 500 cuts without pressure, part damage or material alteration. The process delivers ±0.1 mm (±0.004") cutting accuracy and a surface finish finer than 6 µm Ra (236.2 µin. Ra), GF Machining Solutions reports.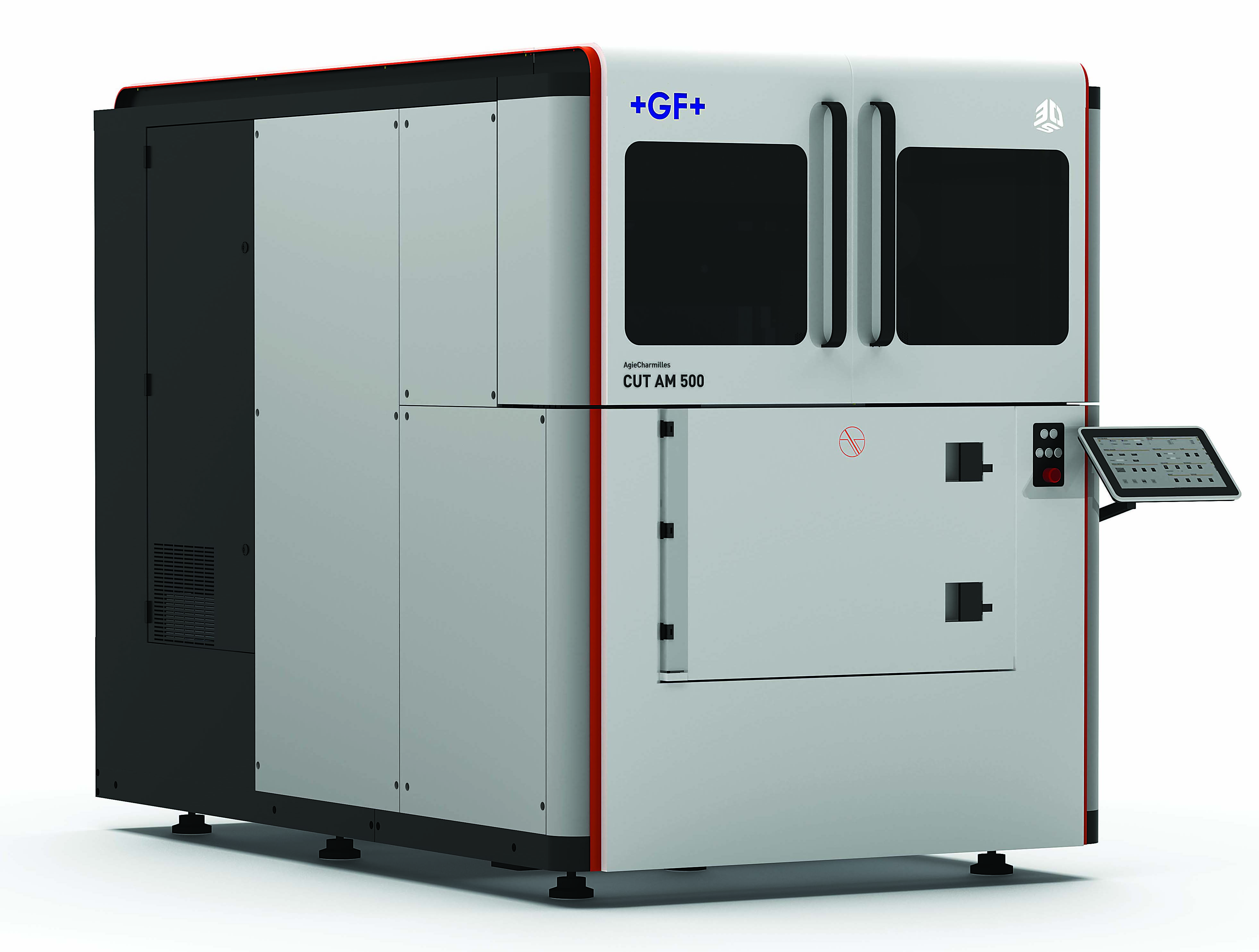 The Cut AM 500 is a horizontal wire EDM for separating 3D-printed metal parts from build plates. GF Machining Solutions
In addition, the Cut AM 500 reduces part contamination, which is especially important to risk-avoiding industries, like aerospace and medical. A key to success in this area is the dielectric fluid used in the machine, which isn't as dirty as bandsawing coolants, said Eric Ostini, senior EDM product manager.
Besides taking the place of bandsawing, the horizontal Cut AM 500 is an alternative to standard vertical wire EDMs used to cut off additively manufactured parts.
"All the problems with a vertical wire EDM machine have been taken care of by this horizontal machine," Ostini said.
Thanks to the horizontal orientation, he said, it's easy to take a build plate from a 3D printer, place it on the machine's table and clamp it down. Once the build plate is clamped to the table, a swivel axis allows it to be rotated 180° so the part is upside-down in the machine. When cut from the build plate in this position, a part falls gently into an integrated catch basket to reduce the risk of part damage.
This arrangement also causes the cut part to fall away from the EDM wire. In contrast, when vertical EDMs perform this task, the part typically drops onto the wire, causing either a wire break or short circuit that results in machine downtime, Ostini said.
To speed up the separation process, the Cut AM 500 features what GF Machining Solutions calls fast wire technology, which helps make the system at least three times faster than standard EDMing, according to the company. Crucial in this regard is a different flushing process. While conventional EDMs flush the cutting area with regular deionized water directed by nozzles, the Cut AM 500 uses a water-soluble chemical solution that the molybdenum wire drags into the cutting zone for flushing, Ostini said.
"If you can get really good flushing, you will optimize the speed of the process," he said. "We run the moly wire at about 20 rpm, which is very fast."
To reduce the cost of consumables and operator intervention in the process, the Cut AM 500 is equipped with dual wire spools that allow reuse of the molybdenum wire. The wire travels back and forth through the cutting area between the two spools until it breaks, which is usually after cutting off parts from about 12 build plates, he said. In cutoff processes employing standard EDMs, he said, the wire is disposed of after passing only once through the cutting zone.
GF Machining Solutions also offers a clamping and referencing option that permits users to move printed parts from one secondary subtractive process to another while they remain attached to the build plate. For example, the build plate could be palletized before the additive process begins and then stay on the pallet as the printed part is moved to a milling machine for additional work and finally to the horizontal wire EDM for cutoff.
The idea is to eliminate the normal remeasuring and other setup work required for secondary operations. In addition, palletizing build plates improves accuracy and repeatability and facilitates production
automation.
Although currently uncommon in additive manufacturing, Ostini said, when industry "really starts to utilize this palletizing process, we will be ready for it."