Author
Michael C. Anderson
Published
January 23, 2017 - 11:45am
It's been a long crusade for many manufacturers: the battle against an out-of-date public perception of manufacturing as dirty, repetitive work that's possibly unsafe and probably a dead-end career path. Two recent surveys show that there's still a lot of work to do in dispelling that myth, while a third survey is more upbeat. 
Late last year, a national survey conducted by Opinion Research Corp. was commissioned by digital manufacturer Proto Labs Inc., Maple Plain, Minn. The survey of more than 1,000 adults specifically examined public perceptions of manufacturing and found:
Seventy-one percent of survey respondents do not view manufacturing as a high-tech career choice.
The routines that people most commonly associate with manufacturing jobs are working on machines (55 percent) and assembly lines (50 percent)—not robotic technicians managing automated machines (20 percent) nor software developers in front of computer screens (10 percent).
Thirty-one percent of respondents think a career in manufacturing is high paying.
---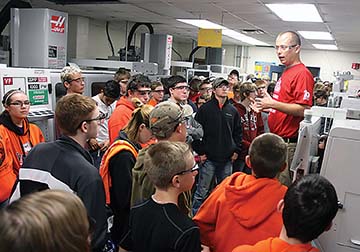 More than 1,200 high school students attended the Manufacturing Day 2016 events at the Sam Wolf Granite City
campus of Southwestern Illinois College. Photo courtesy of Southwestern Illinois College.
---
Another survey, of more than 2,000 adults by Harris Poll and commissioned by workforce management providers Kronos Inc., Chelmsford, Mass.,revealed:
Only 5 percent of employed Americans work in the manufacturing industry today and more than 50 million Americans (21 percent of the population) have limited to no knowledge of the industry.
Twenty-three percent believe that the manufacturing industry offers well-paying jobs.
 Only 14 percent of Americans believe that manufacturing is a fast-growing industry.
The public's misperceptions about U.S. manufacturing come at a cost. According to The Manufacturing Institute, nearly 3.5 million manufacturing jobs will likely need to be filled over the next decade because of retiring baby boomers and U.S. economic expansion—but an estimated 2 million of those jobs could go unfilled. 
"The manufacturing industry must do better," stated Vicki Holt, CEO of Proto Labs. "Highly skilled, well-paid and technology-driven jobs are thriving in manufacturing. We need to ensure that we have the talent needed to reach our full growth potential."
The battle to update the perception of manufacturing takes place most visibly on the first Friday of each October, National Manufacturing Day, when numerous companies all over the U.S. open their doors to students and other members of the public for a show-and-tell about what a 21st-century manufacturing career offers. 
In late December, The Manufacturing Institute and Deloitte released a more-encouraging survey. The survey was distributed to more than 2,700 Manufacturing Day 2016 hosts, who reported that after Manufacturing Day:
 Eighty-nine percent of students surveyed were more aware of manufacturing jobs in their communities.
Ninety percent of educators were more convinced that manufacturing provides careers that are both interesting and rewarding.
Seventy-one percent of students were more likely to tell friends, family, parents or colleagues about manufacturing.
It's a start.