October 13, 2013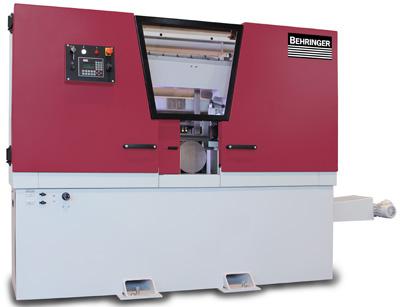 Designed for efficiency in high production metal cutting operations, the new Behringer HBE Dynamic Series bandsaws utilize a high torque, frequency-controlled blade drive motor. The specialized gearing in the drive is engineered to produce the blade power and speed needed to achieve fast cutting and peak throughput rates. Because the drive is low horsepower and energy efficient, power consumption is reduced while energy savings and high production are realized. The new saw is designed to meet a broad range of applications in the steel trade, mechanical engineering, tool making and in high-end metalworking shops.
Joe Suydam, Behringer Inside Sales Engineer, said, "In the HBE we can use a drive motor that doesn't use much power without sacrificing torque. That means our customers can push production rates and still maintain control over energy costs." Suydam said depending on which model HBE is used, the drive motor will be 3.4 HP to 6.4 HP. "The sophisticated gearing designed into the machine is the key," said Suydam. "It assures sustained high output with lower power consumption than most bandsaws out there."
In addition to efficient, high speed cutting and energy savings, the HBE saw offers numerous other features to make metal cutting more cost efficient. For example, to help reduce remnant stock, the HBE band wheels are inclined forward. This allows the feed gripper to be positioned closer to the bowframe of the saw. The remnant is therefore smaller and there is less waste after cutting making for more cost effective production. The inclined position of the band wheels also helps protect the bandsaw blade by eliminating a 90° blade twist thereby reducing flexural stress. This, combined with a stable saw frame made of vibration-damped gray cast iron and double-sided bearing for the band wheels, results in an increase in tool life of up to 30 percent.
Tested on 4140 material, the HBE Dynamic bandsaw blade life is rated at over 400 sawing cuts in 7.8" diameter stock. The long blade life is due in part to Behringer's improved cutting pressure control which helps prevent tool overload with a visible improvement to the quality of cut surfaces. The resulting precise control of the saw blade to the material allows very high downfeed rates to be achieved.
Downfeed power is then balanced against blade wear via a blade pressure monitor which is linked to a cutting pressure sensing system. Based on sensor data, the HBE saw automatically adjusts blade pressure as needed to create the optimum balance between feed rate and blade pressure. This power/pressure balance assures that the material feed rate is always maximized without overloading the blade. In contrast to the start-and-stop production flow in bandsaws where operators have to monitor blade pressure, the HBE's automatic pressure sensing system maximizes material feed rates and frees up operators' time for other tasks. This means longer periods of uninterrupted cutting at peak rates. Controlling and optimizing blade pressure also reduces the need for frequent blade changes.
The solid cast iron construction of the HBE saw frame is rugged and rigid which reduces vibrations and enhances torsion resistance during cutting. Higher band tensioning is therefore possible which improves control over the application of downfeed pressure. The result is precise, accurate movement of the blade and tight tolerances. Cutting accuracy is further enhanced by the horizontal band arrangement and hydraulically tensioned, double-sided linear guide bearings for the band wheels. Besides enhancing accurate blade movement, the linear guides also help reduce noise.
Another Behringer innovation on the HBE dynamic bandsaw is the full cover design of the machine enclosure. Not only does the full front cover panel assure compliance with the latest CE guidelines, it also addresses the growing demand for user convenience, occupational safety and environmental protection. The enclosed cutting stage keeps the work environment clean and minimizes noise. A large observation window affords an excellent view of the work being done.
The HBE Dynamic saw is available in four models – 261A, 321A, 411A and 511A. Cutting range is from 10.2" to 20.0" diameter for round stock and from 11.8" x 10.2" up to 20.0" x 20.0" for flat stock. Blade speed ranges from 50-350 ft/min and the saw features a single stroke feeding length of 25.6".