February 01,2011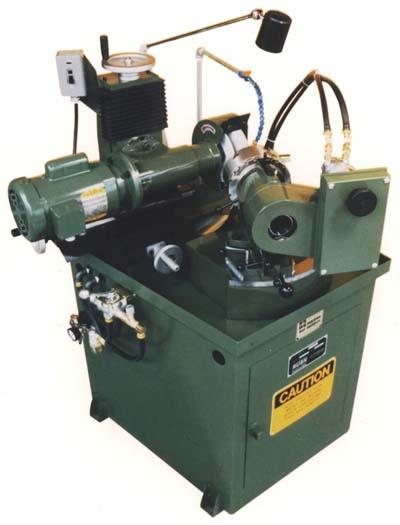 Rush Machinery reports that its Drill and Tool Grinders have helped thousands lower their hole-making costs through higher precision, faster production, less down time and reduced tool inventory. The Rush Drill and Tool Grinders combine simplicity, accuracy, rapid set-up and versatility in one machine to allow the user to choose from a wide variety of HSS or carbide drill points to maximize drilling performance for varied applications.
With minimal setup change, stepdrills, taps, reamers, countersinks and end mill ends can also be ground. The machines grind almost any point, stepdrills, taps, reamers, end mills and countersinks (HSS or carbide). In addition, the standard workhead can be exchanged in less than a minute with an optional air-bearing attachment for end mill O.D. grinding.
Machines are available from manual bench top to automatic-infeed floor models with capacities of .080" to 1-¼", 3/32" to 2", and 3/16" to 3-1⁄8".
Related Glossary Terms
grinding


grinding

Machining operation in which material is removed from the workpiece by a powered abrasive wheel, stone, belt, paste, sheet, compound, slurry, etc. Takes various forms: surface grinding (creates flat and/or squared surfaces); cylindrical grinding (for external cylindrical and tapered shapes, fillets, undercuts, etc.); centerless grinding; chamfering; thread and form grinding; tool and cutter grinding; offhand grinding; lapping and polishing (grinding with extremely fine grits to create ultrasmooth surfaces); honing; and disc grinding.

high-speed steels ( HSS)


high-speed steels ( HSS)

Available in two major types: tungsten high-speed steels (designated by letter T having tungsten as the principal alloying element) and molybdenum high-speed steels (designated by letter M having molybdenum as the principal alloying element). The type T high-speed steels containing cobalt have higher wear resistance and greater red (hot) hardness, withstanding cutting temperature up to 1,100º F (590º C). The type T steels are used to fabricate metalcutting tools (milling cutters, drills, reamers and taps), woodworking tools, various types of punches and dies, ball and roller bearings. The type M steels are used for cutting tools and various types of dies.

milling machine ( mill)


milling machine ( mill)

Runs endmills and arbor-mounted milling cutters. Features include a head with a spindle that drives the cutters; a column, knee and table that provide motion in the three Cartesian axes; and a base that supports the components and houses the cutting-fluid pump and reservoir. The work is mounted on the table and fed into the rotating cutter or endmill to accomplish the milling steps; vertical milling machines also feed endmills into the work by means of a spindle-mounted quill. Models range from small manual machines to big bed-type and duplex mills. All take one of three basic forms: vertical, horizontal or convertible horizontal/vertical. Vertical machines may be knee-type (the table is mounted on a knee that can be elevated) or bed-type (the table is securely supported and only moves horizontally). In general, horizontal machines are bigger and more powerful, while vertical machines are lighter but more versatile and easier to set up and operate.