November 13,2020
Related Glossary Terms
computer numerical control ( CNC)


computer numerical control ( CNC)

Microprocessor-based controller dedicated to a machine tool that permits the creation or modification of parts. Programmed numerical control activates the machine's servos and spindle drives and controls the various machining operations. See DNC, direct numerical control; NC, numerical control.

grinding


grinding

Machining operation in which material is removed from the workpiece by a powered abrasive wheel, stone, belt, paste, sheet, compound, slurry, etc. Takes various forms: surface grinding (creates flat and/or squared surfaces); cylindrical grinding (for external cylindrical and tapered shapes, fillets, undercuts, etc.); centerless grinding; chamfering; thread and form grinding; tool and cutter grinding; offhand grinding; lapping and polishing (grinding with extremely fine grits to create ultrasmooth surfaces); honing; and disc grinding.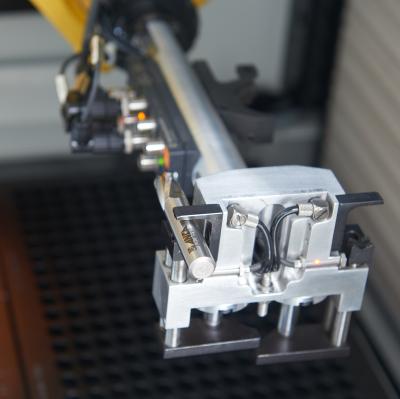 The new AutoMarkX is ANCA's tool marking solution designed particularly for the needs of cutting tool production. ANCA already has you covered with critical tool grinding processes; CPX for blank preparation, and tool grinding on ANCA's TX, MX and FX tool and cutter grinders. AutoMarkX will work seamlessly alongside ANCA CNC grinders and automates the tool marking process, further extending unmanned production operations.
Tool manufacturers are seizing options that streamline processes and save labor costs. AutoMarkX is capable of automated pallet loading and takes care of the tool laser marking process, freeing up operators to perform more value-adding tasks. AutoMarkX is designed for integration with AIMS, being able to automatically receive and dispatch pallets from AutoFetch, while connectivity to the AIMS Server provides details of the message to be marked on the tools.
Product Manager, Jan Irzyk said: "This machine is efficient and compact - but more than that, it can be integrated with your ERP and AIMS, so that technology can work together. Removing the need for manual handling, our new laser marking solution pushes tool marking capabilities into lights-out production."
"For full production, flexibility is important. This system accommodates a variety of tool sizes as well as mixed batches. With an easy to use interface and customizable marking, it is a complete solution that boosts labor efficiency."