Published
May 17, 2023 - 06:00pm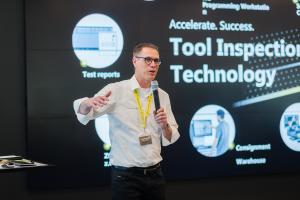 "Accelerate Success" was the theme of this year's ZOLLER Open House & Technology Days, which took place May 9-11 at ZOLLER Inc.'s North American headquarters in Ann Arbor, Michigan. Presented here are highlights from the May 10 agenda.
Like the other days, Alexander Zoller, company president, began with his keynote titled "Accelerate Success," which covered how to implement and scale a tool management system and the need to have connectivity throughout the system to achieve results quickly. He noted how ZOLLER effectively froze hiring to see how the company could make improvements with its existing internal resources and boost productivity as a result.
In his presentation "ZOLLER Tool Management Solutions as a Driver of Digitalization at Intech Medical," Joseph Forsyth shared the medical device manufacturer's journey of implementing TMS for efficient production. He is the director of advanced manufacturing at the company's Athens, Alabama, facility.
Forsyth said collaboration is a cornerstone of Intech Medical and emphasized the need to form partnerships to make successful implementation possible. A three-year plan is in place for system buildout. Basic development of TMS at Intech began in the first quarter of 2022, with the following quarters devoted to data creation, physical storage, and ordering and reporting, respectively. This year began with a shop-wide rollout of the system and a focus on product vending during the first quarter. 
"Our shop is going to be our toolroom," he said about one of Intech's goals.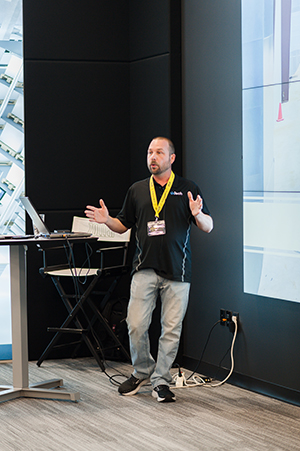 Moving forward, programmer training is occurring during the second quarter, followed by parts management in the third and job management in the fourth, Forsyth said. Next year will begin with a focus on CAM system selection and its interface.
As part of its TMS, Forsyth said Intech Medical purchased two Kardex vertical storage automation systems, with a third one on order. During an afternoon breakout session in ZOLLER's warehouse, a Kardex live demo was presented by Anthony Westfall, technical support engineer for ZOLLER, and Forsyth. Westfall pointed out that a Kardex system can see what items are in circulation and how many are in circulation.
Forsyth noted that Intech started with the Kardex implementation by prioritizing which items consume the most space. It's less expensive to store items by going vertical rather than horizontal, he emphasized. "The higher you go, the more cost-efficient it is."
Alpharetta, Georgia-headquartered Primetals Technologies USA LLC was another ZOLLER customer at the event, and Noah Ackerman, CNC tooling specialist, and Mike Urella, senior CNC tooling specialist, provided a presentation about "total tool management" and the company's roadmap to success. They covered tool management at Primetals' facility in Sutton, Massachusetts, which has 45 machine tools, 20 of which are CNC. 
Urella said the facility has about a decade of experience with ZOLLER TMS to preset, measure, inspect, and manage tools. "The system is firing on all cylinders. I couldn't imagine going back to the old way."
Related Glossary Terms
arbor


arbor

Shaft used for rotary support in machining applications. In grinding, the spindle for mounting the wheel; in milling and other cutting operations, the shaft for mounting the cutter.

computer numerical control ( CNC)


computer numerical control ( CNC)

Microprocessor-based controller dedicated to a machine tool that permits the creation or modification of parts. Programmed numerical control activates the machine's servos and spindle drives and controls the various machining operations. See DNC, direct numerical control; NC, numerical control.

computer-aided manufacturing ( CAM)


computer-aided manufacturing ( CAM)

Use of computers to control machining and manufacturing processes.