Published
February 06,2019 - 04:00pm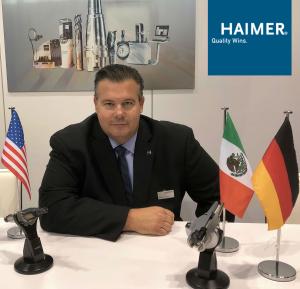 Steven Baier, previously the National Sales Manager for HAIMER USA, has been promoted to Vice President of Sales. "Working for a family company with the highest standards in both quality and ethics is what I enjoy most about working at HAIMER USA," described Baier. "Every employee at HAIMER is treated as family. We all have a great team attitude, which allows us to tackle any project with success."
With over 15 years of experience, Baier is not new to the industry or the responsibilities. Prior to HAIMER, Baier was the Midwest Regional Sales Manager for 12 years at a company in the industry. From there, Baier joined the HAIMER USA team as the National Sales Manager.
Besides a newly expanded facility and continuously expanding product line, HAIMER USA has seen tremendous success, especially in recent years. In 2018, HAIMER USA saw a tremendous sales increase compared to 2017. "Thanks to Steven's diligent work and leadership, he has been an instrumental part of our growth and success," said Brendt Holden, President of HAIMER USA. "He is certainly well deserved of this promotion."
In his new role, Baier will manage, maintain and expand sales in the United States and Canada and is in charge of about 15 salesmen. At HAIMER USA's North American Headquarters in Villa Park, Ill., Baier will continue to host and train distributors on HAIMER products and services so that they can represent the HAIMER brand according to the philosophy: Quality Wins.
Related Glossary Terms
sawing machine ( saw)


sawing machine ( saw)

Machine designed to use a serrated-tooth blade to cut metal or other material. Comes in a wide variety of styles but takes one of four basic forms: hacksaw (a simple, rugged machine that uses a reciprocating motion to part metal or other material); cold or circular saw (powers a circular blade that cuts structural materials); bandsaw (runs an endless band; the two basic types are cutoff and contour band machines, which cut intricate contours and shapes); and abrasive cutoff saw (similar in appearance to the cold saw, but uses an abrasive disc that rotates at high speeds rather than a blade with serrated teeth).