Published
December 17, 2019 - 09:30am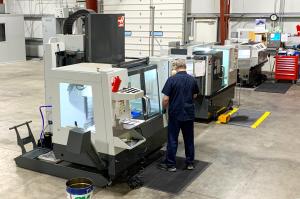 To support rapid growth within its mechanical testing department, Hermitage, Pennsylvania-based Solar Atmospheres of Western Pennsylvania has invested in a new Haas ST-10 CNC lathe.
The Haas ST-10's 6,000-rpm spindle features an automatic toolchanger with a 12-station, bolt-on tool turret, allowing Solar's machining center to automatically change tools at the push of a button. This capability results in significant time- and cost-savings over Solar's original TL-1 Haas lathe, which requires up to five manual tool changes to produce one tensile specimen. The investment in an automated lathe results in a 50% savings in the production of a variety of round tensile specimens. The TL-1 lathe will be retained as back-up in the case of an unexpected breakdown.
The increased machining efficiency of the Haas ST-10 improves turnaround for the customer at the final stage in the thermal process, obtaining the tensile test results of processed materials. Previously performed by an outside company, the opportunity to bring this testing in-house saves the customer time and money.
Bob Hill, president of Solar Atmospheres of Western Pennsylvania, said, "This new CNC machining center will ultimately support our overall goal of becoming Nadcap Laboratory Testing AC 7101 approved. We have learned in the past that keeping these processes in-house is a benefit not just to Solar, but to our customers as well."