Published
January 06,2022 - 10:45pm
A common misconception in the metalworking industry is that machining steel is simple. Experienced machinists know that turning ISO P steel is anything but simple. First, among many concerns is the breadth of materials in ISO P classification that range from ductile low-carbon steels to high-alloyed.
Second, the hardness of different steels ranges significantly from one end of the spectrum to the other. The type of application varies and so do machining conditions in workshops.
Steel turning is challenging and given all variables, the task of selecting a grade to cater to the wide range of properties exhibited by ISO P steels is even more daunting.
Grade of all trades
For any such grade, fracture resistance is paramount. Also critical is a cutting edge capable of delivering the hardness needed to resist plastic deformation induced by the extreme temperatures present in the cutting zones.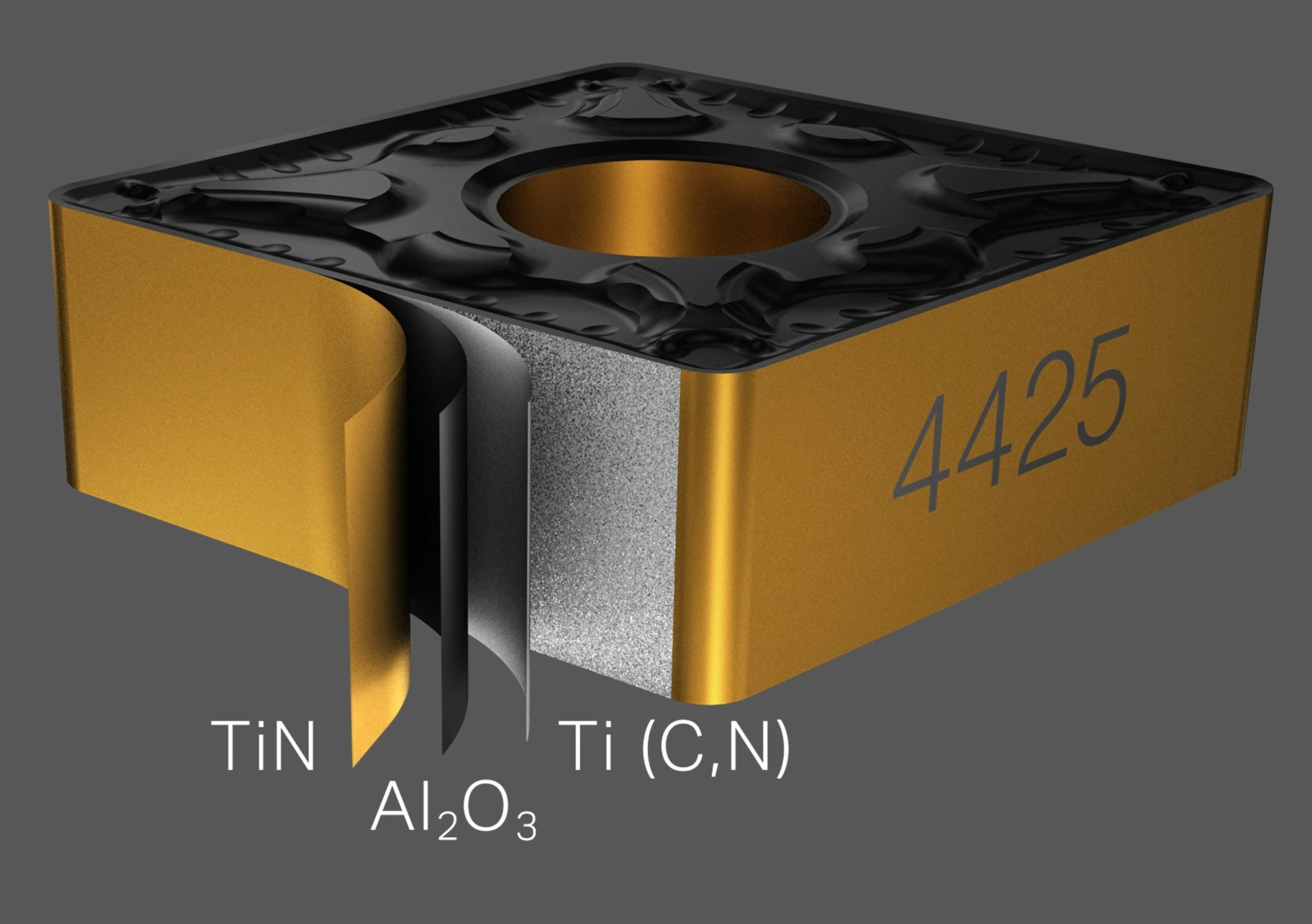 Moreover, the grade must be equipped with a coating that can prevent flank wear, crater wear,  and edge build-up. Importantly, the coating must also adhere to the substrate; if it does not stick, the substrate is exposed, leading to rapid failure.
Given this array of demands, it is crucial to understand the structure of a steel turning grade to make an informed decision when picking one for an application.
Structure of a carbide insert
All carbide grades contain a cemented carbide core, also known as a substrate. The substrate defines the toughness and strength of the grade. Resistance to plastic deformation can also be attributed to it.
The cemented carbide substrate is usually covered by a few layers of a coating such as titanium carbonitride (TiCN), alumina (Al2O3), titanium nitride (TiN) that give the insert its edge toughness, adhesion, and wear resistance properties. The recipe for superior resistance to different kinds of wear: flank, crater, and edge build-up; adhesion to the substrate and improved tool life lie in the microscopic details that go into designing the coating layer.
Roman shield wall 

In conventional alumina coating, the crystal growth direction is random, as depicted in Figure 1a. If the growth in the coating layer can be controlled to ensure all crystals line up in the same direction, as depicted by yellow in Figure 1b, it results in superior wear resistance.
To help you understand the power of crystal alignment, consider an example from Roman history. When the ancient Roman legions went on a siege, they frequently deployed a shield wall — the Testudo formation. In this formation. all shields were aligned and tightly packed avoiding any vulnerable gaps. The shield wall helped the Romans resist oncoming aggression while advancing.
The alignment of crystals in a coating layer works in a similar way: the closely packed uni-directional crystals act as a shield and provide better resistance against difficult conditions at the cutting zone.
Uni-directional crystals
Sandvik Coromant's R&D experts have found a way to control the crystal growth in the alumina coating, to ensure all crystals line up in the same direction, with the strongest part towards the top surface. This patented technology known as Inveio coating is a technical breakthrough that gives inserts a new level of wear resistance and tool life.
The tightly packed uni-directional crystals create a strong barrier towards the cutting zone and chip. This helps Inveio equipped grades greatly improve resistance to crater wear and flank wear. Another desired impact is that heat is more rapidly led​ away from the cutting zone, helping the cutting edge stay in shape for longer times in cut. Overall, what is achieved is a predictable tool with long tool life.
With the introduction of the second generation Inveio technology — featured in Sandvik Coromant's latest steel turning grades GC4415 and GC4425 — the benefits of uni-directional coating have been further enhanced. Improved crystal orientation makes for consistent performance and significantly improved wear resistance.
Intermittent cutting operations
The first two considerations for selecting an insert grade are namely the substrate and the coating, and the third consideration is the performance during intermittent cutting operations. This is an important requirement as it helps avoid any sudden insert breakages.
Look for inserts that have undergone post-treatment: a process in which very fine, sharp ceramic particles are bombarded onto the insert coating. Imagine a hammer striking on the coating to reinforce and strengthen it. Inserts that have undergone effective post-treatment perform well during intermittent cutting.
New GC4415 and GC4425 grades
Sandvik Coromant has recently launched two new ISO P steel turning insert grades. The grades GC4415 and GC4425 are ideal for manufacturers operating in mass and batch production set-ups.
Equipped with a new substrate at their heart that is reinforced by Inveio technology, the two grades offer reliable performance and superior wear resistance. In addition, the grades' new post-treatment is found to boost performance in intermittent cutting operations, avoiding any sudden breakages and enabling both insert grades to outperform over a broad application range.
Customers have been able to implement higher cutting speeds (Vc) and multiplied feed rates (Fn) with these grades. In one case, a general engineering manufacturer subjected a 4140 pre-heat treated steel workpiece to multi-directional external roughing with the GC4425 insert. Compared with using a competitor's ISO-insert for the same process, the customer was able to achieve a 100% productivity increase, with a reduced cycle time of 50% plus a 30% cost reduction.
Machining ISO P steel is tricky. By keeping a few considerations in mind when selecting a grade such as a substrate toughness and new technological advancements in the area of material science and tooling technology, users can make a huge difference in your steel turning efficiency and your machine shop's overall productivity.