Published
November 02,2022 - 05:45am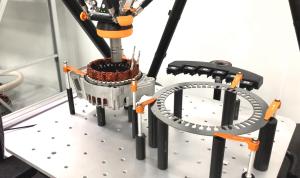 Renishaw's Roadshow rolls into Auburn Hills, Mich., with the aim of delivering solutions to advanced manufacturing challenges faced by the automotive, aerospace, medical and electronics industries, as well as precision manufacturers and scientific/research analysis operations.
The two-day event opens Nov. 2 and features morning and afternoon presentations with metrology experts answering questions on the significant measurement challenges facing manufacturers, ranging from job shops to high-production environments. The Roadshow runs from 9 a.m. to 5 p.m. each day at Renishaw's Auburn Hills research facility, 1650 Deepwood Dr. in Auburn Hills. Lunch and break refreshments will be provided both days.
The Wednesday morning presentations are highlighted by an address from Leo Somerville, Renishaw's president for the Americas, discussing "Implementing Intelligent Industrial Automation."
Wednesday morning also features an "Additive Manufacturing Industry State of the Union," talk presented by Kevin Brigden, Renishaw's application manager, with sessions on "Gear Inspection Feedback and Manufacturing Automation," and "Circular Geometry and Form Measurement" scheduled for the afternoon.
Thursday morning's session continues the measurement discussion with an "In-depth Talk on Surface Finish Measurement," from Mark Malburg, Ph.D., president of Digital Metrology Solutions. As part of the morning sessions, Renishaw's Ken Bergler also presents new highly effective inspection techniques in his address "The Challenges in Inspection on the Road from ICE to EV."
Afternoon events include "Raman Spectroscopy for the Industry," from Tim Prusnick of Renishaw, and a presentation of a "Case Study on Class 5-8 Carriers" detailing the challenges of machining a Class 8 carrier, from Darrin Soukup, quality manager, Accurate Gauge & Mfg.
To register for the Renishaw's Roadshow in Auburn Hills, visit the Renishaw event page.
Related Glossary Terms
metrology


metrology

Science of measurement; the principles on which precision machining, quality control and inspection are based. See precision machining, measurement.