Published
May 04, 2018 - 03:00pm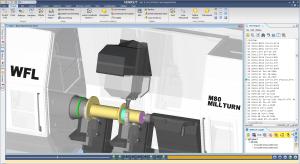 Oregon Manufacturing Innovation Center Research and Development continues to grow its company membership with the addition of California-based CGTech and the Oregon-based manufacturer Summit. With a total now of fifteen manufacturing industry partners and three Oregon public universities, the Scappoose, Oregon based R&D facility continues to build a world-class operation to develop advanced metals manufacturing technologies.
CGTech, whose main headquarters are in Irvine, California, was founded in 1988 and specializes in numerical control (NC/CNC) simulation, verification, optimization, and analysis software technology for manufacturing. Since that time, its main software product, VERICUT®, has become the industry standard. With offices worldwide, VERICUT software is used by companies of all sizes, universities/trade schools, and government agencies.
Summit, which was founded 25 years ago in Hillsboro, Oregon produces high-quality steel-based products for commercial and industrial use such as modular workstations, server racks, and fuel transfer tanks. Its capabilities include fabrication, laser cutting, press brake and band sawing. They also provide contract manufacturing and fabrication services.
Matt Carter, chair of the OMIC R&D Board of Governors said, "We welcome CGTech and Summit to the OMIC R&D partnership and know that they will broaden our expertise in metals manufacturing. Both of these organizations have high quality reputations, and we know they will add great value to the innovation environment that we are creating with this impressive group of organizations. The Board looks forward to the value that we know CGTech and Summit will bring to this collaborative environment."
OMIC R&D is the fifteenth such research center established with Boeing leadership worldwide, and the first Boeing has sponsored in the United States. Its mission is to bring together manufacturing companies and higher education in an innovation environment where "outside-in" applied research with faculty and university students solves real problems for advanced manufacturers while training the next generation of engineers and technologists.
"We appreciate being invited to participate with OMIC," said Bryan Jacobs, CGTech's representative for the Pacific Northwest. "VERICUT is a proven tool for reducing manufacturing costs while improving quality for our existing users. Working with OMIC will help more Oregon manufacturers achieve the benefits of using VERICUT to improve manufacturing efficiency."
Lew Barnes, president of Summit said, "OMIC fills a critical need in our region for economic development and innovation in advanced metals manufacturing. We are excited to be a part of the OMIC Team and appreciate that manufacturing facilities of all sizes will benefit from the state-of-the-art technology, training and business opportunities OMIC brings."
CGTech and Summit join sixteen other OMIC R&D industry and university members in the Scappoose facility: ATI; Blount International; The Boeing Company; Daimler Trucks North America; Hangsterfer's Laboratories, Inc.; Kennametal; Mitsubishi Materials Corporation; OSG USA, Inc; Silver Eagle Manufacturing; Vigor; Walter Tools; and WFL Millturn Technologies and Oregon Institute of Technology (Oregon Tech); Oregon State University (OSU); and Portland State University (PSU).
The OMIC R&D model focuses research on helping indigenous industries increase competitiveness while creating a real partnership with and integration into the local economy. As research activities expand with high-cost, high-value machinery added on to the production floor, OMIC R&D is expected to eventually increase state and regional commercial productivity in manufacturing and stimulate economic growth and development.
OMIC R&D will coordinate its applied research projects with hands-on "earn and learn" apprenticeship programs at OMIC Training Center, led by Portland Community College, and located in a nearby facility that PCC is building. The PCC OMIC Training Center, scheduled to open in fall 2020, will emphasize craftsmanship, professionalism, and placing graduates into high-wage, high-demand jobs; with students completing an associate degree or certificate leading to an advanced degree. While Training Center construction is underway, PCC will have a temporary delivery site at Scappoose High School beginning in 2018.
OMIC has the strong support of trade unions, including the International Association of Machinists and Aerospace Workers and the Society of Professional Engineering Employees in Aerospace, which recognize the importance of training and apprenticeship programs in growing high-skill, high-wage manufacturing jobs in Oregon via innovation and industry growth. Metals manufacturing is a cornerstone industry for the Greater Portland area, with current employment estimated at nearly 28,000 and approximately 600 small, medium and large metals manufacturing companies. OMIC presents a significant opportunity for the retention and expansion of these firms and the workforce in the region.
Related Glossary Terms
bandsaw blade ( band)


bandsaw blade ( band)

Endless band, normally with serrated teeth, that serves as the cutting tool for cutoff or contour band machines.

numerical control ( NC)


numerical control ( NC)

Any controlled equipment that allows an operator to program its movement by entering a series of coded numbers and symbols. See CNC, computer numerical control; DNC, direct numerical control.

sawing


sawing

Machining operation in which a powered machine, usually equipped with a blade having milled or ground teeth, is used to part material (cutoff) or give it a new shape (contour bandsawing, band machining). Four basic types of sawing operations are: hacksawing (power or manual operation in which the blade moves back and forth through the work, cutting on one of the strokes); cold or circular sawing (a rotating, circular, toothed blade parts the material much as a workshop table saw or radial-arm saw cuts wood); bandsawing (a flexible, toothed blade rides on wheels under tension and is guided through the work); and abrasive sawing (abrasive points attached to a fiber or metal backing part stock, could be considered a grinding operation).