Published
October 27,2013 - 07:00pm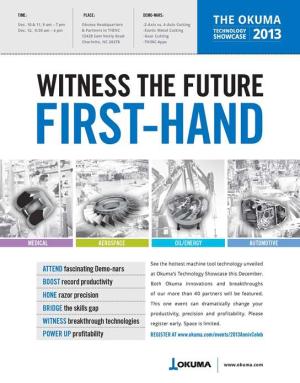 Okuma America Corp holds the 2013 Technology Showcase event on Dec. 10-12, 2013, in Charlotte N.C. The event gives attendees the opportunity to witness the latest technology via hands-on demonstrations, and allows them to learn how this new technology can be applied to their specific manufacturing challenges.
The demonstrations are relevant to attendees from a variety of industries, with cutting demonstrations using composite material, Inconel, titanium and carbon fibers, on a variety of machines, including the LB-3000 EX, MULTUS B750, MB-4000H, PALLETACE (flexible manufacturing system), and the VTR-160A double-column turning center.
Members of Partners in THINC will demonstrate how peripheral equipment, such as tooling, gaging, workholding, automation and CNC software, can be integrated with Okuma technology to improve productivity. This 3-day event features a wide array of learning opportunities, allowing each attendee to customize the experience. Featured areas include:
Proprietary Okuma technologies, such as collision avoidance system, thermal active stabilizer, Machining-Navi, Super-NURBS, Turn-Cut and 5-axis auto tuning system;
Drawing-to-part demonstrations show the process of taking a concept from design to a shippable part, for a variety of applications utilizing technology from Partners in THINC;
Lights-out manufacturing using an automation cell on a CNC lathe;
Hard turning materials hardened to 60HRC and harder on an LB-3000EX lathe;
Gear cutting on a 2-axis lathe with milling function and on a multifunction lathe;
Various automation cells ranging from bar feeding a lathe, to robot loading/unloading, to a full flexible manufacturing system (FMS) with three integrated horizontal machining centers;
More than 10 educational demonars each day on a variety of topics such as Caron Engineering Adaptive Software (TMAC), Renishaw Equator, Real Time Connectability, Machining-Navi, Turn-Cut and PALLETACE (FMS).
In addition to the multitude of machines and cutting demonstrations, and in honor of the 50th anniversary of the OSP control, the Okuma THINC-OSP-P300 control is available for hands-on trials.