Published
April 03,2019 - 04:15pm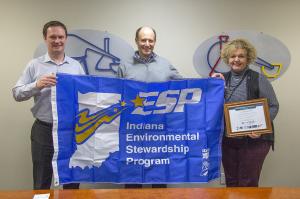 (Madison, IN) – Madison Chemical was recently recognized for it's commitment to the environment by the Indiana Department of Environmental Management (IDEM). The organization granted Madison Chemical membership in the state's Environmental Stewardship Program for implementing and maintaining measurable environmental improvements. Their mission to use, reuse, and repurpose resources, from wood pallets to chemicals that are not properly mixed, are just some examples of the practices that helped Madison Chemical earn this achievement. Assistant Commissioner and agricultural liaison for IDEM, Julia Wickard, acknowledged this honor saying, "you've received a really high distinction – for entities that really go above and beyond."
Dennis Nicholas, Madison Chemical's Environment, Health, and Safety Manager understands this is all part of the corporate and environmental journey. "This allows us to focus on what we are doing in the environment."
From the beginning, Madison Chemical has placed a priority on creating a small environmental impact. Started in 1947 by David R. Goodman and run today by his family, Nicholas knows "The Goodman family has always been known for being good citizens and protecting the environment."
Since a large share of Madison Chemical products goes into food plants, they understand the role they play in ensuring the safety of all their products. "If you go into a restaurant and get a packet of sauce, we've probably touched that at some point." Nicholas knows that for Madison Chemical, keeping food and the environment clean is personal. "We are out to protect our family and our friends."
The Environmental Stewardship Program is part of the Indiana Department of Environmental Management (IDEM), which through innovation and efficient resourcing, aims to improve the state's environment and business climate. Around 60 other Indiana companies are members of the program and committed to reducing both water and energy usage, as well as, decreasing hazardous waste in soil and reducing air admissions. The program is open to all individuals, small businesses, organizations, and industries in the state of Indiana who has and maintains an environmental management system.
The Environmental Stewardship Program includes several regulatory inspections that ensure member companies, now including Madison Chemical, maintain a standard environmental management system. Representatives for IDEM inspect product packaging, leaks, product organization, and storage and waste control, among others. As a new member of the program, Madison Chemical will receive advanced notification for three low-priority status inspections. IDEM and the Environmental Stewardship Program affords new members a level of regulatory trust and flexibility in production not otherwise available.
Process Controller, Rob Sims understands that Madison Chemical's commitment to doing the right thing goes beyond this membership, "there is no question of what is right or wrong, we do what is right, even at an expense…" Continuous improvements to the factory, including a newly paved floor and a dust-control machine that loosens dry solutions–like powders–trapped in production equipment as a means of limiting waste, are all part of Madison Chemical's ongoing commitment to environmental stewardship.