Published
February 12, 2019 - 12:45pm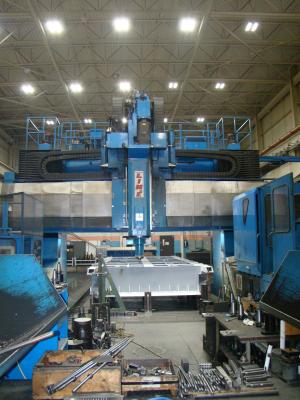 One of the best parts of my job is visiting factories where metal parts are machined. In connection with the feature article I wrote for our April issue about machining large parts, I traveled to Romulus, Michigan, and visited Lincoln Park Boring Co., where I met with Vice President Gary C. Yesue and President Rick Yesue.
LPB's 60,000-sq.-ft. shop is quite impressive, as well as being temperature controlled to ±1.5° F from the crane rail down. When it comes to machining enormous parts, LPB turns to its Henri Liné heavy-duty gantry Promill vertical boring machine with five-sided capability and 10' under the spindle (pictured). The travels for the X, Y and Z axes are 480", 204" and 120", respectively.
The company has some newer machine tools, such as a Fives Giddings & Lewis RT 130 horizontal boring mill with 5.1"-dia. spindle that it purchased last year, but I found some of the older machines to be equally if not more eye-catching. For example, one machine that grabbed my attention was a Monarch lathe (31" diameter × 60" travel) that was built in 1942 and still functions. I just appreciate how people designed products in the past, including old musical instruments, antique bicycles and muscle cars from the 1960s.
For the article, I also spoke with Norman Besand, shop superintendent for American Machine & Gear Inc., Portland, Oregon; Blake Conner, general manager for CBM Precision Parts, Bessemer City, North Carolina; and Michael Cope, product technical specialist for machine tool builder Hurco Cos. Inc., Indianapolis.