Published
February 20, 2017 - 09:00am
GE Aviation invests $4 billion in U.S. manufacturing over 5 years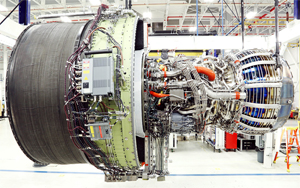 To maintain and grow its production levels on its newest jet engines, engine components and aircraft systems, GE Aviation investments reached $4.3 billion in its U.S. operations during 2011–2016, with another $1.1 billion invested in its international sites, the company reports.
That U.S. amount includes $214 million to establish five new plants in Auburn, Ala.; Asheville, N.C.; Ellisville, Miss.; Huntsville, Ala.; and Lafayette, Ind. About 2 million sq. ft. of new manufacturing floor space is being created.
In addition, upgrades at current U.S. operations include expansions in West Jefferson, N.C.; and Hooksett, N.H.; and new centers for emerging technologies such as additive manufacturing, digital engine monitoring, ceramic matrix composites (CMCs) and electrical distribution.
"The first company to introduce heat-resistant, lightweight CMC components into the hot section of commercial jet engines, GE Aviation is creating America's first fully-integrated supply chain to mass produce components from this advanced material," the company stated: "From a CMC raw materials plant in Huntsville to CMC manufacturing research labs in Cincinnati, Ohio; and Newark, Delaware; to full-scale CMC production in Asheville."
The announcement also noted the company's Additive Development Center in Cincinnati and a component production operation in Auburn, "where more than 40 additive machines are mass producing commercial and military engine components."
The entire news release is here.
Related Glossary Terms
centers


centers

Cone-shaped pins that support a workpiece by one or two ends during machining. The centers fit into holes drilled in the workpiece ends. Centers that turn with the workpiece are called "live" centers; those that do not are called "dead" centers.

composites


composites

Materials composed of different elements, with one element normally embedded in another, held together by a compatible binder.