Published
July 15, 2016 - 10:15am
How metalworking delivers comfortable and cost effective travel for commuters
It is a matter of course for manufacturers of rail and train components to ensure that quality products and services continue to be delivered to the industry every day. Increasing reliability through new tools, materials and machining techniques, as well as supporting productive and cost-effective maintenance of existing infrastructure, is crucial.
In 2013, the global market for railway technology was approximately $170 billion. This is expected to see an annual growth of 2.7 percent over the next few years, reaching an average annual value of $200 billion before 2019.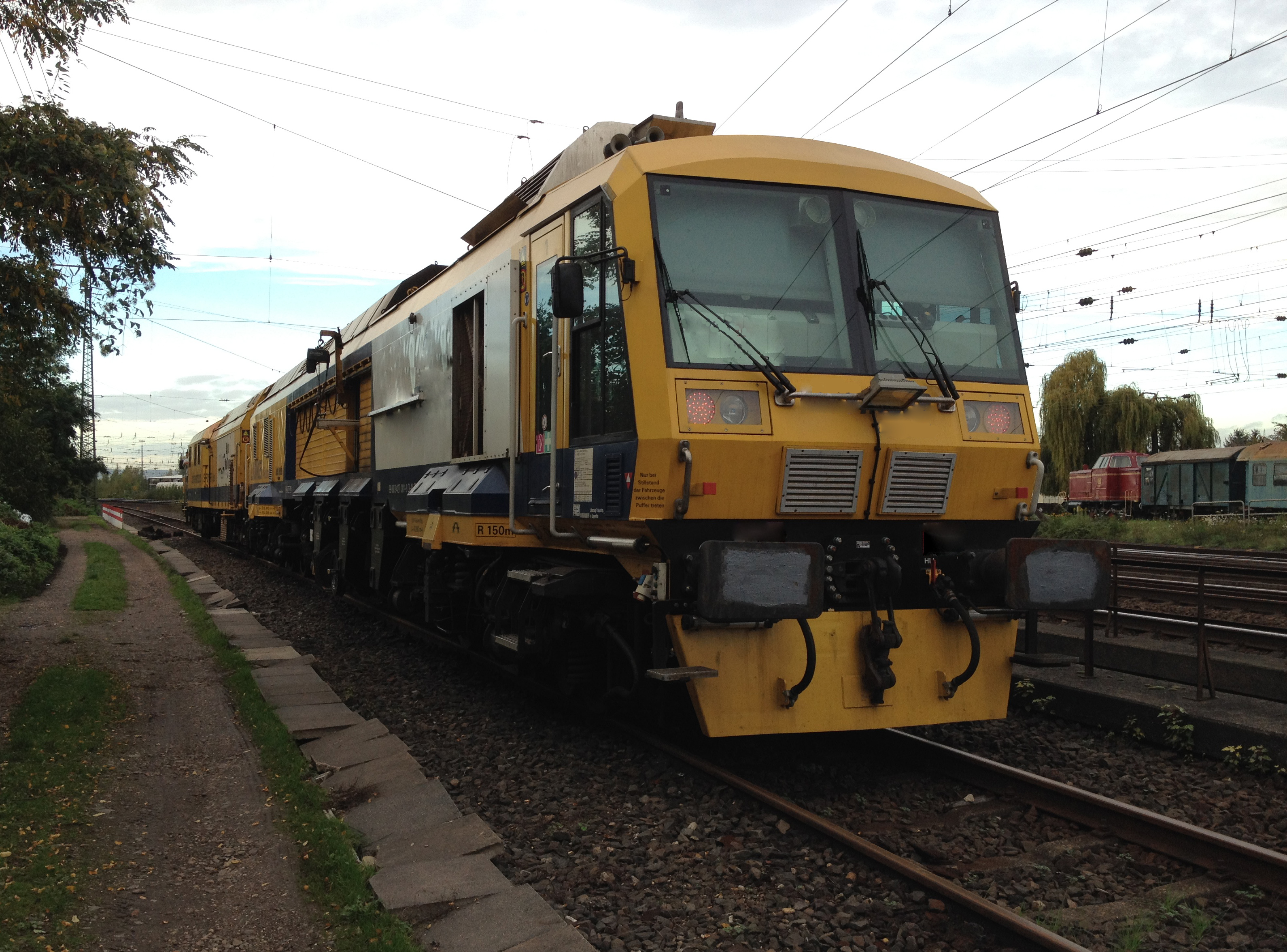 A train dynamically milling a railway line.

The railway segment has been a focus for Dormer Pramet for many years, with the company offering customers a wide range of cutting tools to help with both production and maintenance. Railway wheels and rails are the most important components in any railway operation, as they represent the interface between vehicle and track. Therefore, both rail and wheel surfaces must always be of the highest quality.
Any roughness or irregularity in surface quality can create undesirable forces, friction, vibrations and wear, developing unwanted effects on the vehicle and infrastructure. In the case of passenger vehicles, this can influence not only the comfort of the occupants, but also their safety.
Dormer Pramet is an active partner to the rail industry in many locations around the world, supporting the manufacture and re-profiling of wheels, as well as machining of axles, chassis, rail profiles and renovation, switches, base plates, mounted axles, junctions and other rolling stock components.
With any contact between the vehicle wheels and rail surfaces, the materials must be strong enough to resist the normal (vertical) forces exerted by regular and heavy loads. The forces in the contact zone must be low enough to allow heavy loads to move at speed with little resistance and also large enough to generate acceleration, braking, and guidance of vehicles.
Rail treatment
The most common mechanical noise from a train is generated between the wheel and rail contact. These "vibrations" are transmitted through the ground and can even be felt in nearby buildings. Vibrations (in the range of 4Hz to 80Hz), or low frequency rumbling noises (between 30Hz and 250Hz), can also be transmitted into the vehicle itself affecting passenger comfort and vehicle life.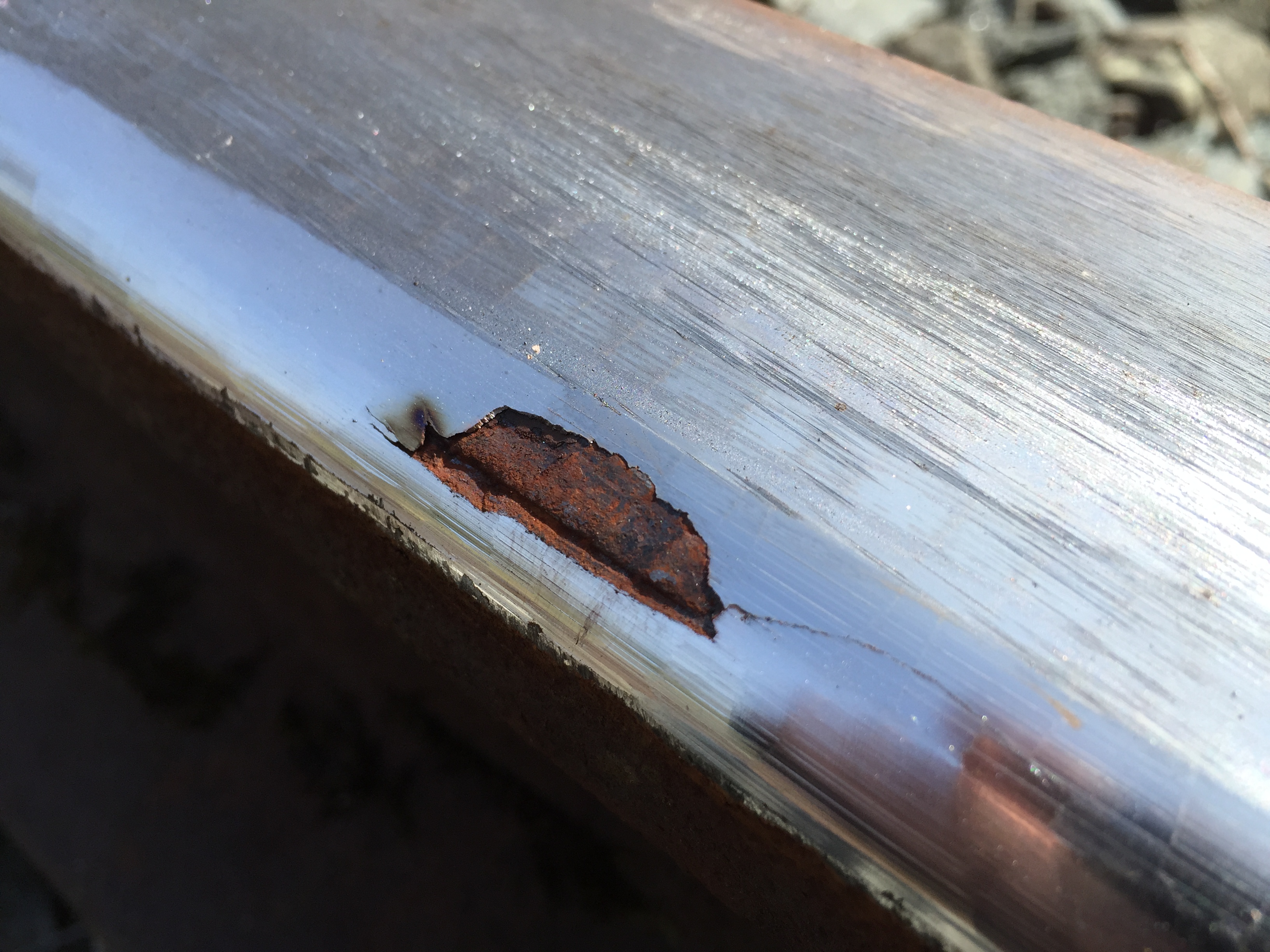 A pitted rail which requires renovation.

To combat against this constant force between track and vehicle, there is a need to make sure the rail remains in a good condition. There are several reasons for rail treatment, but primarily it is an issue of operational safety. With the mechanical stresses in wheel and rail contact, cracks can appear on the surface of the rail. These have to be removed quickly before they spread and destroy the track area.
A regular assessment of the rail profile is important for limiting damage to the track and rolling stock. Over time, rail wear can substantially increase and ultimately lead to train derailment. Also, another objective is to enable modern high speed trains to use existing lines, while maintaining reliability and safety standards.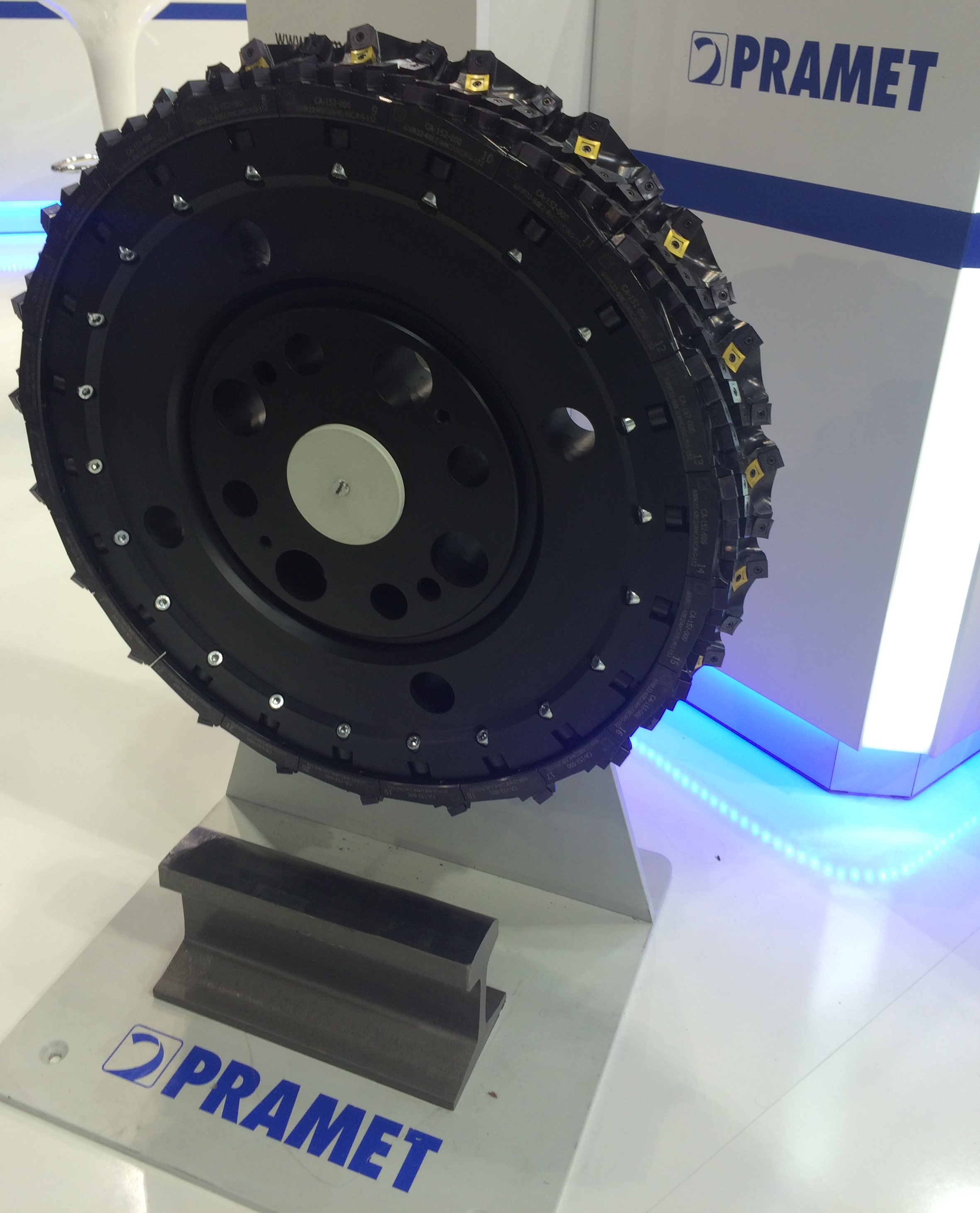 The Pramet dynamic rail milling cutter (pictured above and below).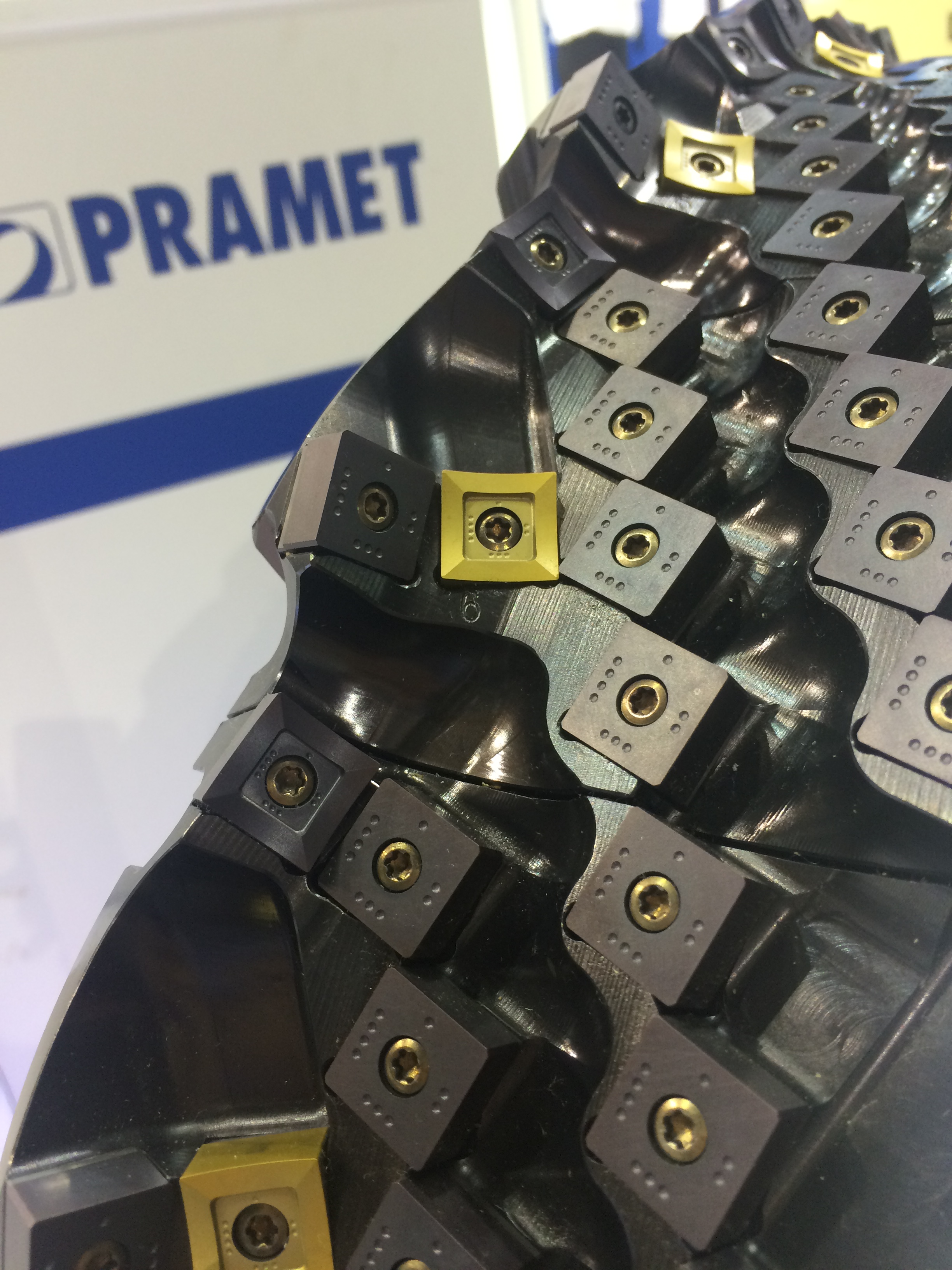 Rail treatment can be performed in several ways. The most time-consuming involves the use of track relaying machines, which replace old rails with new. It is also possible to subject the existing rails to grinding operations; however, this option presents a potential fire hazard because of the small depth of cut and ensuing sparks.
Another and more productive alternative is dynamic rail milling. The re-profiling of a railway line without removing the tracks represents a significant savings in time and expense. It is therefore no surprise that dynamic milling of rails has become one of the most popular methods. But this "on the-move" application requires specialized equipment to achieve optimum results.
Dynamic milling can be performed by specially designed trains, operating at a constant speed of 700 meters per hour. Rails made of R350HT steel have good abrasion resistance, with a hardness of between 900 MPa and 1,200 MPa. Sometimes the passage of trains results in the rail head being hardened up to 1,500 MPa. To re-profile the rails, two milling units are used. The first roughens the surface, the second one finishes it, and the two units act on both rails simultaneously.
The final rail profile and high quality surface finish are ensured by the grinding units, while metal chips produced during milling are transferred to a nearby container, making sure no debris or swarf is left on the track.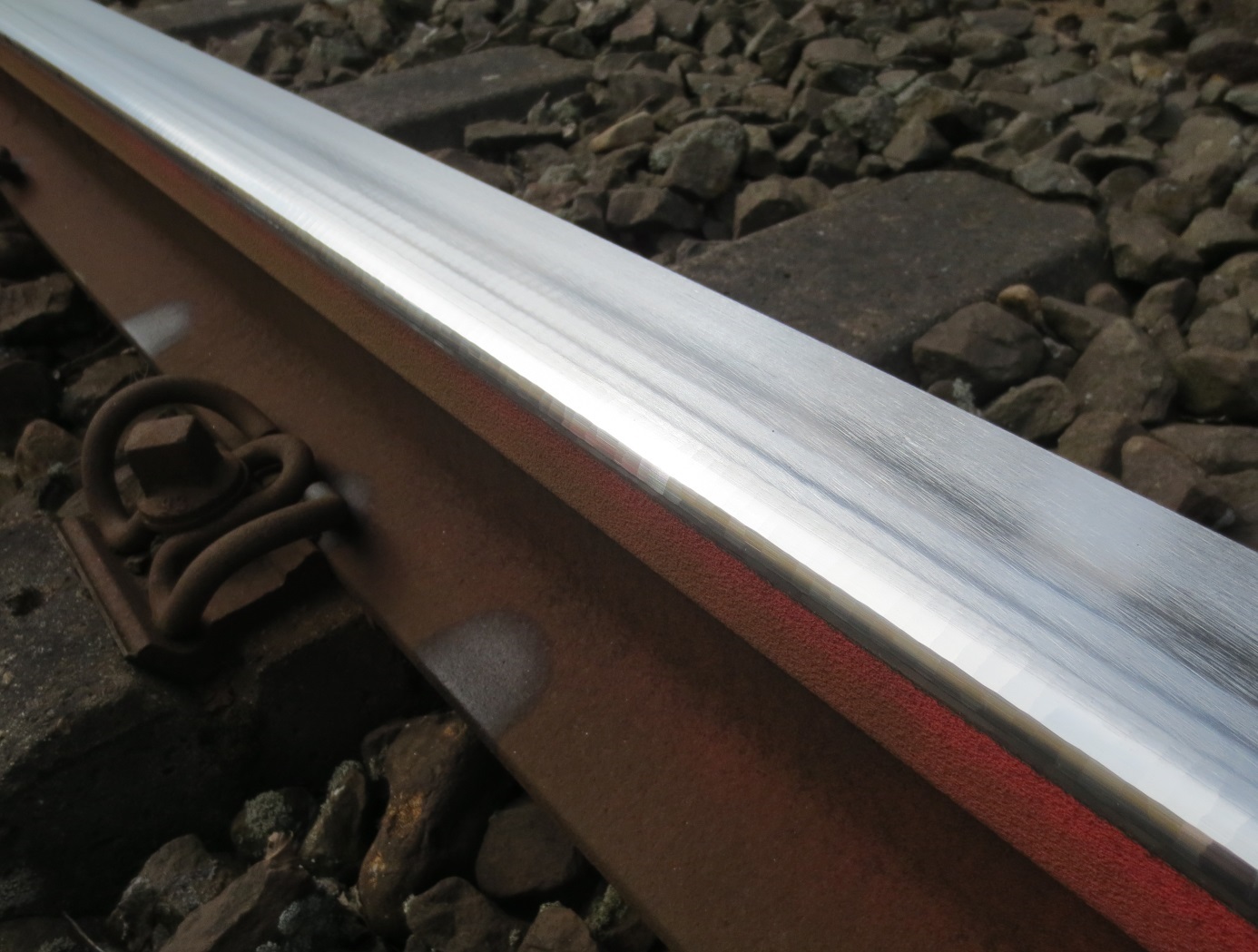 A railway line after profiling treatment.

Safety
It is standard practice that during the re-profiling of rails, insert indexing due to wear is done on board the train performing the milling. To reduce down time, operators often change the whole milling cutter, and to do this, they must leave the train.
However, renovation of railway infrastructure is usually done at night when there is less traffic. To improve safety it is advisable to avoid changing the cutter during a shift, especially at night. The normal distance covered when milling during a standard shift is between 3,000 and 3,500 meters. Dormer Pramet's rail milling inserts and cutters have a durability of more than 3,700 meters, which means staff can stay on the train for the whole shift.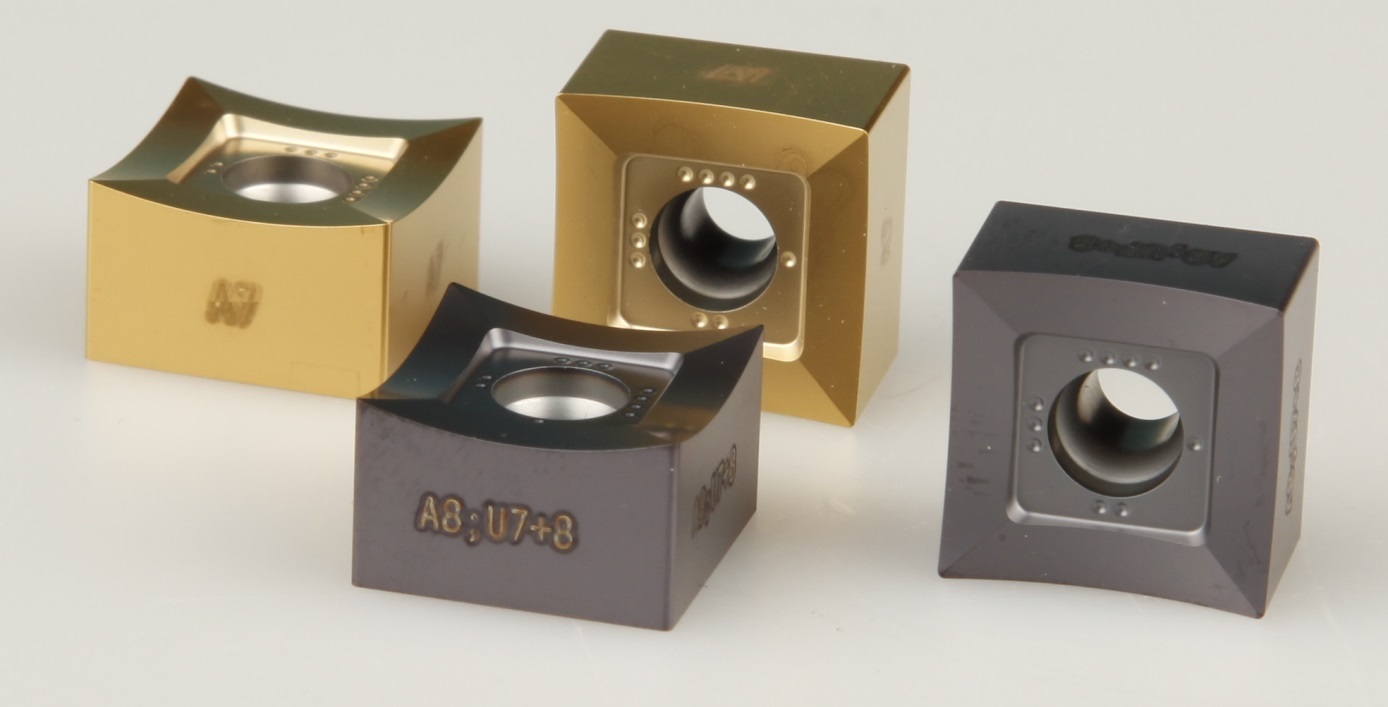 Dormer Pramet delivers inserts specifically for us in railway applciations.

Dormer Pramet's range for the rail industry includes disk mills, cartridges and indexable inserts for dynamic rail milling. Pramet's rail milling cutters, for example, have a diameter of 600mm, a cutting speed of between 220m/min and 280m/min, and each cutting tooth can deal with between 4.5mm to 5mm of rail length, cutting to a depth of between 1.0mm and 1.5mm.
A variety of universal and removable cassettes are also available, with each consisting of a casing which is identical for left and right hand rails, supporting both roughing and finishing applications.
These cassettes are also used for different rail profiles—the AHC (Anti-Head-Check, for rails used by trains operating at speeds up to 160 km/h) and the UIC 60E2 profile for high-speed lines. When the profile needs to be changed, it is only necessary to replace two out of the 11 inserts in each cassette.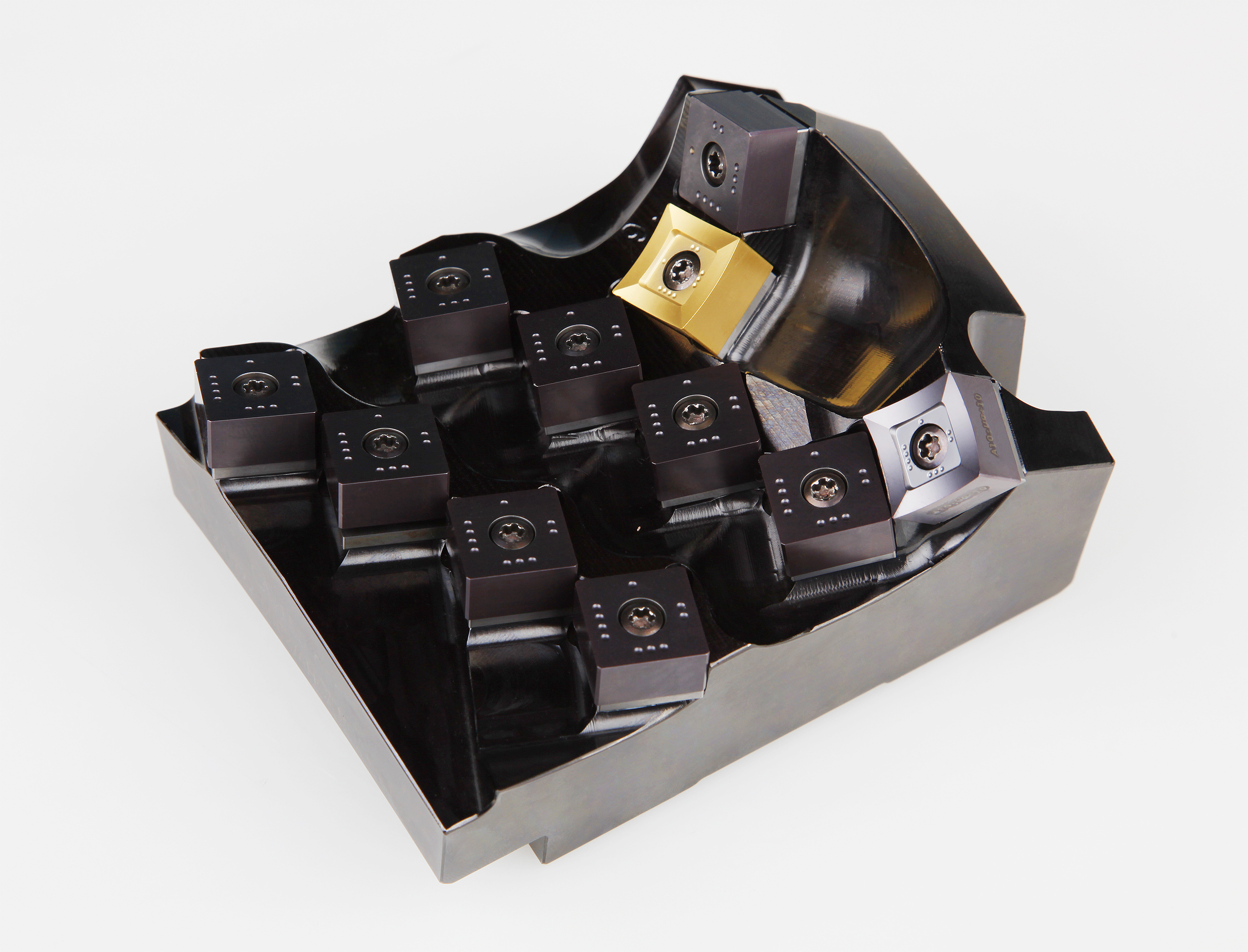 A variety of universal and removable cassetts are available for dynamic rail milling.

The company's history of delivering cutting tools specifically for dynamic rail mailing applications and continuously developing new products for the railway industry has allowed Dormer Pramet to develop strong partnerships with some of the world's leading railway companies.
Dormer Pramet was recently appointed by Deutsche Bahn (DB) in Germany to supply a dynamic milling cutter equipped with removable cassettes and inserts. DB serves more than 7 million passengers and a million tons of freight every day in Germany. The company also has significant presence around the world, operating in 130 countries, generating revenues of around $43 billion.
Railway wheels
As well as re-profiling of rails, Dormer Pramet has experience in the machining of railway wheels, and is constantly looking to meet customers' requirements for reliability and productivity.
Similar to rails, railway wheels have to be treated regularly. It helps to improve running behavior, noise level and safety. Machining of railway wheels also requires specific technology based on the principle of copy forming with a round cutting edge. One of the main challenges is to determine the optimum chip thickness and heat distribution.
By cooperating with manufacturers around the world with a combined annual production of more than 8 million wheels, Dormer Pramet is close at hand to provide technical support and expertise in this area.
Future development
While the company already has a large number of products in this segment, more are added every year. Before being released to the market, all new tools must meet a strict list of key requirements. This includes the ability to offer reliability in the cutting process, longevity and productivity for the customer, optimum chip fractionation, dimensional accuracy and stability, and high surface quality.

About Dormer Pramet: Dormer Pramet is your one-stop manufacturer for rotary and indexable drilling, milling, threading and turning tools for the general engineering sector. Market-leading brands include Precision Twist Drill (PTD), Union Butterfield, Master, Dormer and Pramet. With best-in-class training, support and logistics services, Dormer Pramet has become the reliable one-stop-shop for general purpose and multi-application cutting tools. Visit us at www.dormerpramet.com.