Author
Cutting Tool Engineering
Published
October 01, 2016 - 08:45am

END USER: Windings Inc., (800) 795-8533, www.windings.com
SOLUTION PROVIDER: West Ohio Tool Co., (937) 842-6688, www.westohiotool.com
CHALLENGE: Extend tool life when drilling a high-silica part.
SOLUTION: A solid, cross-center PCD-tipped drill.

Windings Inc., New Ulm, Minn., specializes in manufacturing motors and stators—the stationary parts of electric motors—but ran into a challenge after it was contracted to build some custom stators for a transportation application.
Each stator was part of a linear motor to be used for propulsion and measured 3' (914.4mm) long, 2' (609.6mm) in diameter and about 4" (101.6mm) thick. They contained copper coil protected by a thick layer of epoxy resin with a high silica content. Eight holes, roughly 0.6" (15mm) in diameter, were drilled through the resin, into the stator. And here, according to Director of Operations Seth Visser, was where the challenge came in.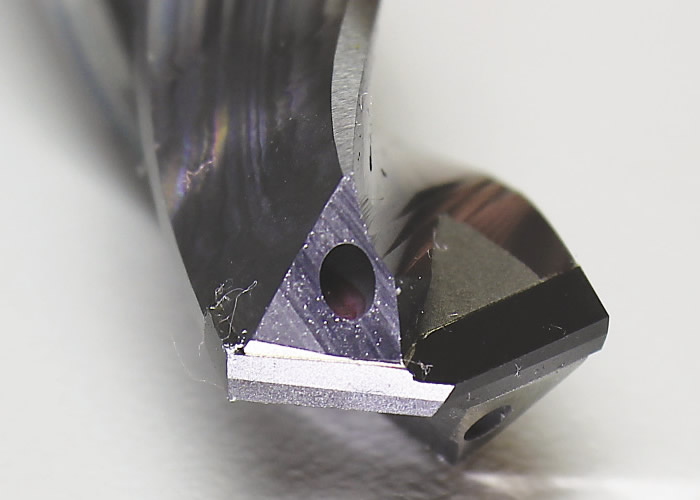 A solid, cross-center PCD-tipped drill, on which both cutting edges and the drill tip are made from a single piece of PCD. Image courtesy West Ohio Tool.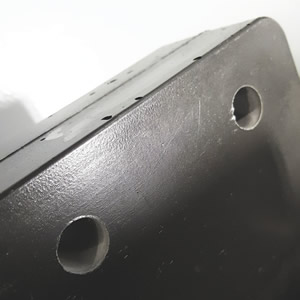 Windings successfully drilled holes into the high-silica resin that covered each stator. Image courtesy Windings.

The high silica content in the resin made it extraordinarily abrasive, Visser said. "So abrasive that the first drills we tried, solid HSS, burnt up in the first quarter-inch of drilling." Windings then tried solid-carbide drills—first without and then with a PCD coating. An uncoated carbide drill would be able to make two or three holes before losing its edges and needing to be reground. The diamond-coated drills didn't fare much better against the resin, lasting only a few holes before losing their cutting edges.
The expense of PCD-coated drills, machining costs and time lost to frequently retool made for a prohibitively high cost per hole. Visser needed a tool that—at a minimum—could last eight holes.
Visser said he previously worked in the woodworking industry, where he first encountered solid, cross-center PCD-tipped tools. His regular supplier doesn't carry them but put him in touch with other suppliers that might. Visser eventually found West Ohio Tool Co., Russells Point, Ohio, which specializes in designing and making round PCD and carbide cutting tools.
"Seth described the very abrasive high-silica epoxy that they needed to drill through," said West Ohio Tool's vice president of operations, Scott Ries. "We normally deal in automotive and aerospace tooling, and we thought that we could take some of the things we've learned from drilling high-silicon aluminum, which is used in transmission cases and engine blocks, and apply them."
The drill that held the most promise in Ries' mind was a solid, full cross-center PCD-tipped drill, which West Ohio had spent 3 years developing, with help from United Grinding and Gerling Automation. The design "is not an industry norm yet," Ries said, "but we're having great success with it at Honda."
The solid, cross-center diamond drill is called "cross-center" to differentiate it from a traditional PCD-tipped drill. The latter has PCD cutting edges but the actual center point of the drill is uncoated solid carbide.
"Traditional PCD has a carbide substrate behind it, and the diamond layer isn't thick enough to allow both cutting edges of the drill to be made out of a single piece of diamond," Ries explained. With the newer design, the left-hand- and right-hand-side cutting edges are made from a single piece of material. "The diamond goes all of the way across the tip, across the diameter of the drill," Ries said. Hence, cross-center.
A roadblock to making cross-center PCD-tipped drills in the past was the method of brazing the diamond to the tool body, Ries explained.
"In the old days, we would have to use a vacuum furnace, which is expensive and doesn't allow easy control of whether a part moves or not," he said. That changed with the development of an oxygen-free atmosphere. "In simplest terms, we put what is, in effect, an air-tight test tube over the drill and pump in argon gas to displace the oxygen," Ries said. "In this oxygen-free atmosphere we can use a much easier-to-control method of induction brazing."
Ries added: "We were optimistic that this drill would work for Windings, but we really have had no history with material such as this epoxy. We were hoping the drill could get to at least 40 holes without resharpening. We figured that would be a threshold that would be cost-effective."
In the end, the drill exceeded that target, and then some.
"We were able to complete the entire project, drilling over 400 holes with a single drill, and it has never once needed resharpening," Visser said. "We were absolutely elated." High-silica epoxy resin had met its match.