Author
Kip Hanson
Published
June 01, 2013 - 10:30am
Many shops look to that old standby, a 6", 2-jaw vise, for their machining centers' workholding needs. True, vises are economical, simple to use and can grip most anything. They're also a big waste of space.
High-density workholding, on the other hand, makes the most of a machining center's available real estate. By getting more parts on the table, nonproductive time that is normally lost to tool and pallet changes can be reduced. And, by increasing the number of parts per machine cycle, operators can do more than feed the machine with workpiece blanks.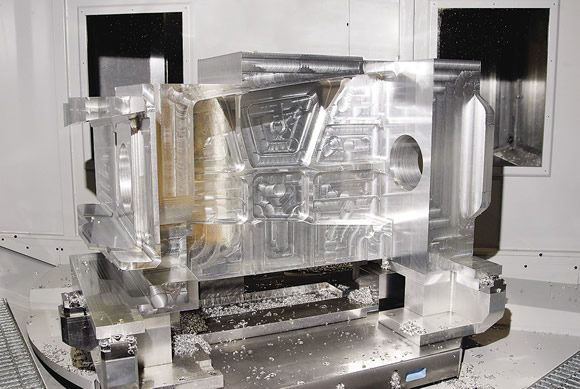 All images courtesy Mitee-Bite Products
Of course, high-density workholding is not all sunshine and roses. Compared to a vise setup where you might lose a couple parts, one wrong offset or worn cutter when you're running 50 workpieces can mean a high-density load of scrap, so you'd better have your ducks in a row before you push "cycle start."
First, you need to build or buy a fixture. Building one can be straightforward. You'll need a plate on which to mount the clamps. Opinions vary as to the best fixture material, but a chunk of Blanchard-ground, low-carbon steel or even some MIC 6 aluminum will do. If you're looking for quick-change, it doesn't take a rocket scientist to design something using off-the-shelf tooling components. And if time's short but money's long, buy one ready to go from one of the many companies specializing in this sort of thing. You'll be swapping out high- density fixtures faster than a sandwich run to Subway.
Next come the compact clamps. A number of clamp manufacturers are out there, including Mitee-Bite Products LLC, Center Ossipee, N.H., whose cam-action clamps began appearing in shops around the time Ronald Reagan first told Mr. Gorbachev to "tear down that wall."
Cam-action clamps use an offset-head, hardened-steel cap screw and a hexagonal washer to push a workpiece against a stationary rail or pin. These are the original workhorses of the Mitee-Bite line. Knife-edge clamps function in a similar manner, but use a hardened clamping element that digs into rough surfaces like castings.
After you've selected the right clamps, dimensional data on them is available from the Mitee-Bite catalog or on its Web site. Registered users can also download CAD files. From there, it's a matter of laying out the workpieces on the fixture plate and surrounding them with the appropriate number of clamps and locating surfaces.
Many of the Mitee-Bite clamps require nothing more than a tapped hole to secure them, while others require dowel pins or some machining to accommodate the workpiece. Most CAD systems will make short work of this step. And you might need fewer clamps than you think—some of these bad boys boast 10,000 ft./lbs. of torque, more holding power than the first kiss at your high-school prom.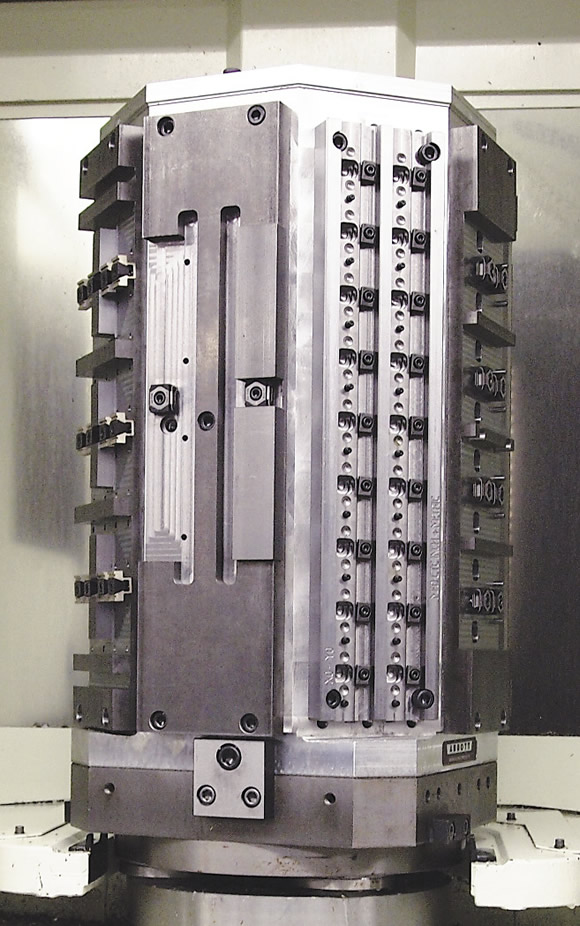 From there, it's out to the toolroom for machining and assembly of the completed fixture. Someone who has built high-density fixtures and lived to tell about it is Ernie Clark, programmer and designer at Hodge Tool Co. Inc., a shop located in Lancaster, Pa.

Hodge specializes in high-speed machining of aluminum and copper components for companies such as Radio Frequency Systems and Ericsson. It also builds firearm components, including Picatinny rails, a military-spec mounting bracket used on assault rifles to attach accessories, such as flashlights, laser pointers and night-vision devices.

Hodge Tool has been buying Mitee-Bite workholding for more than 14 years, said Ed D'Aiuto, sales manager for distributor Tucker Tool Co., Mechanicsburg, Pa. When Clark needed to fixture flip sights for a firearms customer, he turned to OK-Vise clamps, a low-profile, pull-down clamp, the largest of which generates a whopping 33,000 ft./lbs. of force. According to Mitee-Bite, this makes them especially suitable for the multidirectional cutting forces seen with 3-D machining. Clark utilized a dual-acting OK-Vise clamp in the middle of the fixture, together with fixed-jaw TalonGrips on each side, which bite into the bottom 0.060 " of the workpiece blank. "That way, we can grip two parts with a single clamping," Clark said.

The result was a fixture that let Hodge Tool machine both sides of 40 work-pieces in a footprint not much larger than a 6" machinist's vise. The shop has dozens of similar fixtures, used primarily on a pair of Mori Seiki, 12- pallet-pool horizontal machining cells. "For new fixtures, we design it all in Mastercam and then simulate the whole thing so we can see exactly how it will work," Clark said. "Then, we take a big steel block and bolt it to a tombstone. From there, we machine out the pockets and mounting holes. Then, we put the clamps on and load up the parts."

Mitee-Bite General Manager Dave Bishop noted examples like those just described are just the tip of the high- density iceberg. Some of the key factors are part size and weight, machining forces and the permitted amount of sacrificial material. "Our Pitbull clamps, as well as the TalonGrip, dig into the workpiece," he said. "This allows aggressive machining while holding onto less than 0.100" of material, but you do need to consider the 'puppy bites' in your part process," small clamp marks that will need to be machined away in a subsequent operation.

Bishop noted that while high-density fixtures are not rocket science, care should still be taken when implementing them and recommends test fixtures for difficult applications. "To support that effort," he said, "we provide samples and technical advice for shops to prove out designs prior to building production fixtures.

"At the end of the day, placing more parts on the table lowers labor costs and increases capacity," Bishop continued. "That, in turn, allows companies to quote more jobs, gain more customers and grow." CTE

About the Author:

Kip Hanson is a contributing editor for CTE. Contact him at (520) 548-7328 or khanson@jwr.com.